EPT 80 in 1 Challenge Welcome and Resources
A very warm welcome and thank you so much for signing up and joining our popular EPT 80 in 1 Challenge. The Challenge usually takes place during the month of August, although if another month is more meaningful or suits you more, that is also fine. We are so excited and grateful to have you on our team raising vital funds and awareness to support the 1 in 80 sadly affected by ectopic pregnancy.
Please note: We strongly request that you do not sign up if you are still recovering from surgery or not yet have non-pregnant hormone levels, if having medical or expectant management. While the challenge can help emotionally with focus and community, please consider carefully whether this is the right time for you, both physically and emotionally. We have information about returning to exercise here. 
You can run/walk/cycle/swim your 80 miles any any time from 1st – 31st August.  You can use the resources provided below and track your miles filling in the manual tracker or using a fitness app/watch/phone. On completion of the Challenge, you will get a newly-designed medal for 2023. Please follow the steps below to complete your registration.
I decided to take on the challenge 6 weeks after my ectopic as I needed something positive to focus on and I wanted to give something back to the charity. I hadn't really heard too much about ectopic pregnancies before and I stumbled across the EPT the night I got home from my emergency surgery. I hadn't realised the shocking statistics that it's 1 in 80 pregnancies. I'm proud to have joined the EPT family and I love spreading awareness. My ectopic was the most frightening experience of my life and if I can help just 1 other woman/couple my job is done. I found the challenge quite emotional and every step I took was for the baby we lost. 80 miles can seem quite daunting but it's only a few miles a day so easy to fit in with daily life 💜
- - Sharron
Set up your fundraiser
To complete your registration for The EPT 80 in 1, you will need to set up your dedicated Just Giving page. Without completing this step, we are unfortunately unable to provide a 2023 finishers medal.  
Set up your Just Giving page here.
Tips when setting up your online fundraising page:
Set a target – this can increase your fundraising by up to 45%.
If you add a profile photo, this can further increase your fundraising by 23%.
Do share photos of your event preparations such as training etc – each photo/update can increase your donations by 2%.
If you feel comfortable sharing your story, you can raise crucial awareness while also raising funds. Our Press Officer Natalie can guide with this and there is further information below.
It is also worth thinking about setting up a QR code with your fundraising. It is easy to set up – go to your page and add '/qrcode' to the end of the URL and click enter. Your QR code will then pop up, you can screenshot this on your phone or computer to make sure you always have it to hand.
Once you have set up your Just Giving fundraising page, please email our Fundraising Coordinator jill@ectopic.org.uk and let her know whether you would like an EPT-branded dri-fit vest or t-shirt and your size to wear on your Challenge to raise amazing awareness.   By emailing Jill this will complete your registration and you will get your medal at the end of the challenge,
Women's Size Guide: S 10 M 12 L 14 XL 16
Men's Size Guide: S 38″ M 40″ L 43″ XL 45″sold out (XL) XXL sold out 47″new stock ordered 
We do have some Men's White Vests in S,M or L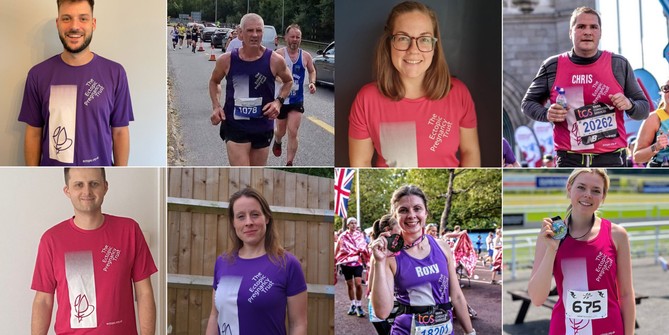 Matched Funding Scheme:  Please contact your employer to find out if they have a match funding scheme. It is a really easy way of increasing your fundraising amount and such a boost for us as a charity.  Some companies offer this on a pound-for-pound basis, while others specify the amount they are prepared to give. We have a list of companies that usually provide match funding and useful template letter that you can use to write to your employer. You can find these in the EPT 80 in 1 resources section below.
Join our fundraising community
We have a fantastic community via our closed Facebook group for fundraisers and it would be great to have you join.  There you will find some of the last few years' Challengers and share tips and ideas with people who are taking part this year:
The Ectopic Pregnancy Trust #EPT80in1 Challenge | Facebook
This group is dedicated to our EPT 80 in 1 Challengers, to allow you to share your progress and to support each other in your efforts!
EPT80in1 group on Strava. You can join to keep a track of your miles and motivate yourself and others taking part in the challenge.
If you love listening to music while you complete your miles, we have our very own EPT80in1 Spotify playlist. Add your own songs as well as listen to what motivates the rest of the 80 in 1 community.
Raising awareness
Let family, friends, and work colleagues know about your Challenge with a copy of your EPT handout to raise awareness. Friends and family will support you and some may even join in for the some or all of your Challenge in solidarity. You can find the handout in the resources below and if you would like printed copies please let our Fundraising Coordinator Jill know.
Facebook, Instagram, TikTok, LinkedIn, and Twitter are effective ways to reach people quickly and easily. Please let us know your social media handles so we can share and celebrate your progress. Use the hashtag #EPT80in1 and perhaps tell short stories:
"I decided to take on 80 miles because…"
"Taking on 80 miles in 1 month is important to me because…"
The EPT platform tags:
Facebook (@ectopicpregnancytrust
Instagram (@ectopicpregnancy) 
Twitter (handle is @TheEPT)
TikTok (@ectopicpregnancy)
We would love if you could share any posts, photos, and maybe small videos (landscape and under a minute long) by tagging us or you can email them directly to kerri@ectopic.org.uk and we can share on your behalf.
Please note if your social media accounts are set to private we may not see your tags!
Sharing your story in the media
Your support means the world to us and, by sharing your story with the local media in your area, you can help raise even more awareness and funds. We understand that talking about your personal experience can be daunting. There is often a mix of emotions of wanting to help others going through a similar experience but also feeling nervous thinking about such a difficult time. If you choose to share your story, we are here to help. Our Press Officer, Natalie, is available to support and gently guide you through the process. Please contact Natalie if you would like share your story at natalie@ectopic.org.uk
EPT 80 in 1 resources
Below are graphics and visuals which you may find useful to promote your Challenge.
Challenge accomplished!
Thank everyone involved – from those who provided moral support, ran or walked with you, and cheered you on, to those who helped promote your generous efforts. Your well-deserved 80 in 1 medal will be posted to you after completion of your Challenge!
All money raised online will come directly to us. Please remember to pay in the money you have raised offline using the money return form which can be found above in the resources below.
We are extremely grateful for your support which will enable us to continue to help anyone who goes through the devastating ordeal of ectopic pregnancy. We hope that the Challenge has been beneficial to your own journey. If you are inspired to continue fundraising, we have lots of inspiration on our fundraising page.
You're truly doing something amazing!
Support for you
We would like to mention that taking part in fundraising, raising awareness, and sharing your experience could potentially bring back or heighten your emotions around your ectopic pregnancy loss.  Please remember that our support services are available and, if you ever need to express yourself in a safe space, please do not hesitate to get in touch using our support resources.
Other pages you may find useful
Did you find this useful?