The Ectopic Pregnancy Trust focuses on early pregnancy loss through ectopic pregnancy. We are the leading charity focusing on ectopic pregnancy in providing such extensive general information and peer support for anyone experiencing the condition.
What is an ectopic pregnancy?
Ectopic pregnancy is a common, life-threatening condition that is the leading cause of maternal death in the first trimester of early pregnancy. The condition affects around 1 in 80 pregnancies in the UK and occurs when an embryo grows outside of the womb. The pregnancy can never be saved. A variety of treatments are available depending on the presenting symptoms and speed of diagnosis.
The information and support available is like nothing else out there. To be able to speak to someone who knows how you feel is invaluable.
- Cara
Each year in the UK nearly 12,000 women have ectopic pregnancies diagnosed (Source: The 2016 MBRRACE Confidential Enquiries into Maternal Deaths and Morbidity 2009-2014). From anecdotal evidence and due to how statistics are recorded, this is thought to be an underestimation. It is believed the number of cases ectopic pregnancy may number more than 30,000 per year in the UK alone.
According to the 2019 MBRRACE Maternal Deaths and Morbidity Report 2015-17, of the six women who died from early pregnancy problems, all but one had ectopic pregnancies. Three of the six women who died (50%) were from Black or other ethnic minority groups (about 14% of UK population is from a Black or ethnic minority background). The 2022 MBRRACE Report 2018-20 shows that ectopic pregnancy remains the most frequent cause of maternal death in early pregnancy. The latest report shows that the death rate from ectopic pregnancy devastatingly has increased from five women dying to eight and all died within 48 hours of presentation with their ectopic pregnancy. You can read our statement here.
MBRRACE-UK Maternal Report 2016
MBRRACE-UK Maternal Report 2019
MBRRACE-UK Maternal Report 2022
Confidential Enquiry into Maternal Deaths
Sadly, there are on average three deaths per year in the UK and Ireland due to ectopic pregnancy. In the 21st century, no one should die of an ectopic pregnancy.  
Depending on individual medical circumstances, several treatments are available. The pregnancy can never be saved. 
The Ectopic Pregnancy Trust was established in 1998, founded in memory of Sophie Winters by her parents. Sophie lost her life to a misdiagnosed ectopic pregnancy.
The Ectopic Pregnancy Trust believes that the deaths and trauma associated with ectopic pregnancy should be prevented. We seek to relieve the distress associated with the experience and provide ongoing support through their treatment and beyond.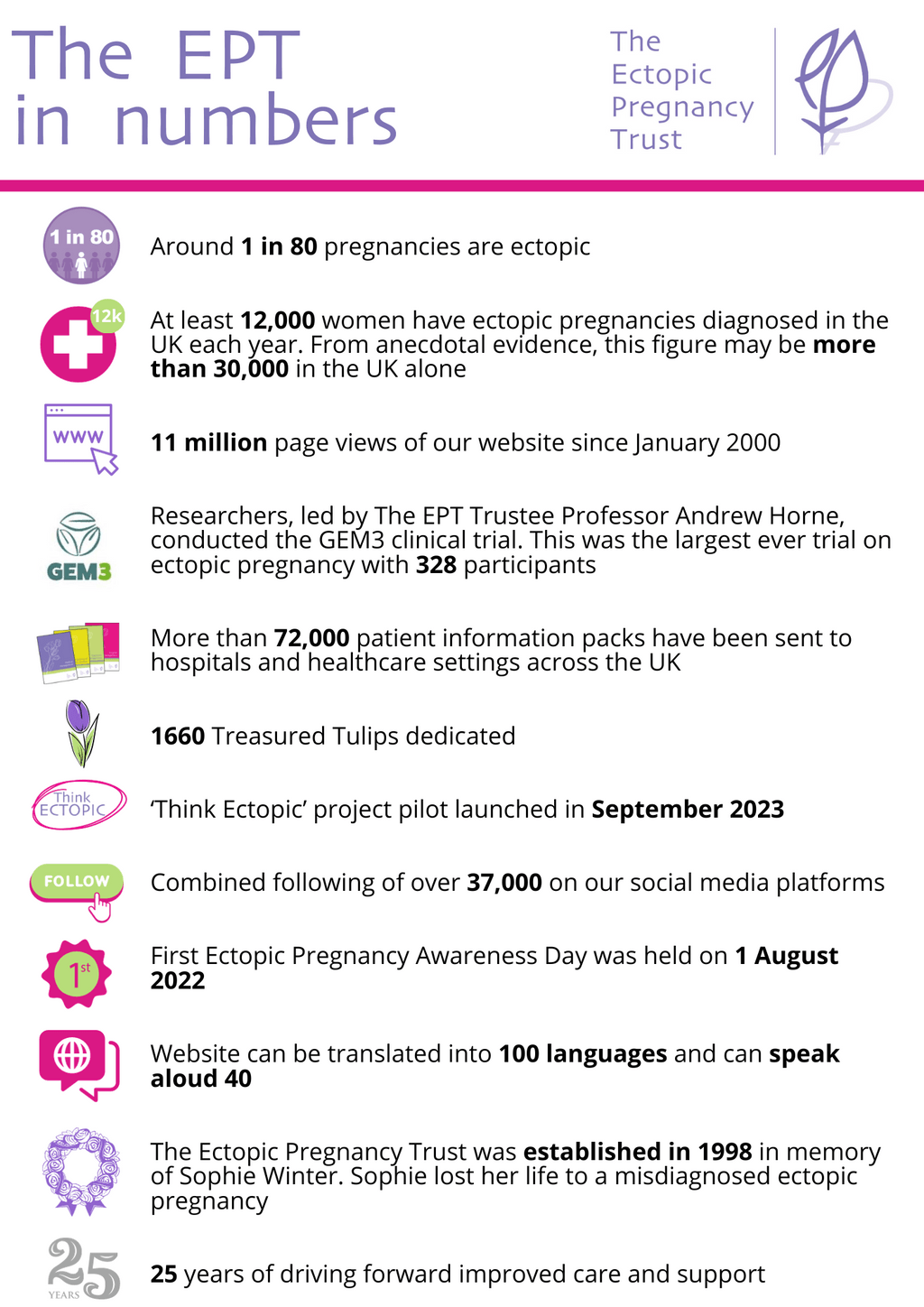 Our Vision
The Ectopic Pregnancy Trust believes:
no woman or pregnant person should die from an ectopic pregnancy;
any woman or person capable of conceiving of childbearing age, who is sexually active or undergoing assisted reproductive technology (ART) treatment, having ectopic pregnancy symptoms, should be considered to be pregnant until proven otherwise to maximise the speed of diagnosis;
anyone diagnosed with an ectopic pregnancy should receive as many treatment options as the stability of their medical condition allows; this includes expectant management, medical treatment with methotrexate, and surgical treatment;
it should be universally recognised that early diagnosis enables treatment choice, preserves fertility, and enables a person to feel a greater degree of control over their medical condition. This commonly reduces the emotional impact of the ectopic pregnancy;
it should be universally recognised that the emotional effects of losing a baby far outweigh the physical condition even in the early stages of pregnancy; and
anyone who has suffered an early pregnancy loss should have access to all of the information and support they need to aid their physical and emotional recovery.
Our Aims
to provide information and support to all persons affected by ectopic pregnancy and other early pregnancy complications and the healthcare professionals who care for them;
to advance education and to promote awareness of ectopic pregnancy and other early pregnancy complications among the medical profession and wider public; and
to support research into ectopic pregnancy and other early pregnancy conditions
Our Values

Committed

: our dedication is to providing medically-evidenced information and emotional support on ectopic pregnancy. We recognise that there is a need for a definite space for this form of early pregnancy loss. We are here for anyone affected by this distinct condition. We strive to advance education and promote awareness of ectopic pregnancy among the general public and the medical profession alike. Our focus extends to supporting research into this common, life-threatening condition. Together, we are wholly and decisively committed to the specific cause of ectopic pregnancy. 

 

Compassionate

: we stand together with those so sadly impacted by ectopic pregnancy, with understanding, empathy, and deep care. 

Many of us at the charity

 have our own experiences of ectopic pregnancy and appreciate how crucial it is to have somewhere safe and reliable to turn. Compassion is the beating heart of our charity. 
Community

: bound through experience, motivated by empathy, seeking or offering support – our community is far-reaching, respectful, and united. We strive to make people who have experienced ectopic pregnancy feel seen, heard, and recognised, no matter what their circumstances and background. We foster an environment of open, supportive communication and learning about ectopic pregnancy. Our shared stories help not only to relieve isolation but also inform and shape care. Our ectopic pregnancy community cultivates engagement and empowers us to achieve more together.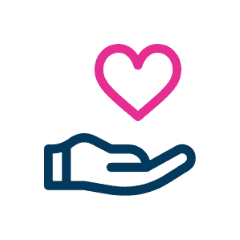 Help us support others by donating to The Ectopic Pregnancy Trust
This last year, the EPT has seen a drop in donations. Help us to keep driving awareness, education and support to those through diagnosis, treatment and recovery by donating to our cause now. Every penny you donate will make such a difference!
Other pages you might find helpful
Did you find this useful?