This page discusses the work that The Ectopic Pregnancy Trust does alongside healthcare professionals. Read below to find out about guidelines. If you would like to read reports, please see our Reports page. If you're interested in which professional bodies and organisations the EPT works with, the research we have been involved in, and the networks and campaigns we are part of, please see the Collaborations page.
We help healthcare professionals to support patients' emotional well-being
The Ectopic Pregnancy Trust's patient information packs have been produced with input from world-renowned healthcare professionals specialising in ectopic pregnancy and early pregnancy. The packs include general information about ectopic pregnancy along with individual leaflets on the treatment routes and pregnancy of unknown location.
We collaborate with professional networks and organisations to present the patients' voice.
We have strong links and work collaboratively with many professional networks and organisations and provide the patients' voice to help inform guidance.
To read reports, please visit our reports page.
To request copies for your unit, please see our leaflets page.
Guidelines
(EPT Director sat on Guideline Committee as Lay Member and EPT was a stakeholder in the consultation process)
Key points:
NICE guidance states:
The rate of ectopic pregnancy is 11 per 1,000 pregnancies, with a maternal mortality of 0.2 per 1,000 estimated ectopic pregnancies. Women who do not access medical help readily (such as women who are recent migrants, asylum seekers, refugees, or women who have difficulty reading or speaking English) are particularly vulnerable. Improvement in the diagnosis and management of early pregnancy loss is therefore of vital importance, in order to reduce the incidence of the associated psychological morbidity and avoid the unnecessary deaths of women with ectopic pregnancies.
- NICE guidance
(The EPT supported the RCN Pocket Guide for Ectopic Pregnancy)
RCEM Safety Flash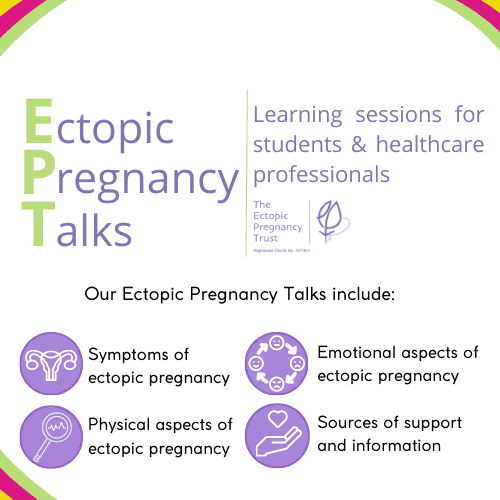 EPT Talks - arrange an online session on ectopic pregnancy
We provide online talks on ectopic pregnancy for healthcare professionals and students. The talk can be tailored to audience's needs. It is led by people with lived-experience of ectopic pregnancy and we may also be able to arrange for one of our medical advisers to join. If you are a healthcare professional, university medical school, or provider of healthcare courses and would like to arrange a talk, please get in touch.
Did you find this page useful?