Browse our range of  Christmas e-cards and donate the cost of cards to help us continue providing reliable information and support to anyone affected by ectopic pregnancy. Sending one of our Christmas e-cards instead of paper cards reduces your carbon footprint, saves you time, and raises awareness of the condition and the charity.
You can choose to download one of our beautiful e-cards by clicking the description below and email your Christmas wishes to colleagues, friends, or loved ones and donate the cost of your stamps and paper cards.
Purple Christmas bauble E-card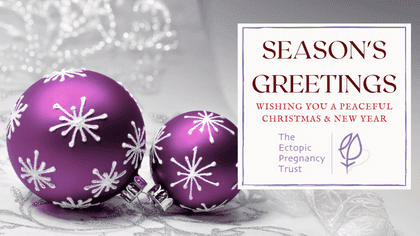 Purchase EPT gifts for yourself or a loved one
The festive season can be a difficult period to navigate after an ectopic pregnancy. Our range of shop products are designed not only to raise awareness but to bring comfort and help to remember.
Whether you would like to make a purchase for yourself or for a loved one, we share below some of the items handpicked by The EPT team. For the full range of products available please visit our shop.

Charity Christmas Cards
The Ectopic Pregnancy Trust's range of colourful Christmas cards help spread some festive cheer while raising awareness

Handmade Keepsake Decoration
Handmade decorations with an EPT tulip within the design. Finished with delicate silver tulip, heart and footprint (with "Remember" on reverse) and purple ribbon.

Last Order dates for Christmas
Below are the last order dates. Order by the date next to your area to guarantee dispatch by the last posting date.
14 December  – UK
23 November – Western Europe
20 November – Cyprus, Eastern Europe, Greece, Iceland, Malta and Turkey