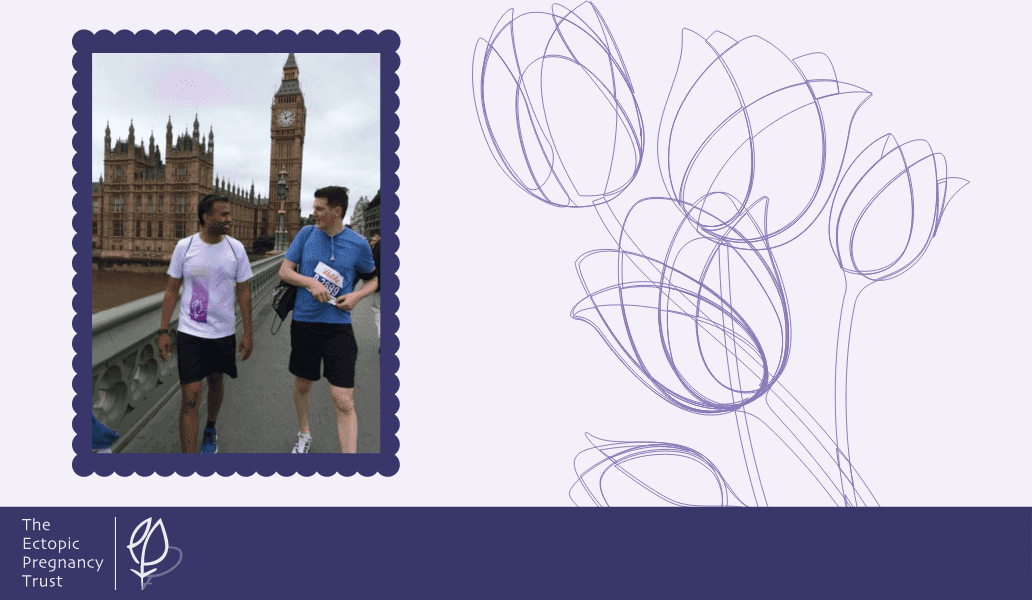 Amit Oza has hugely challenged himself, with little experience of running, he has recently completed his first ever 10k race.
Amit ran the Vitality 10K in London with his brother-in-law, Jon, to raise over £2,000 for us which is just incredible and we are extremely grateful to them.
Amit's wife, Munira, suffered an ectopic pregnancy seven years ago.  Munira now tirelessly works for the Ectopic Pregnancy Trust as our Director.
Here, they both very honestly share their heart felt stories:
Amit had been abroad for work. The morning he arrived home, I took a pregnancy test as soon as he walked in and told him I was pregnant.  However, I was having odd spotting so went to see a doctor. At my appointment we had a general conversation about pregnancy and, almost as an aside at the end of conversation, I told him I was spotting. The doctor said it was common but just to be on safe side, he would refer me for an early scan.
That scan was a week later. Two sonographers were in the room and there was total silence. I remember thinking 'this is not how it is in the movies'. They asked me to get dressed to talk to me. I remember thinking 'have I been imagining being pregnant?'  They told me they suspected an ectopic pregnancy but were not 100% sure so they took some bloods.
I was told my options were repeating the bloods or exploratory surgery. I was denying the need for surgery as I felt totally fine. No pain whatsoever.  I was thinking everyone was behaving very strangely and why couldn't I just go home? Every time a doctor approached me, I thought they were about to tell me they had got it wrong, that baby and I were both fine and I could go home.  I was in total denial.
Amit and my sister made me realise that the doctors were serious about surgery. So I agreed. It's fortunate I did because I had ruptured, was haemorrhaging heavily and had lost a huge amount of blood. And all the time I was feeling completely fine, had barely any symptoms and had absolutely no idea.
What I didn't realise then is that he was deeply thankful that I was alive. He had been petrified of losing me. I, meanwhile, couldn't get through my anger and grief.
An organisation put me in touch with the Ectopic Pregnancy Trust. I read every page on its website and every single story on the forum.  I sat in my pyjamas with a cup of tea every morning for hours. That became my routine and it was my lifeline.  I asked questions on the forum and craved positive stories of women managing to get through their grief and being able to conceive.
The journey was a long one but I felt supported and among women who understood, thanks to the charity.
The option for Munira to undergo surgery within hours of the scan of our first baby was delivered by Dr Khan with such a sympathetic yet direct manner that there was no other route in my mind.  It was the first point in the discovery and journey through an ectopic pregnancy, and indeed in our lives, that Munira and I developed diverging opinions, responses and reactions.
We have always been in step, on the same page, cut from the same cloth. Friends would mock us as university students for finishing each other sentences.  Yet now, in the weeks after the surgery, I was so thankful to have my wife safe and physically recovering that I neglected the loss of our baby and the hurt that she was feeling.  I didn't know what we had lost – we did not get the chance to see and hear that thumping heartbeat on the screen – but I did know what I came close to losing.
I also realised that I did not know how to give Munira the support she needed. In fact it took me weeks to realise that she needed support at all.
During this time, the EPT did for my wife what I was not able to: answers, tender voices, shared experiences and hope.  It has taken me seven years to say thanks to the EPT. It took another push from Munira to get me to sign up for the British 10k through the streets of London in July this year but sign up I did. How hard could it be?  However, there are hundreds of amazing people who support the charity in this way all the time. I wanted to set a personal challenge on both my run and my fundraising.
So I, Amit Oza, who has never run more than 30 minutes in my life and has never raised money for a cause in this way decided that I will run in less than 50 minutes and I would raise more than anyone else has raised for the charity over a 10k.  I set off on a training regime of three runs a week with hill sprints and intervals and the like. I varied my stride length, explored a new diet and immersed myself in it.
As the sponsorship came in, my amazing friends and family spurred me on with generosity and challenges. I was not going to let them down and I was going to push and push to get more for the charity.
By the time race day arrived, I had raised almost £2,000 for the charity and I knew there was more to come. I was ecstatic to have raised more than anyone else running a 5k or 10k and only marathon runners and sky divers had raised more. I just had to do my bit and hit that 50-minute mark.
Thankfully, the buzz of the day, the gentle guiding hand from Munira and the support of running with my brother-in-law pushed me out of the gates fast and I was able to run the first 5km in 23 minutes 30 seconds. I couldn't keep that pace up but having runs on the board allowed me to steady the pace and finish in 49 minutes and 22 seconds.
To deliver for my sponsors in the time I had committed to was hugely satisfying.  To see Munira at the finish and be reminded why we were there and how we were helping others dealing with ectopic pregnancies remains the real prize.