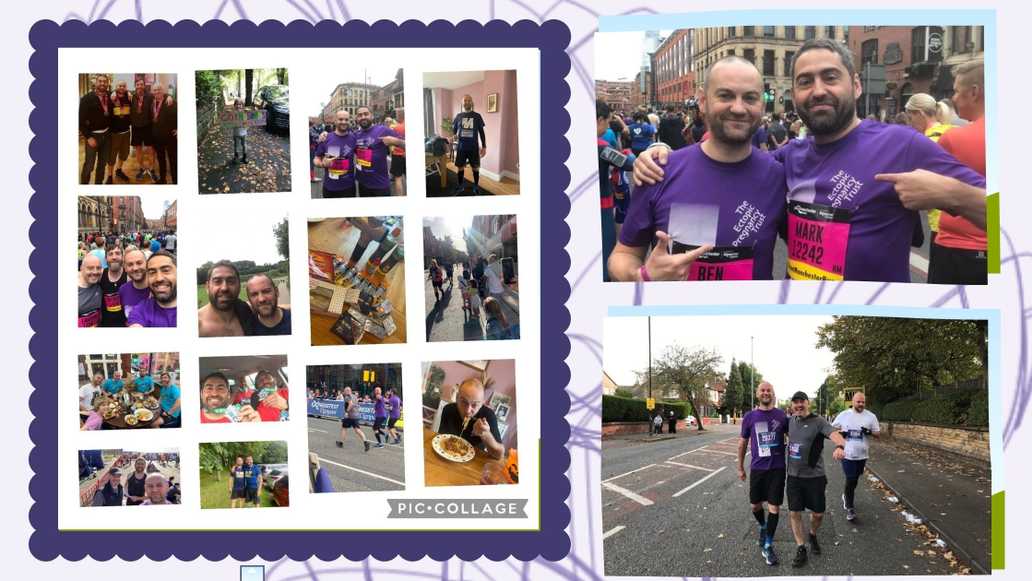 Caitlin and Ben's Experience
We found The Ectopic Pregnancy Trust as we had a rudimentary horn ectopic pregnancy last December (2020) at 13 weeks.! As it was so far along, not only did we lose our baby but I almost lost my life too.  Ben couldn't help much as with COVID he was not allowed into the hospital at all except to pick me up and even then he could only come into a corridor near reception and I was wheeled to him. He couldn't attend any of my scans.
As soon as I left hospital, I really wanted to talk to someone who could help and support us who had experienced something similar or could relate in some way. I used The EPT's support service and spoke to a lovely lady a few times; she really helped me to understand my feelings.
All the information on your website was so helpful as I didn't know what an ectopic was.  I also follow you on all social media and find this a great support and comfort.
Ben and Mark's Manchester Marathon
When Ben decided to run the Marathon, we discussed what charity to raise funds for. Ben actually suggested yourselves as he knew the support I had been getting and the links I had sent from your website.
We understand you are a small charity dealing with a very sensitive matter that is not widely known or understood. Sadly the NHS does not have the funds or resources to offer help and support or sometimes even information on everything for weeks and months after the experience. I felt like an ectopic pregnancy is something that gets side lined. We wanted to help you to help others in our situation so that you can support with knowledge and services into the future.
Our biggest challenge was how much to set as a target; we set £200 and have gone over by 555% so we are thrilled! Friends and family have been so incredibly supportive. I followed your information online and regularly shared our story on my social media, attaching pictures and sharing our fundraising journey! Ben and Mark found the regular encouraging and informative emails from the Trust gave them the support to keep going with the gruelling training regime.
On the day, Ben and Mark were brilliantly supported by family and friends.  The atmosphere, camaraderie, after race food and of course their medals made them so proud of their achievement.
Mark finished in 4 hours 22 minutes and Ben in 5 hours 22 minutes. Ben sustained an injury at mile 22 but we are really wishing him a speedy recovery and hoping that lots of hot baths and rest will help.
We are incredible grateful and proud of Team Husdan, running the Manchester Marathon training so hard and raising incredible funds and awareness.  If you feel inspired by Ben and Mark's fundraising experience, please do take a look at ways to get involved and email our fundraising co-ordinator who will be very happy to help and guide you Jill@ectopic.org.uk.