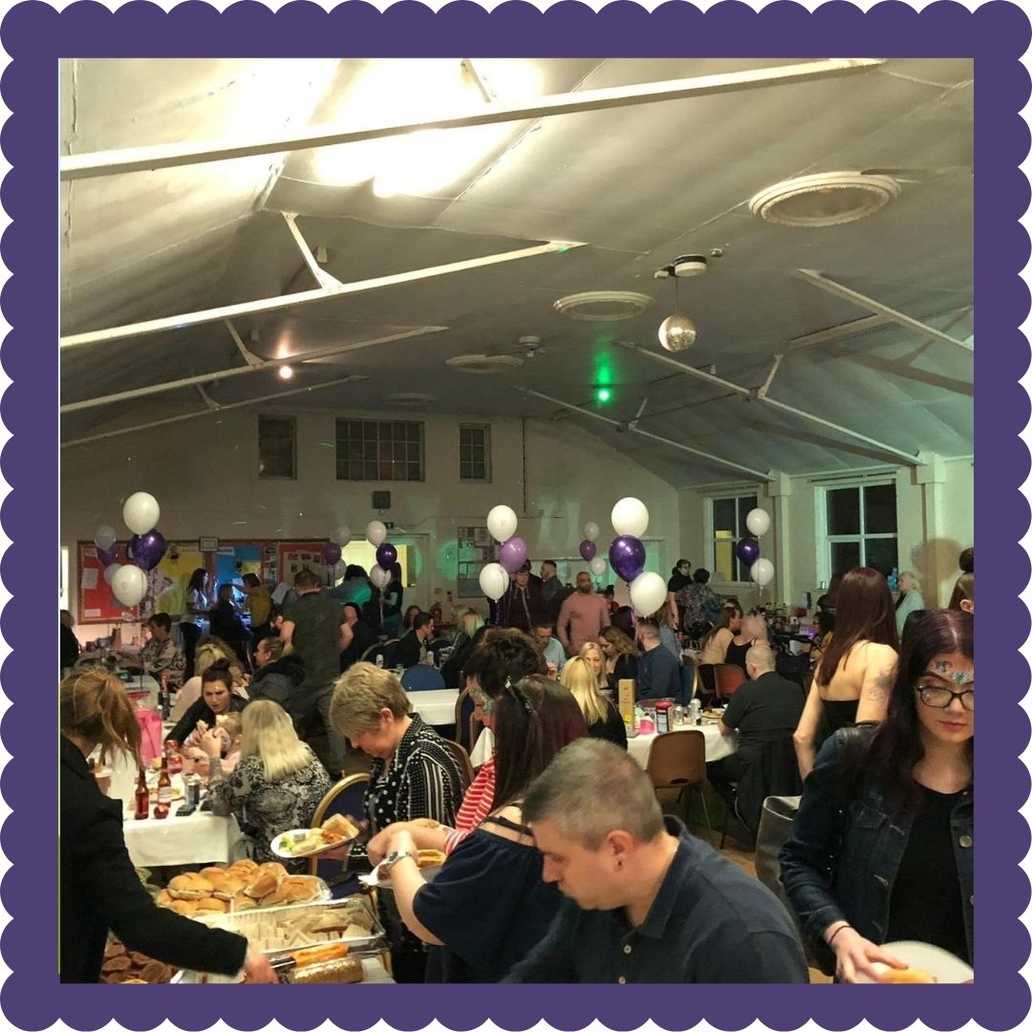 Heather Archibald had a Fantastic Purple Night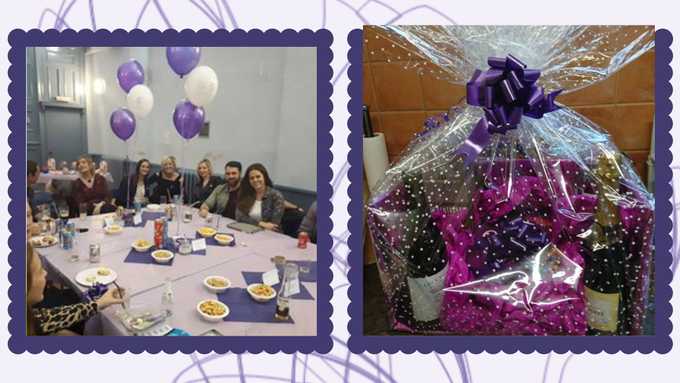 We are so grateful to Heather for organising and putting on such an inspirational "purple" fundraising night. Heather raised over £1400 of which virtually every penny will help to support other women and families going through this ordeal. She said the night was emotional, amazing, difficult, overwhelming, fulfilling but also offered such a light at the end of a huge dark tunnel. They had a variety of games including a raffle, guess the teddy bear's birthday and lots of kind donations. People who went brought a ticket for £5 and this included a DJ and a buffet. Heather is delighted to have had lovely feedback from her friends and family about the night. She says it was a bitter sweet tribute to her "10 week old bundle who never made it here". Heather would like in her own words below to share her and Chris' ectopic journey and the emotional and physical pain they have been through. She is passionate about raising awareness and hopefully helping and inspiring others.
The Journey Began
13th of June Feeling 'funny' but a nice funny, tired and a little out of sorts but not unwell I decided after my family holiday to the Lake district I would take a pregnancy test. To mine and Chris' delight we were both staring at a positive pregnancy test! 6 weeks pregnant! Amazed, thrilled and ecstatic I booked a GP appointment for the very next day. The GP was fabulous, told me to enjoy this time put me straight on to folic acid and told me to get in touch should their be any problems. A few glorious days of being pregnant and knowing I was carrying very little but very precious cargo I took extra special care of myself and made some adjustments to my hectic busy life. I am surrounded by animals non stop from work to my own horse to the family farm with cows to my own big hairy babies 2 big bouncy dogs. I made a deal with myself to not lift anything I shouldn't as my body wasn't my own anymore. It was a safe place for my little bundle to grow safely – or as we had hoped. Disaster struck on the 16th of June. I woke up in bed in a pool of blood. Screaming frantically I ran to the bathroom almost struggling to stand upright with the right sided pain. The pain ran right down my leg and nothing no matter what I did would take it away. I called NHS 24 immediately for advice. They got in touch with the Early Pregnancy Unit at my local hospital who had a midwife call me back. By this point I knew what had happened I had lost or was loosing my baby. As an Animal Nurse my medical head took over where as Chris still clung tight to hope saying some people bleed through a pregnancy? Don't be negative! He was frantic. I was numb. I sat on my shoulders against the couch doing a ' shoulder stand ' refusing to let anything else come out. This of course, never worked but anything to ease the agonising, helpless situation I had just fallen in to through no fault of my own. I have searched for blame in this situation always coming back to myself however luckily now I can almost hold my head high knowing it wasn't my fault. It just wasn't my time. The midwife spoke calmly and softly and asked me how far along I was and quickly explained if the bleeding persists for another 48 hours it doesn't look good. I was too early to scan at this point I was told so I was to " sit tight " for 2 weeks. Sit tight? as I may or may not be loosing my unborn baby whilst in absolute agony? I put it down to a miscarriage being a sore thing? Who knows? The next working day I attempted work, but had an absolute melt down at the thought of using the works public toilet as I was bleeding. I didn't want to pass anything let alone my tiny seed in the toilet of a vet! I decided I was best at home however I went via the GP and was signed off for this dreaded 2 week wait to then re-test to see where we would be at. By 2 weeks, me at 8 weeks pregnant we would know once and for all if my baby had finally left my body, or if I had to continue fighting to keep my little one tucked up inside. The fortnight from hell was upon us. The right sided pain got worse reporting it to the GP several times.. I was told each time to continue to monitor and look out for shoulder pain advised I could take paracetamol however I refused to put anything in my body in case it hindered anything clinging on for dear life inside me. It got to the point where I couldn't drive as pressing the accelerator was horrific. My right leg wasn't my own at this moment, it was subject to an agonising wait that was taking place over the next 14 days to see where we were at. Are we pregnant? Are we not? Why am I so sore? Is this how a miscarriage feels? Getting on with things as best I could hay time on the farm was upon us. I was advised not to be left alone at this stage – so Chris was with me every step of the way. By now I was getting sluggish and although couldn't drive a car I drove a tractor for hours each night at the hay. Luckily I didn't have to use the pedals, just a gear stick to my right side so that with a hot water bottle I soldered on helping my fiancé at his busiest time of year. I began to get sluggish, a little bloated feeling but was counting the days to re-test just in case we had a little bundle up in there safe.
Day 13
The pain was beyond unbearable. I went back to the GP a day earlier as this wait alone was killing me, along with this horrific pain it was just cruel. The doctor re-tested me but was still very concerned about this right sided pain. To our amazement .. we tested POSITIVE on 4 tests. Was this a miracle? Such a mix of emotions but tears of joy fell from our face as part of me did think something must be wrong? Is this a false positive or have we just received a miracle? The GP booked me in for a scan that day to see what was happening inside but told me not to get too ahead of myself as she really was not happy I was still in so much pain and actually had only got worse. Up to the Early Pregnancy Unit we go where I sat with Chris feeling weak, tired, drained and almost waddled my way up the long hospital corridor. I was met with a team of midwives who treated me amazingly. One internal very uncomfortable ( as was still bleeding, this had now been almost 3 weeks of bleeding as I bled from the 10th of June then gradually it got heavier – initially thinking it was implantation bleeding ) scan, we saw what we thought was a cyst on my Fallopian tube on the right side. My pregnancy was diagnosed as ectopic on the 29th of June and it was described to me as it was in an unknown location however this 'cyst' was causing some concern. It was just short of 5 mm in size however the doctors/midwives seemed happy at how " up and about " I was. The weekend came and a series of bloods were required to see whether or not I was in fact miscarrying naturally or whether or not I was a candidate for Methotrexate. My levels never came down so my body was fighting to keep this little one safe whilst another part of me was trying to rid itself of it. Being in the middle of this conflict was single handily the most awful thing I've ever been a part of in my life. A few short days later still no further forward with various bloods and monitoring measures in place we went back to the hospital on the 4th of July for Methotrexate to rid me fully of my unborn bundle as something clearly wasn't right. To our horror the internal scan showed that I was internally bleeding. The scan that was carried out a few short days before did show signs of fluid/blood but it was DISMISSED as thought to be cyst fluid. By this stage I was getting a line placed in my arm and was being taken to theatre right there and then. The bed came to collect me however I took myself to the bathroom before hand. I held my aching side and apologised to my unborn baby that I couldn't bring him into the world. By now I was 10 weeks and felt in my whole heart he was a little boy. However I will never have proof of that nor do I need it. Once I felt I had said my peace I climbed up onto the bed. I was wheeled away and woke up a few hours later without my right side. I was now missing my precious tube that I had so wished could be saved. 1 Blood transfusion later, a drain in my side and various wounds on my body I was in recovery. The pain is something I will never forget but the hot blanket after surgery was something I suggested we do with our animal patients after theatre so I took the idea back to my work! A stay in hospital and weeks of recuperating at home I was healing. Physically that is, emotionally I am still not quite ready to keep up with my healing body just yet. I may have missed my wedding, I may have lost one side of my precious Fallopian tubes but I am alive. We had no idea how much danger I was in but the emotional roller coaster of being pregnant then not, then bleeding, then another positive test, then surgery all came about so fast. It gave us no time to process until weeks later ( 5 weeks ago today in fact ) at this stage I hit an emotional wall. Having gone back to work 3 weeks post op which now looking back I know was too soon. Nobody gives you a manual or how to guide on these things so I ploughed forward caring for my animals and trying to focus on what I had rather than what I didn't even though my empty arms ached. I've had some time off which my mind body and soul very much needed!
The "Purple" Fundraising Night
This was where my night came in to play. 17th of November to be precise where we had a bitter sweet evening. I knew I had to do something to turn this horrific nightmare into a positive. I am very proud to have raised all the money that I have and feel it was a tribute to not only my unborn baby but to many other woman out there who perhaps don't have a voice. My fundraiser has helped me greatly, along with the after care from you guys so feel it could benefit others as well. Thanks from the bottom of my heart for reading my story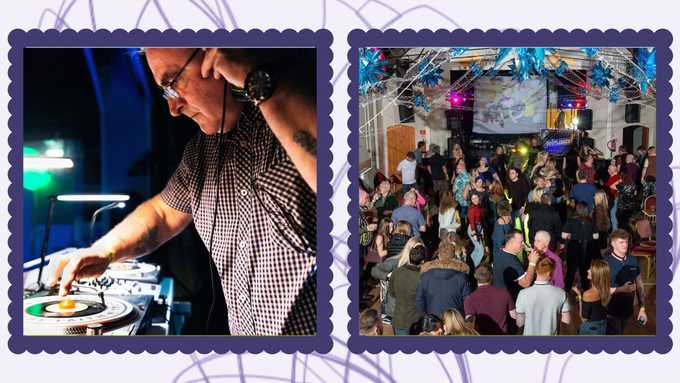 We were hugely grateful to Julie for organising a fantastic "End of Year" music night on 29th December 2018 at Bootleggers. Julie wanted to support her daughter, Nina who very sadly had gone through the trauma and sadness of an ectopic pregnancy 2 years previously. In doing so they raised great funds of 472.97 and really increased awareness of ectopic pregnancies. It sounded and looked like a brilliant night and a real family effort. The photos were taken by Nina's brother Dan. The DJ for the night was Nina's Dad! Julie said how busy they were on the door and made sure everyone was enjoying themselves. They had a fantastic turnout of 146 all of who danced to reggae, Ska, Motown, northern soul and rock and roll. Nina added that they poignantly counted the money they raised on the 2nd anniversary of her ectopic pregnancy surgery.
Kirsty Stewart Hosted a Brilliant Charity Night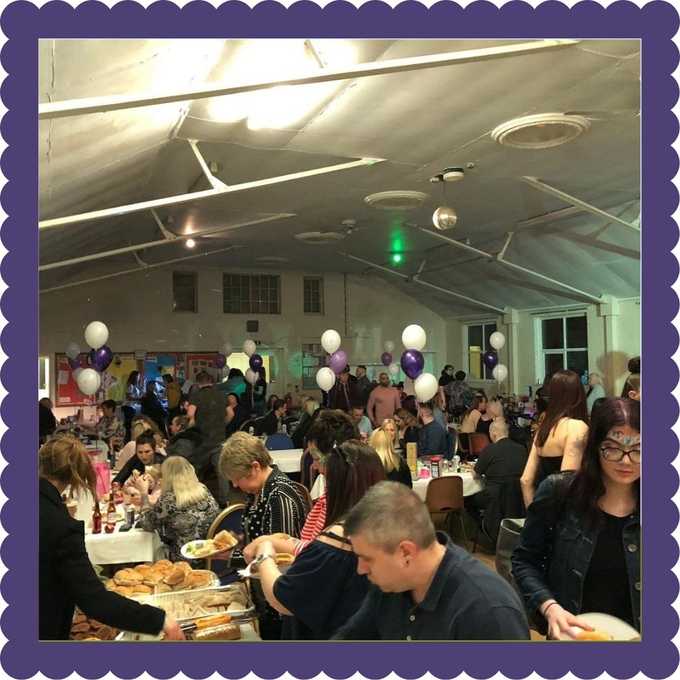 Kirsty worked tirelessly to put on a very busy and successful charity night and disco. Kirsty was driven to raise awareness and funds to support the charity in memory of their baby. We are incredibly grateful for all that Kirsty has done. Kirsty's Story: In early August last year, I found out I was pregnant. It was a bit of a shock but we were kind of expecting it, as during a night out with my partner the previous week, he had pointed out that I hadn't had a period in about seven weeks. I hadn't even noticed. I scheduled an appointment with the midwife and went through all the usual questions/tests etc. A few weeks later, we flew out to Corfu for our summer holiday but a few days in, I started bleeding. I was unsure of what to do all day and, by the evening, we decided to go down to the local surgery. They called an ambulance and drove me, my partner and my daughter to the main hospital an hour away. I had never been in hospital abroad before so I think that was doubly scary. After blood tests, I went for an ultrasound scan and the doctor could see no baby or even a sac. I had an internal scan and the doctors still could not find anything. Bewildered, I walked back to the room and was told that the doctors wanted me to stay in for two days. I had no idea why. I thought if there was no baby then I had already lost it so we should just go back to the hotel, which we did, against the advice of the doctor. The rest of the week was a bit of a blur but I had all my friends there as support. However, when I returned home something didn't feel right so I did another pregnancy test and the line appeared straight away. After a lengthy phone call to the midwife and EPU, I got an appointment the next day (which was now early September) for more tests and and scans, followed by blood tests over a few days to see if my hCG levels were rising. Sure enough they were, but not at the rate of a healthy pregnancy. After speaking with a consultant we decided to see how things went and return for a scan. I didn't make the scan. I was at home after work a few days before it was meant to take place and my daughter was out and my partner was away. I felt an almighty wave of pain, couldn't stand up straight or even sit down properly. An ambulance was called and took me straight to A&E. Being alone was very scary and by 11pm after more blood was taken, I was finally told it was an ectopic pregnancy which needed to be removed quickly. I was back in at 8am the next day and cannot put into words the grief I felt. The waiting until my scheduled operation time at 3pm felt never-ending. I awoke two hours later and it was all over. I cannot thank my partner enough for the support he has shown me; I would not have made it through it if it weren't for him. To help as a distraction, I decided to raise money for The Ectopic Pregnancy Trust. After five months of planning and phone calls and emailing, we eventually raised nearly £770. It was a bittersweet but fabulous night and made us feel like losing our baby was not all in vain.
Catherine's Body Shop Party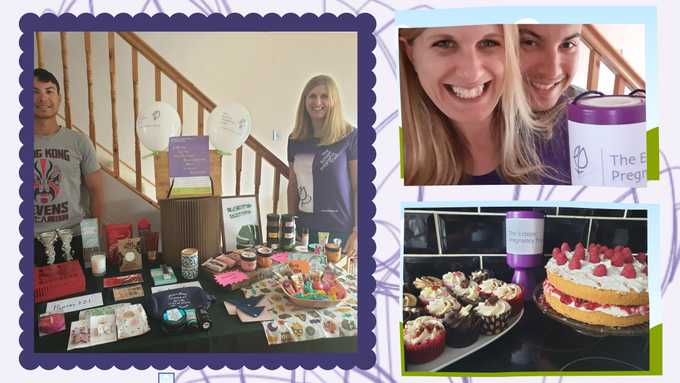 Catherine  hosted a fantastic Body Shop at home event. Donating all commission and funds from cake sales and a raffle/tombola. Catherine was passionate that ectopics are not a taboo subject and is very keen to raise awareness. They had a fantastic day enjoying some lovely cakes, beauty treatments/face masks whilst raising over £400. Catherine's Story Recently mine and James' world was turned upside down when I was first diagnosed with a miscarriage, then just 2 days later to be followed with a second diagnosis of an ectopic pregnancy. Our first ever pregnancy and we lost twins. We never ever suspected ectopic pregnancy up until they diagnosed me. I was in denial of even the chance of having an ectopic pregnancy when they suspected it. Ectopic pregnancy's can be fatal if untreated due to tubal rupture and internal bleeding, so we were given the option of an injection to terminate the foetus or surgery to remove the egg and tube. Neither would be pleasant but the injection meant I kept my fertility, whereas surgery would reduce your chances as you'd go down to just one ovary and tube. Thanks to the work of the Ectopic Pregnancy Trust ourselves and other families going through the same thing have access to necessary support, guidance and information. Personally I have received a great deal of support through this charity and am so grateful for the support they have given me. I wanted to give back as a thank you to this amazing charity by fundraising so more people can benefit from their services.
If you are inspired by our fantastic charity night fundraisers and would like to raise funds and awareness for The Ectopic Pregnancy Trust, please visit our fundraising page.