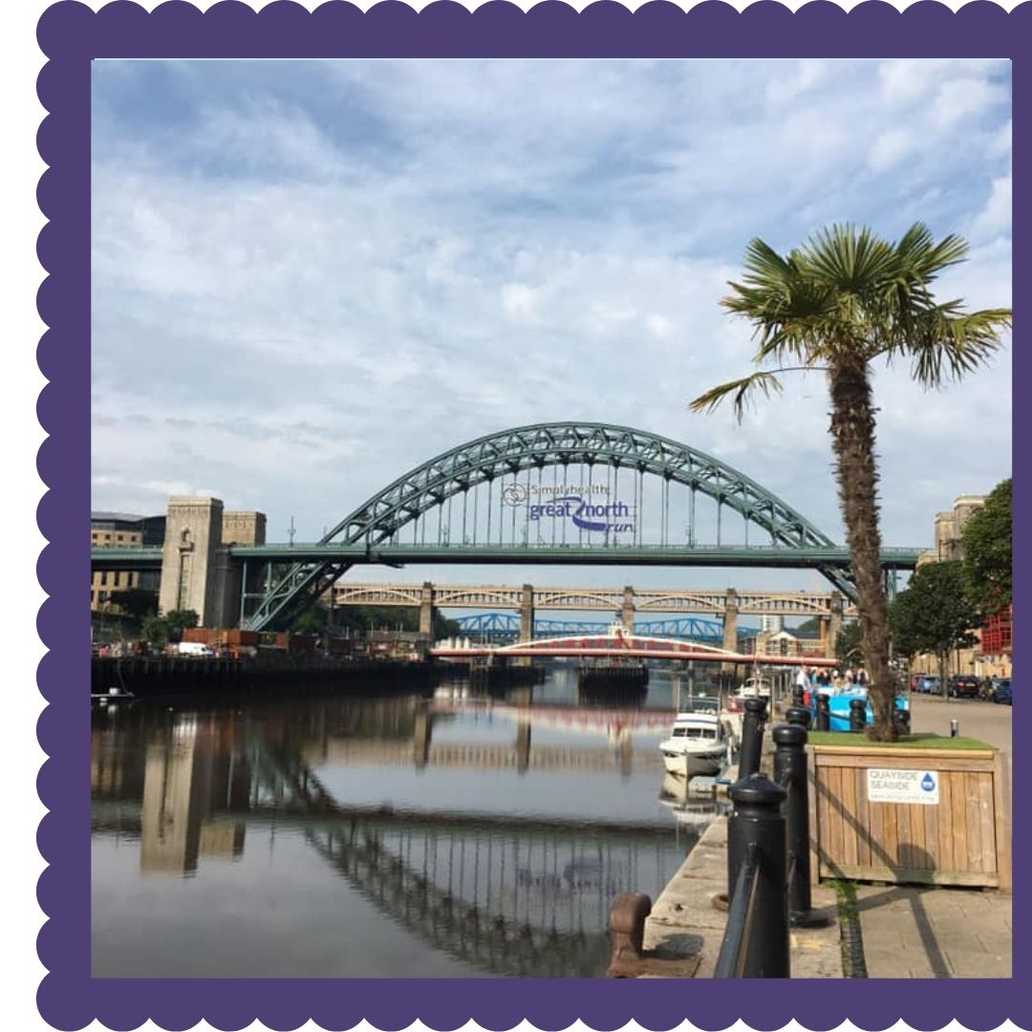 Dona and Lynsey Take part in the GNR, 2018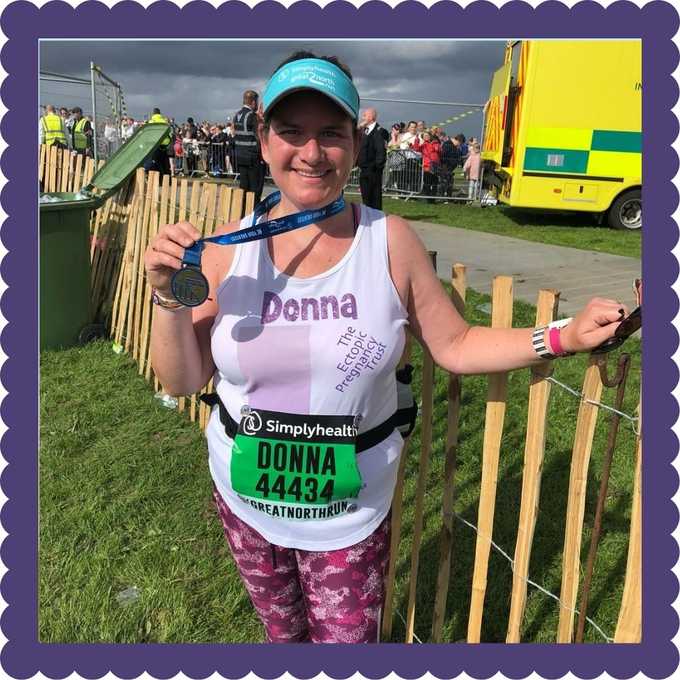 Donna and Lynsey fantastically took part in the Great North Run, 2018.  The "dynamic duo" had already smashed the London Marathon this year, with Lynsey supporting the Ectopic Pregnancy Trust.  Below in Lynsey's words you really get the sense of how much they enjoyed the day. 
Donna and myself had an amazing day.  A weekend in fact as we made the most of it.  The whole weekend was fabulous, we had lots of fun running.  The Red Arrows were a real treat and the weather was surprisingly warm.  I had always wanted to do the GNR but always thought it was too busy or too far away however when the opportunity came to run for the EPT again I jumped at the chance and was very honoured to wear the vest again.  Whilst it was very busy we both enjoyed ourselves and particularly loved the last mile coming onto the seafront.  We mingled for ages afterwards soaking up the atmosphere which was great instead of having to rush off.   All in all a quite brilliant experience.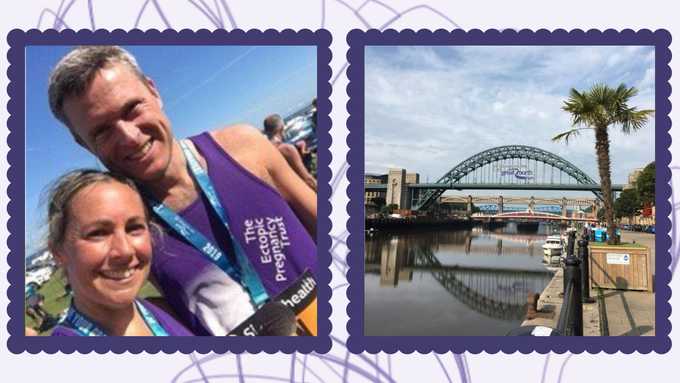 I decided to run the Great North Run for our little one who got lost along the way and was an ectopic pregnancy at 8 weeks. After the wonderful support I received following treatment, I decided to pop my trainers back on and raise awareness for such an amazing charity, along with my fiancé Ben. The atmosphere on the day is absolutely fantastic, the crowds really do get you all the way round the course and I would encourage anyone to give it a go as there is nothing better than running to the seaside.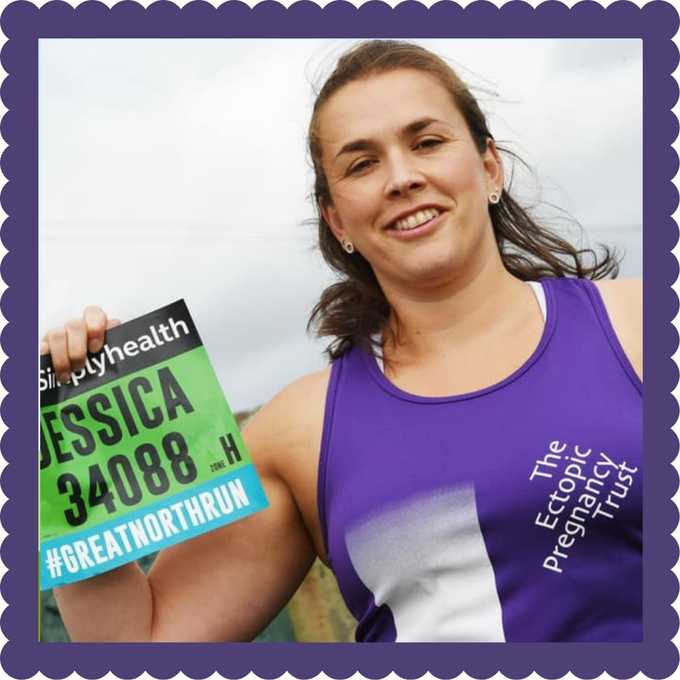 I decided to do the run to challenge myself and felt that running for
The Ectopic Pregnancy Trust would give me the focus that I needed. I
had an ectopic pregnancy in December 2013 and understand first hand
the emotional and physical toll that it takes on you. I am not
normally an overly emotional person but I spent most of the race,
right from being on the start line in tears. The actual run was
extremely hard, having been poorly just before, but my main focus was
to get to the end – time was not a factor. The support along the way
really restored my faith in humanity with all sorts of people giving
up their day to line the route and spur you on, the jelly babies and
ice lollies were also a welcome sight!!! Last night I was saying never
again but this morning my thought process has changed.
Rosie's Great North Run 2019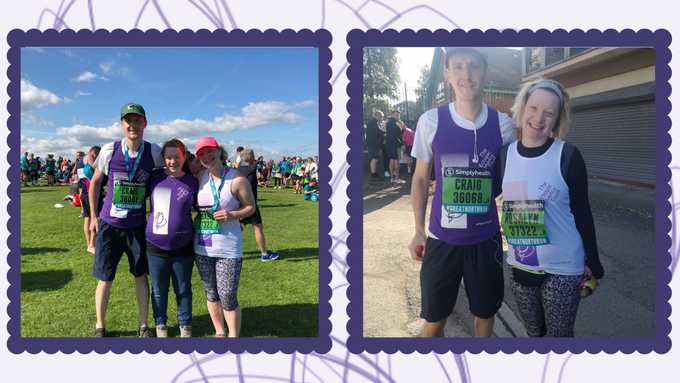 I Started training with the GNR goal in sight. But life gets in the way and that training plan goes out the window! I live on flat land next to the sea where it mostly rains, and the GNR was full of inclines and full blown sunshine so it ended up being one tough run. But the atmosphere was giddy with anticipation and excitement and you can't stop yourself from absorbing it all. We crossed the line with a mixture of exhaustion and gratitude. we had finished. We did it! And we have raised £700 and going for doing it. I have a 2mile swim in loch Tay still to go though so no rest of the wicked. But I want to say thank you to you and your charity. The charity that kept my sister going when times got tough. I can't begin to understand what she went through but I will be forever in debt for her mother in law for knowing the signs and symptoms and getting her to hospital asap. My running this half marathon, I have used it to help raise awareness for your charity but most importantly the signs and symptoms of an ectopic pregnancy as well.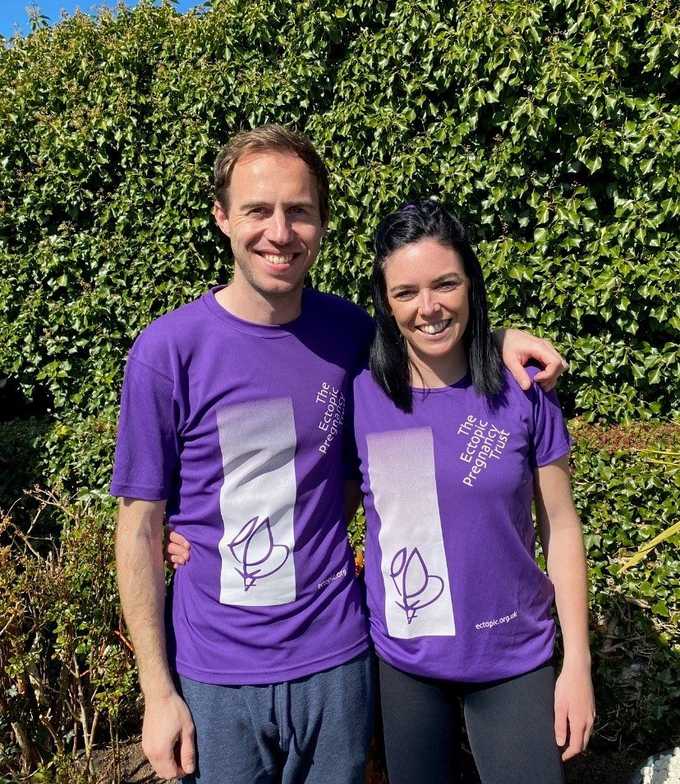 Victoria and Cai's Great North Run 2021
Victoria and Cai both joined our GNR team, 2021 (delayed from last year). This challenge gave them a focus after their horrendous heartache and trauma. Victoria says Cai is a runner and she is also now using running and increasing her distance to help with her emotional and physical recovery. Cai comments that he "has his wife back and a healthy one at that!!" Victoria's Story: I found out we were expecting our second baby in November 2020. We were extremely excited. Two weeks later, I started to experience pains so I rang the early pregnancy helpline and they advised me to go and checked to be on the safe side. After a long wait in A+E I was sent home and told to wait for a phone call to book me in for a scan (unfortunately this all happened on a Saturday and the early pregnant unit was shut so no scans on offer.) Fast forward 6 hours and my husband found me collapsed upstairs, he rang for an ambulance and I was rushed into hospital. My memory is a bit of a blur after this. My husband was told that I was very poorly and had been internally bleeding due to a ruptured Fallopian Tube resulting in losing our baby and my right Fallopian tube. I had to be resuscitated, put on life support, and given six blood transfusions in theatre. Luckily I woke up and I was alive. I had 3 small scars on my tummy that would be a reminder for the rest of my life of an extremely scary time. I was released from hospital a week later, I was struggling with movement and very simple tasks. Luckily for me I have a very supportive family. I was longing to feel normal again but I knew that It was going to be a long journey. My hospital mentioned The Ectopic Pregnancy Trust to me so when I felt strong enough to start dealing with the emotional side I sat on my laptop and read through their page. One week later I was sat on a Zoom group call with five other amazing women who shared their story, listened to mine, watch me cry and gave me advice. It was incredible. I walked away from the Zoom call feeling emotionally exhausted but so much stronger. Raising money for The EPT is the least I can do. Training and why I am doing the GNR Fast forward again 4 months… I began running once the hospital told me it was safe to do so. I was a runner before but never long distance. I found that the first couple of runs I went on after my ectopic pregnancy I was replaying everything in my head, it was so tough but before I knew it I had ran 5 miles…..the longest I had ever done. I began aiming for longer distances and last week I completed 11 miles. I was so proud of myself for achieving this. I reached out to The Ectopic Pregnancy Trust when I had seen them post about the GNR. I couldn't quite believe what I was getting myself into but I signed up anyway and they accepted me!! I hadn't shared my story with many people and I knew that if I wanted to raise lots of money then I would need to write about it. So a couple of days ago I sat with a glass of wine and wrote it down and posted it. I was then flooded with messages from friends and donations, it was such a weird emotion, I was so so happy but sad that I had been through something like this. I know this will help my healing process, it already has in a way. I will be forever grateful for the trust and I urge everyone to go and look at the symptoms, it could save lives and prevent a situation like mine. I have started my training and I am loving it, taking it slow is the key and I am so fortunate to have a husband who is a runner. He is going to run The GNR with me for The Ectopic Pregnancy Trust as he owes them just as much as me. He has his wife back and a healthy one at that!
Mary's Great North Run 2021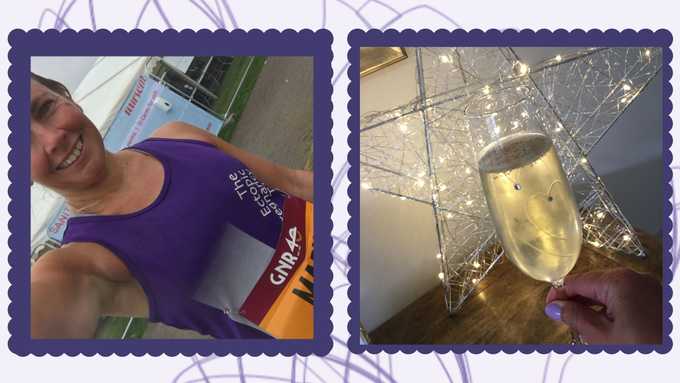 About 6 weeks prior to the race a friend asked me did I want to do the GNR and I thought so many things, mainly I can't run that far anymore and I'm not good enough but also if I was going to run I would want to run it for the Ectopic Pregnancy Trust.  So after a quick email to Jill, hearing there was a place available it felt like it was meant to be.  I was doing the EPT80IN1 during August so the timing felt perfect to continue with my training and run 13.1 miles on the big day.
The Great North Run is a local event to me here in the heart of the North East and a race I have ran many times.  The atmosphere is something you have to experience, such warmth and support from the locals all along the route for the elite to club runners to people just wanting to have a go and like Brendan says it's for ordinary people doing extraordinary things. It truly is a fantastic event. This year was slightly different with a change of route, which meant we got to see all the elite runners coming back in and a chance to run over the Tyne Bridge twice which is always a highlight.
After suffering an ectopic pregnancy in November 2018 I decided to run the Great North Run in 2019 with my husband Ben for our little miracle Tiny Toes and it was such an emotional day but one filled with so much love and support.  Since then our fertility journey continued and we suffered two more miscarriages last year and I am forever grateful to the wonderful support of the EPT as my emotional health suffered.  When I heard there was a place left for the GNR I just wanted to do something for our little one and raise awareness for such a wonderful charity so dear to my heart.  When I saw Ben running to meet me at the end it filled my heart with so much love that we always have each other and Tiny Toes is always with us.
Danielle's Great North Run, 2023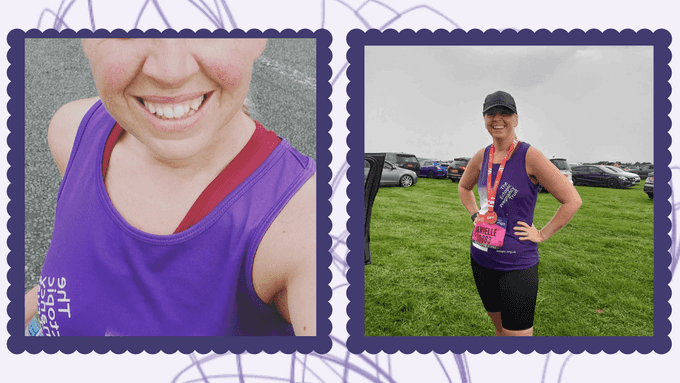 I had an amazing day taking part in the 2023 Great North Run. This was my first ever Half Marathon having only ever run 10k many years ago. Although I was extremely nervous to begin with, once I crossed the start line, I soon found my stride. The support from spectators was phenomenal and gave me the push I needed to finish.
Running for The Ectopic Pregnancy Trust means so much to me and I'd just like to thank everyone for their donations. I've raised over £450 so far and will continue to raise necessary funds and awareness.
Typical British weather as you can see from my photos one in the blistering heat at the beginning of the day and one at the end right after I finished and the torrential rain started!
Hannah's Great North Run, 2023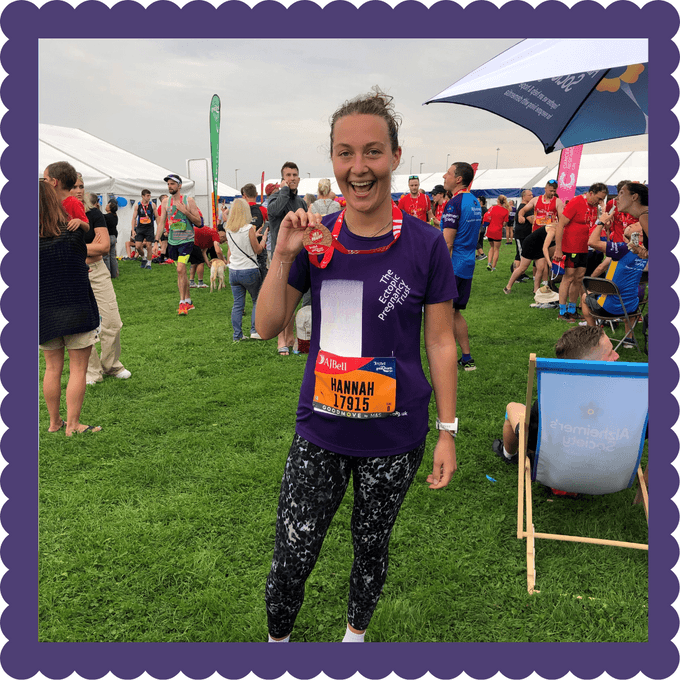 I had such a great day and really enjoyed taking part in the the Great North Run and felt very honoured to be wearing my EPT t shirt.
Mary and Ben's Great North Run, 2023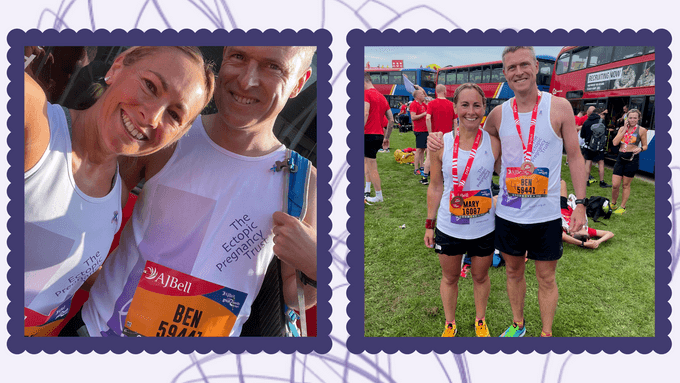 Mary's GNR
The GNR is my favourite run of the year and although I have been training over the last 3 months for the big day, nothing could prepare us for the extremely hot temperatures here in the north east in September!
The journey to the start line was calm, I was able to meet Matthew a fella EPT runner which was wonderful, at the studios of Radio Tyneside and gave a little interview.
With my bag on the bus, a quick selfie with my husband Ben we made our way to our zones and it pulls on my heartstrings the moment I leave him in the faster zone …. I jogged further down the motorway and found my zone.  The heat radiating from the sun and tarmac was sweltering in a very enclosed and gated pen and I remained here for about 55mins.  I was stood next to a lady who told me last year she bought a pair of trainers the day after the GNR having never ran … trained all year and we finished within minutes of each other.
Hearing the sound of Local Hero as Mo and all the athletes in front of me begin the race to South Shields means it's not long to go now … Garmin activated and off I go , took me about 15mins to cross the start line from my zone and I was off.  First mile was always going to be fast and I knew it … but after crossing the Tyne Bridge the heat was pounding, I crossed 5k knowing I need to take it a little slower and threw every ounce of water over me.
The crowds were absolutely incredible and seeing my parents at mile 5 waving at me kept me going, as I turned onto John Reid Road and made the long uphill slog to the seaside, I just put my head down and kept saying 'come on' until I saw the sea and then felt such a huge sense of relief knowing the last mile would take me to the finish and Ben who was waiting for me.
Thankfully we managed to collect our goody bags, hop on the bus back to Newcastle before the heavens opened and the monsoon began which caused havoc for so many.
I am so grateful to everyone who has donated and supported me and Ben as it really carries you through those difficult miles and I will always continue to raise awareness for such a wonderful charity that has always been there for me.
Ben's GNR
My last GNR was in 2019 so I've been out the game for a few years, I'm always watching from the side-lines as it's a highlight in our household.
2023 was my 6th GNR: All my training seemed to be on track to get round the course in a decent time – I know time isn't everything but I like to set a challenge to show those who have generously sponsored us that I am pushing myself out of my comfort zone.
The forecast for the weekend and Sunday itself was warm, very warm for a Sunday in September which was a worry.
I got to the starting zone feeling good and in plenty of time. It took a few minutes to get over the start but I was on my way and got carried away running the first 3 miles way too quick for the conditions and my fitness. This schoolboy error made the next 10 miles a challenge!
Everyone likes a challenge though right…?
The messages and donations from our generous sponsors coupled with the amazing crowds and runners along the route spurred me on with each step. The crowds lined the full course, more people than I've ever seen before, creating such a special atmosphere.
The relief and sense of achievement as I passed the finish line was exhilarating. And then seeing my wife beaming as she came into the finishing area made my day – she's such an amazing lady!
I'm honoured to have represented The Ectopic Pregnancy Trust and can't thank them enough for the support they have provided to Mary and I.
Well done to all our runners, and big thanks to everyone!
Kelly's Great North Run, 2023
It was extremely hot out there for the run! The atmosphere and supporters were amazing. This was my first ever Great North Run so I had no idea what to expect. I really struggled with 5 miles still to go as I had pulled the muscle on the inside of both my knees and later suffered with horrendous cramp and spasms in my left Calf. I hobbled the last 2 miles but I made it!
The sausage roll at the end was literally the best one I've ever had!
Lynn's Great North Run, 2023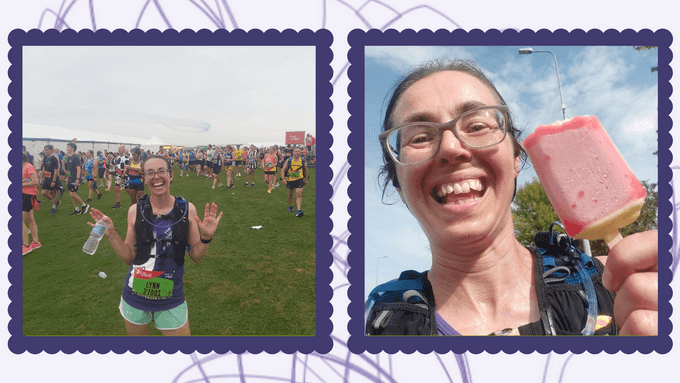 We arrived in Newcastle on Friday afternoon. We checked into our hotel and my husband got ready for his 5k. We watched the road races taking place beforehand in the sweltering sun and then it was his chance to run. As he is a speedy runner, he was down near the start line. We moved to try and get a photo of him starting the race, squeezed in to a space and realised we could see him. We weren't aware that Mo Farah was moving his way along the barriers to start the race and the kids shouted to him "we're runners!" We cheered on the runners and my husband finished in 18.36. He was initially a bit disappointed with his time (!) but realised that the heat and humidity was against him. We got some ice-creams at 7pm (in September) to cool us all down and walked the short journey back to the hotel. My daughter's bubble-gum lolly turned her mouth, hand and arm blue and there was much hilarity until we realised she couldn't get it off…  We ate at a nearby restaurant along the river at an outside table, feeling like we were on holiday abroad.
Super Saturday
My son was running in the 4k junior race on Saturday morning. My daughter and I found a place along the swing bridge to watch him run then hot footed it down to the finish line to cheer him home. He finished 24th with a finish time of 16.24. Again, he was a bit disappointed with his time and place but we reminded him of the tough weather conditions and that he was running with boys who were potentially almost 13 and that he only turned 11 3 months ago. My daughter (thankfully no longer blue) was desperate to find the mascot, Tyney, so we went in search of him. Instead, we found Sir Mo again – my son shouted "Hi Mo!" as if they were best buds…! He was so good with the kids, took the time to speak to us, was interested in what they said and their training and gave his advice "listen to your mum and dad". I liked Mo Farah before but I have an even higher opinion of him now after this encounter!
My daughter ran in the afternoon with her dad. As it was a 1.2k race, we decided to go straight to the finish line as I was worried we wouldn't be able to battle through the crowds in time after she started. We were right to do this as she finished in 4.55 and was the 3rd girl to finish. She was ushered to a separate area where we watched her climb onto her first podium and be awarded with her first trophy! Later that day, went to get an ice-cream and were lucky to eventually find Tyney. We freshened up at the hotel then the kids took me round where they were running as I explained I wouldn't run on the Swing bridge or Millennium bridge like they had during the half marathon. It was back to eat outside at Gino's and Amy got a free ice-cream with "congratulations" written on the plate (she had taken her trophy to dinner and was telling everyone she saw about her achievement!)
Superb Sunday that turned a bit soaking/soggy/s**t… but featuring superstars and saviours
I got race ready in the hotel after breakfast – number was pinned low to allow for my water vest which I wanted to take with me as it was predicted to be hot and humid. I thought I had allowed for plenty of time to get to the start line but the walk to the right area felt endless! I wanted to go to the toilet before I ran but the queues were insane so I had to give it a miss! I eventually got into the right colour but wrong letter zone but it was too busy to move. There was a girl asking me if I had spare safety pins with me making me thankful I had done that all the night before. I saw a woman crying and I checked she was ok – she told me she was just feeling emotional and had to get it all out before she ran. I passed folk with "running in memory of…" on their backs and decided to focus on my task in hand, proud to be wearing my Ectopic Pregnancy Trust vest. There was a warm up which I took part in and the large TV screens showed and talked about Mo Farah making me feel humbled to be part of his last ever competitive race. He was almost finished by the time I even started – it's a long way to the start but I found someone to chat to and downed a bottle of water made available to us before crossing the line. The red arrows flew overhead which was an amazing sight. The camera was moving to the right and left lanes of the motorway where the thousands of runners were queued but it cut to the presenters when I was passing so I don't think my parents saw me on TV!
I tried not to go out too quickly. I had heard that the toilets just after the start are usually quiet but I didn't want to stop so soon so carried on, mindful of my pace in the heat. Soon after starting, I could hear people cheering me on by name. When I passed through the tunnel, I could head chants of "oggy oggy oggy, oi oi oi" and I joined in with the shared camaraderie. I then ran onto the iconic Tyne Bridge. Kids at the side were offering high 5s and I tried to give as many as possible. I could see some holding "touch here to power up" and other banners and posters to encourage us runners. It was really hot but I kept taking frequent sips of my water. I passed folk handing out ice poles but I kept running. As soon as I ran past them, I regretted my decision! That regret didn't last too long as I lucked up with a strawberry split! It tasted so good and gave me a real boost and the water being sprayed from the side of the road also cooled me down.
Things get slightly less clear after that. There were some uphill's but I didn't find them as difficult as I expected. The pace slowed a bit as some runners walked but the crowds just seemed to buoy me along. I didn't take any water from the water stations, preferring my water vest. The toilet queues after the start were all long and so I kept going, hoping to stop at halfway. I was jealous of the men stopping for a quick pee at the side of the road!
I was hoping my husband was tracking my progress on the app as it gives updates every mile and at 5, 10, 15 and 20km. Soon after 10k, I took my gel. I began to see some people receiving medical attention at the side of the road and continued to take frequent sips of water and make peace with the fact that I wouldn't be getting a PB. Aptly I saw a runner with "it's not about pace, it's about the smile upon my face" and it reinforced my earlier inner, sensible voice to pace myself for the heat and that could get a PB on another course but this atmosphere and experience couldn't be replicated. I then saw some shorts that I recognised – a runner from my running group in Aberdeen! 60,000 runners and we bumped into each other at mile 9 (she reliably informed me)! She told me to crack on and I did.
I passed a parrot, 2 where's wallies and a dinosaur. A runner shouted to the dinosaur "I thought you were extinct!". The reply: "I will be in another mile!" I still hadn't been to the toilet and as the time went on, I wondered if it was worth stopping at all. Countless jelly babies and other sweets were on offer but I didn't take anything else. I pushed on, desperate to see the red arrows in South Shields. The streets were becoming littered with discarded water bottles and orange segments but I cheered on the single runner I saw get his empty bottle into the bin.  A man shouted "only a mile to go" but it was over 2k still to go by my reckoning! Just as I headed downhill into South Shields, the red arrows passed overhead. I watched the display as I ran along the final straight then also searched the crowds for my family. I saw the photographers and smiled and waved. The placards helped count down to the finish – 800m to go, 400m to go. Still no sign of my husband and kids. But as soon as I passed the finish line, there they were, behind the barriers on the left. I shouted and waved, exhilarated and amazed I hadn't been to the toilet!
I collected my finisher's bag, t-shirt and was presented with my medal. I queued to ring the bell and get my photo in front of the "GNR finisher" wall. As I did, I read the writing underneath "every story has a start and finish – it's the journey in the middle that makes it great".
In any other year, that would probably have been the end of the story – but not this year…
After leaving the finishers area, I looked for the "M" meeting point. When we met, I said we had to find a toilet as I hadn't been for ages! We queued for the portaloos and saw the sky become very dark – almost like nightfall. We realised it was going to rain and thunder and lightning had been forecast so we started heading towards the transport to go back to our hotel. The heavens then opened and we took shelter under a canopy as the thunder and lightning started. Heavy, prolonged rain fell (we later learned this was almost a month's rainfall in 90 mins) and flash flooding ensued. We were told the ferries weren't running so we headed to the closest metro station, unavoidably walking through what turned out to be raw sewage, aware it was going to be very busy. What we weren't expecting was to find that the metro station had flooded and was closed, the fire brigade were in attendance but they were unsure when it would reopen. By this point, we were soaking, cold, hungry, tired and the kids started crying. Some runners offered the kids their popcorn and crisps from their finisher bag to try to console them. We asked the metro staff what we were expected to do – get a taxi was the reply…! We were then told that some buses were leaving so we joined the massive queue for this. It became clear however that the buses were barely moving due to flooding of the roads and gridlocked traffic. The rain had subsided by this point and we made the decision to start walking towards the next metro station that was rumoured to be open. The internet connection was very poor so it was difficult to be certain.
We walked for some time alongside so many others in the same situation. The locals directed us to avoid sewage flooded areas, tried to give us updates and wished us good luck. The next metro station was also closed but we walked on (I believe over 4.5 miles) until we reached an open metro station. We just missed a train but realised another was coming in 5 minutes time. Others standing at the station told us they couldn't board the train as it was packed. We decided to take a child each and battle on to the next train. People standing on the train tried to accommodate as many folk as possible which we were so grateful for. Approximately 30 minutes of standing later, we arrived at central station and walked the 10 minutes back to our hotel with the rain, thunder and lightning restarting. We arrived at 7pm, about 5 hours after I finished the run. We had planned to drive up to Aberdeen after the run but we decided to try to stay another night to allow us to shower, eat and rest. The receptionist reassured us there were still rooms available, advised us to book online as it was cheaper and got the kids some very welcome hot chocolates.
When we got up to the room, we bagged up our saturated clothes and trainers, showered and headed down to eat. It was the first time I had sat down since finishing the run (unless you count sitting on the portaloo)! It was after 10pm by the time we eventually got to bed.
Post-race blue Monday
The following day, we had breakfast and took a last walk around Newcastle. I was desperate to get a photo with the 4 of us with our medals as we hadn't had the chance on Sunday. We headed up the road, exhausted, sad to leave after a brilliant – but challenging – weekend with our medals round our necks. Part of me feels the run was the easy part, getting back to the hotel was certainly harder and that we all should have got a medal for that!
So that was the Great North Run 2023. And now I realise what the slogan from the organisers means, what sets this half marathon apart from the thousands of others on offer. It's the scale of the event, the shared camaraderie with other runners, the chance to raise money for a charity close to your heart, it's the locals who hose you down when you feel so hot, it's the supporters who cheer you on by name, give you high 5s when you need a boost, offer you an ice lolly or even a beer (I decided to pass on that one!) to refresh you and keep you going to the finish line. Was it enjoyable? Yes! Was it tough? Also yes! Would I recommend it? Absolutely. Would I do it all again? You bet.
THANK YOU SO MUCH TO THE ECTOPIC PREGNANCY TRUST for giving me and my family this amazing opportunity and to give back following the help and support you gave me when I needed it.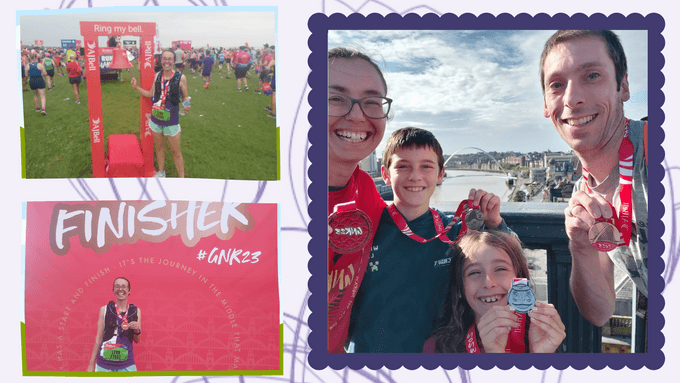 Matthew's Great North Run, 2023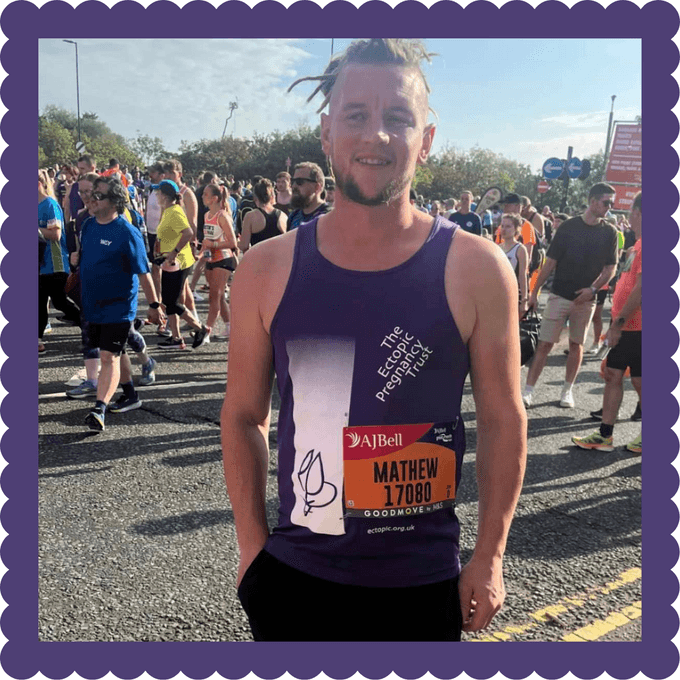 Well what can I say! I'm still alive.  That was the hardest thing I have ever done but it was well worth it running for this  great charity raising £529.
I managed to get round in 2 hours and  30 minutes, but note to myself I will be back next year and I will actually do some training next time!
I am in so much pain I couldn't even walk up the stairs last night.
Thank you to Ben and Mary Hall for the sorting me out with a vest and was nice to meet you both.
Lynsey's Great North Run, 2023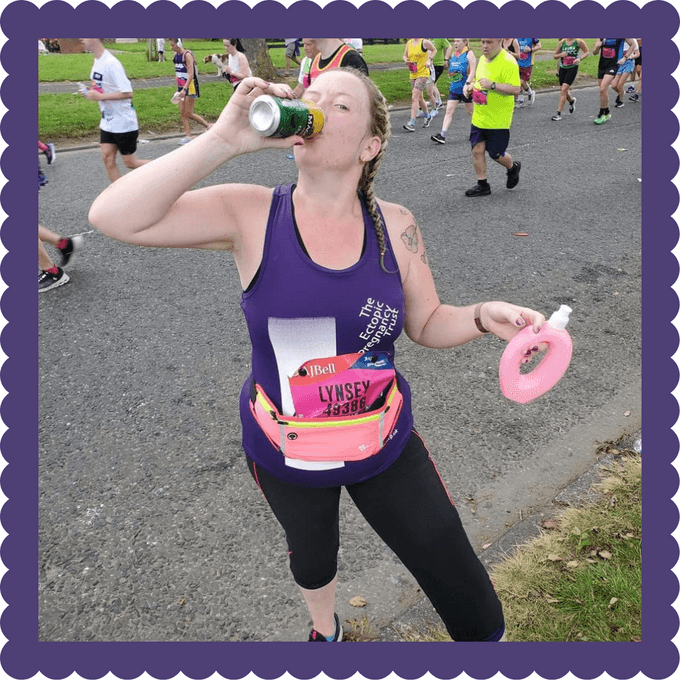 Other than the monumental downpour after I'd finished I am buzzing about today! Managed it in less than 3 hours which was my aim after badly injuring my knee 2 months ago!
Also raised over £900 for this amazing charity which gets matched by my employer.
Chilling out now with a glass of red and a curry.
If you are inspired by our Great North Runners passion and determination and would like to raise funds and awareness for The Ectopic Pregnancy Trust, please visit our fundraising page and drop our fundraising co ordinator an email if you are interested in a place for the GNR 2024 jill@ectopic.org.uk