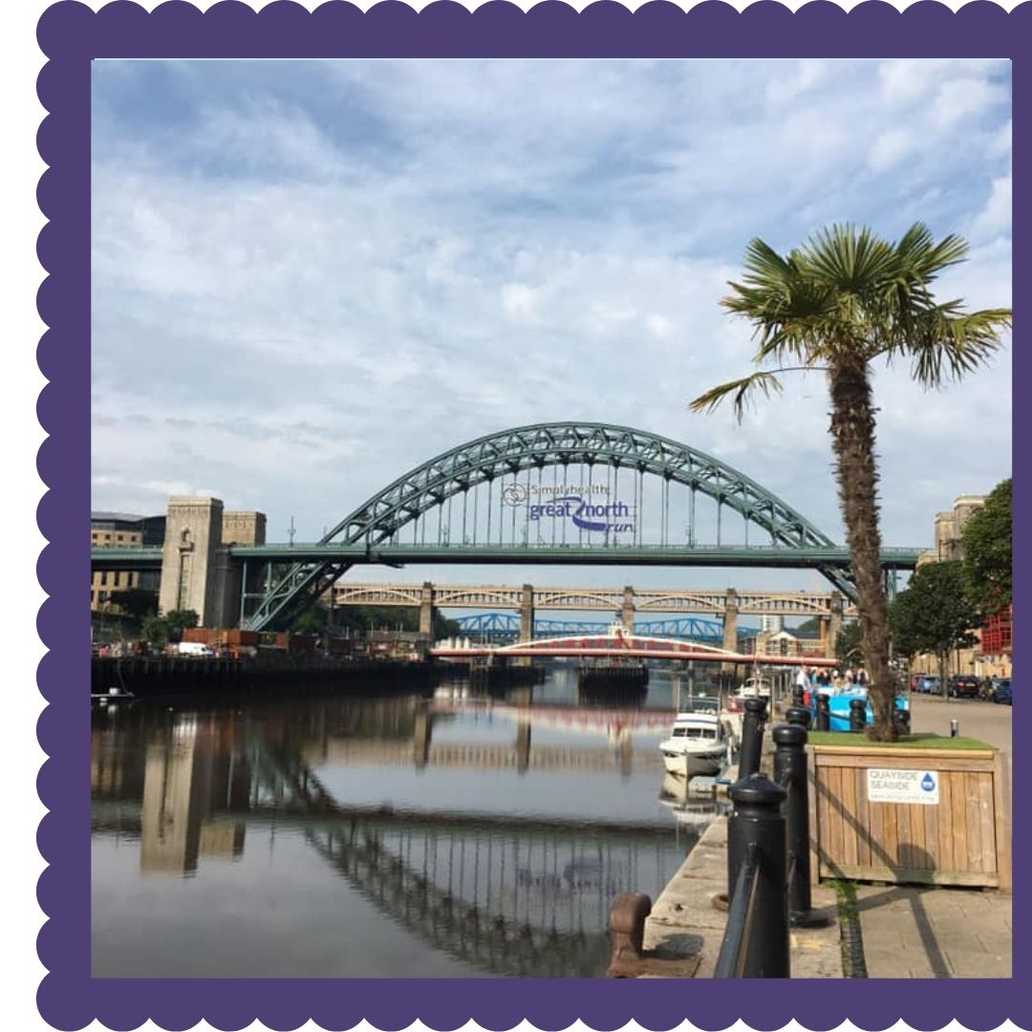 Dona and Lynsey Take part in the GNR, 2018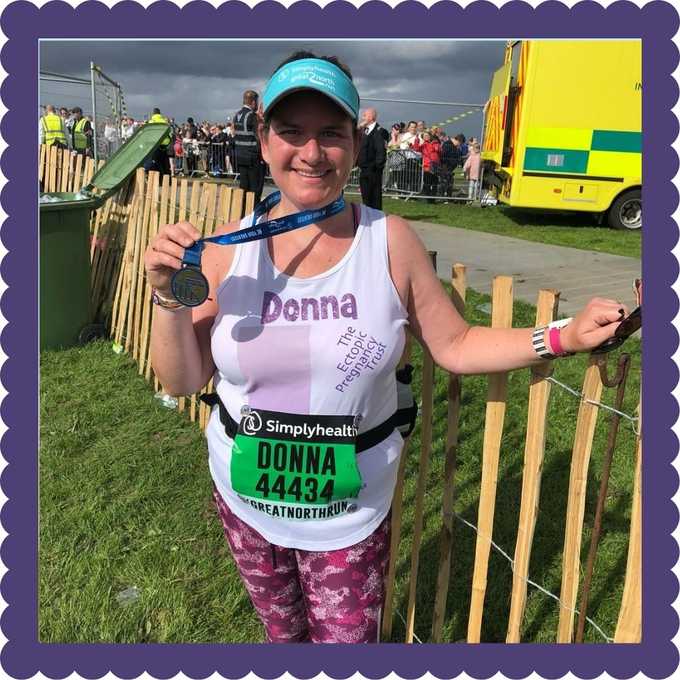 Donna and Lynsey fantastically took part in the Great North Run, 2018.  The "dynamic duo" had already smashed the London Marathon this year, with Lynsey supporting the Ectopic Pregnancy Trust.  Below in Lynsey's words you really get the sense of how much they enjoyed the day. 
Donna and myself had an amazing day.  A weekend in fact as we made the most of it.  The whole weekend was fabulous, we had lots of fun running.  The Red Arrows were a real treat and the weather was surprisingly warm.  I had always wanted to do the GNR but always thought it was too busy or too far away however when the opportunity came to run for the EPT again I jumped at the chance and was very honoured to wear the vest again.  Whilst it was very busy we both enjoyed ourselves and particularly loved the last mile coming onto the seafront.  We mingled for ages afterwards soaking up the atmosphere which was great instead of having to rush off.   All in all a quite brilliant experience. 
Great North Run 2019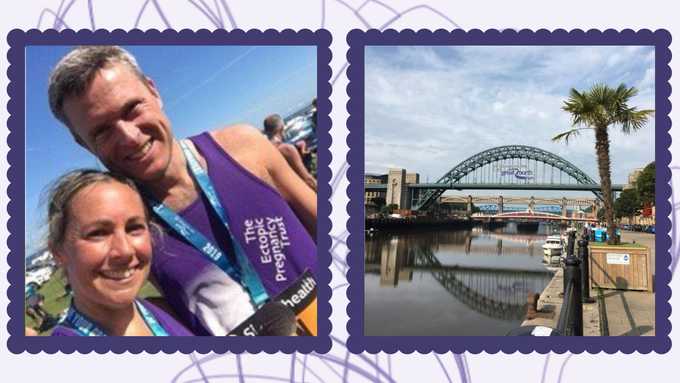 Mary and Ben's GNR, 2019
I decided to run the Great North Run for our little one who got lost along the way and was an ectopic pregnancy at 8 weeks. After the wonderful support I received following treatment, I decided to pop my trainers back on and raise awareness for such an amazing charity, along with my fiancé Ben. The atmosphere on the day is absolutely fantastic, the crowds really do get you all the way round the course and I would encourage anyone to give it a go as there is nothing better than running to the seaside.
Jessica's GNR, 2019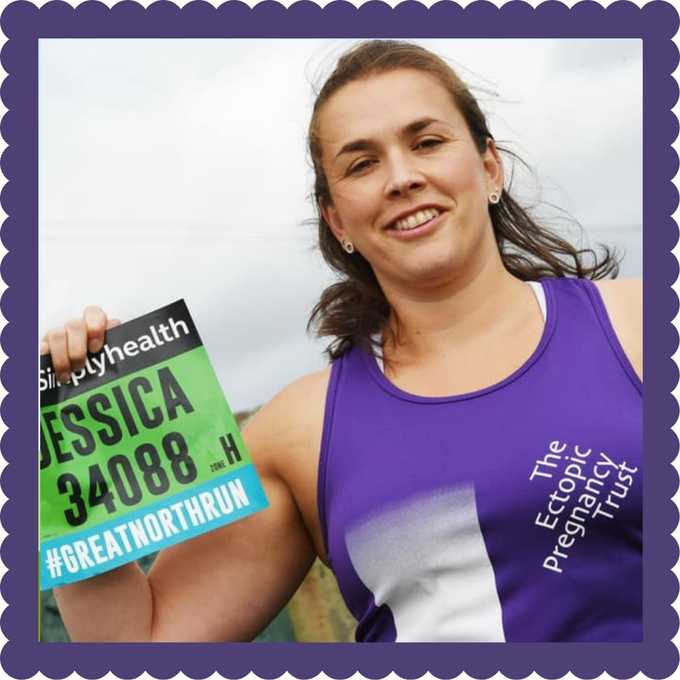 I decided to do the run to challenge myself and felt that running for
The Ectopic Pregnancy Trust would give me the focus that I needed. I
had an ectopic pregnancy in December 2013 and understand first hand
the emotional and physical toll that it takes on you. I am not
normally an overly emotional person but I spent most of the race,
right from being on the start line in tears. The actual run was
extremely hard, having been poorly just before, but my main focus was
to get to the end – time was not a factor. The support along the way
really restored my faith in humanity with all sorts of people giving
up their day to line the route and spur you on, the jelly babies and
ice lollies were also a welcome sight!!! Last night I was saying never
again but this morning my thought process has changed.
Rosie's Great North Run 2019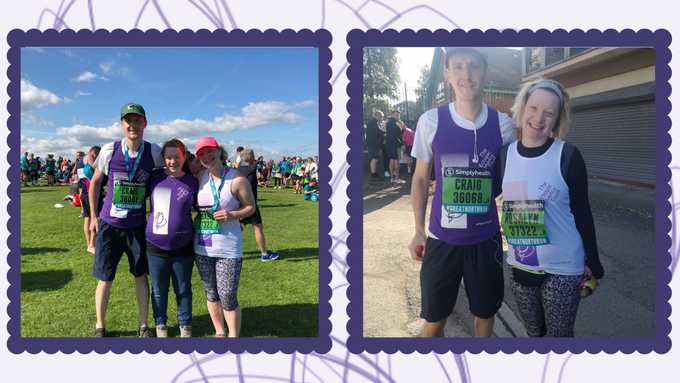 I Started training with the GNR goal in sight. But life gets in the way and that training plan goes out the window! I live on flat land next to the sea where it mostly rains, and the GNR was full of inclines and full blown sunshine so it ended up being one tough run. But the atmosphere was giddy with anticipation and excitement and you can't stop yourself from absorbing it all. We crossed the line with a mixture of exhaustion and gratitude. we had finished. We did it! And we have raised £700 and going for doing it. I have a 2mile swim in loch Tay still to go though so no rest of the wicked. But I want to say thank you to you and your charity. The charity that kept my sister going when times got tough. I can't begin to understand what she went through but I will be forever in debt for her mother in law for knowing the signs and symptoms and getting her to hospital asap. My running this half marathon, I have used it to help raise awareness for your charity but most importantly the signs and symptoms of an ectopic pregnancy as well.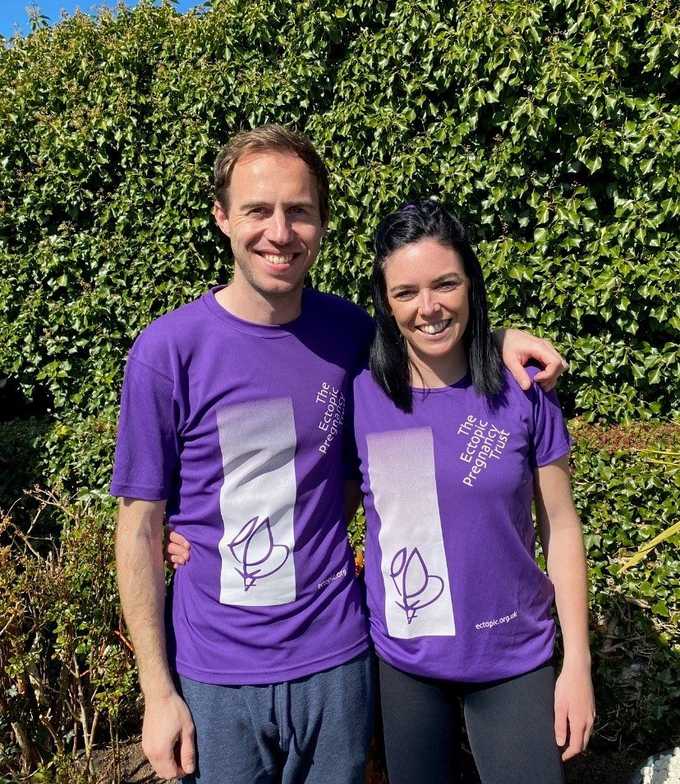 Victoria and Cai's Great North Run 2021
Victoria and Cai both joined our GNR team, 2021 (delayed from last year). This challenge gave them a focus after their horrendous heartache and trauma. Victoria says Cai is a runner and she is also now using running and increasing her distance to help with her emotional and physical recovery. Cai comments that he "has his wife back and a healthy one at that!!" Victoria's Story: I found out we were expecting our second baby in November 2020. We were extremely excited. Two weeks later, I started to experience pains so I rang the early pregnancy helpline and they advised me to go and checked to be on the safe side. After a long wait in A+E I was sent home and told to wait for a phone call to book me in for a scan (unfortunately this all happened on a Saturday and the early pregnant unit was shut so no scans on offer.) Fast forward 6 hours and my husband found me collapsed upstairs, he rang for an ambulance and I was rushed into hospital. My memory is a bit of a blur after this. My husband was told that I was very poorly and had been internally bleeding due to a ruptured Fallopian Tube resulting in losing our baby and my right Fallopian tube. I had to be resuscitated, put on life support, and given six blood transfusions in theatre. Luckily I woke up and I was alive. I had 3 small scars on my tummy that would be a reminder for the rest of my life of an extremely scary time. I was released from hospital a week later, I was struggling with movement and very simple tasks. Luckily for me I have a very supportive family. I was longing to feel normal again but I knew that It was going to be a long journey. My hospital mentioned The Ectopic Pregnancy Trust to me so when I felt strong enough to start dealing with the emotional side I sat on my laptop and read through their page. One week later I was sat on a Zoom group call with five other amazing women who shared their story, listened to mine, watch me cry and gave me advice. It was incredible. I walked away from the Zoom call feeling emotionally exhausted but so much stronger. Raising money for The EPT is the least I can do. Training and why I am doing the GNR Fast forward again 4 months… I began running once the hospital told me it was safe to do so. I was a runner before but never long distance. I found that the first couple of runs I went on after my ectopic pregnancy I was replaying everything in my head, it was so tough but before I knew it I had ran 5 miles…..the longest I had ever done. I began aiming for longer distances and last week I completed 11 miles. I was so proud of myself for achieving this. I reached out to The Ectopic Pregnancy Trust when I had seen them post about the GNR. I couldn't quite believe what I was getting myself into but I signed up anyway and they accepted me!! I hadn't shared my story with many people and I knew that if I wanted to raise lots of money then I would need to write about it. So a couple of days ago I sat with a glass of wine and wrote it down and posted it. I was then flooded with messages from friends and donations, it was such a weird emotion, I was so so happy but sad that I had been through something like this. I know this will help my healing process, it already has in a way. I will be forever grateful for the trust and I urge everyone to go and look at the symptoms, it could save lives and prevent a situation like mine. I have started my training and I am loving it, taking it slow is the key and I am so fortunate to have a husband who is a runner. He is going to run The GNR with me for The Ectopic Pregnancy Trust as he owes them just as much as me. He has his wife back and a healthy one at that!
Mary's Great North Run 2021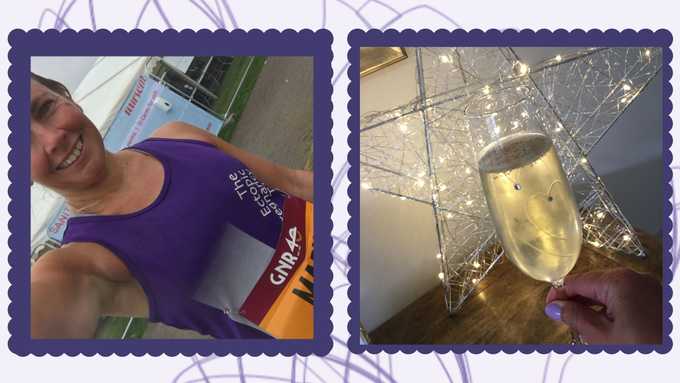 About 6 weeks prior to the race a friend asked me did I want to do the GNR and I thought so many things, mainly I can't run that far anymore and I'm not good enough but also if I was going to run I would want to run it for the Ectopic Pregnancy Trust.  So after a quick email to Jill, hearing there was a place available it felt like it was meant to be.  I was doing the EPT80IN1 during August so the timing felt perfect to continue with my training and run 13.1 miles on the big day.
The Great North Run is a local event to me here in the heart of the North East and a race I have ran many times.  The atmosphere is something you have to experience, such warmth and support from the locals all along the route for the elite to club runners to people just wanting to have a go and like Brendan says it's for ordinary people doing extraordinary things. It truly is a fantastic event. This year was slightly different with a change of route, which meant we got to see all the elite runners coming back in and a chance to run over the Tyne Bridge twice which is always a highlight.
After suffering an ectopic pregnancy in November 2018 I decided to run the Great North Run in 2019 with my husband Ben for our little miracle Tiny Toes and it was such an emotional day but one filled with so much love and support.  Since then our fertility journey continued and we suffered two more miscarriages last year and I am forever grateful to the wonderful support of the EPT as my emotional health suffered.  When I heard there was a place left for the GNR I just wanted to do something for our little one and raise awareness for such a wonderful charity so dear to my heart.  When I saw Ben running to meet me at the end it filled my heart with so much love that we always have each other and Tiny Toes is always with us.
If you are inspired by our Great North Runners passion and determination and would like to raise funds and awareness for The Ectopic Pregnancy Trust, please visit our fundraising page and drop our fundraising co ordinator an email if you are interested in a place for the GNR 2022 jill@ectopic.org.uk