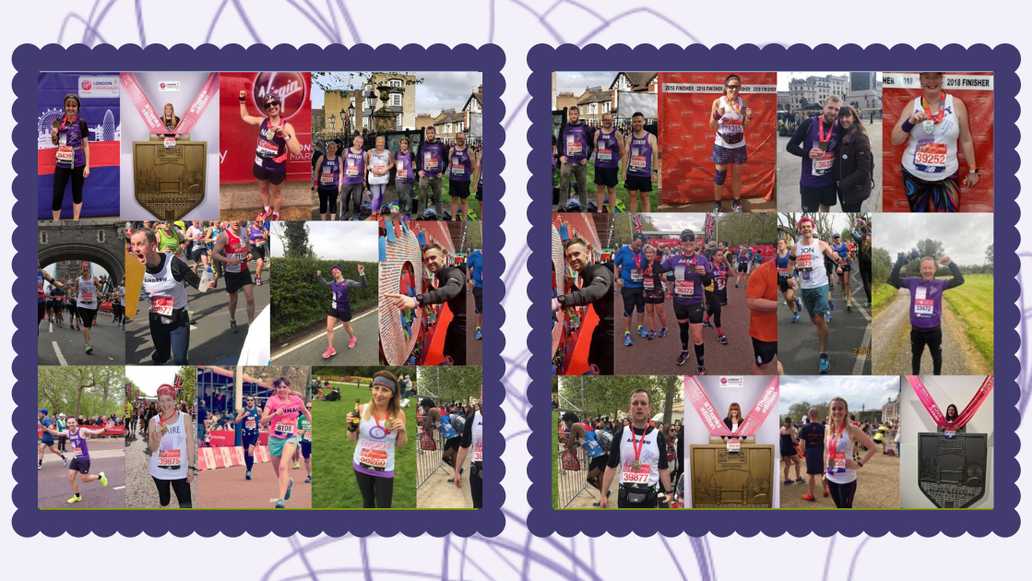 Jon Wood Shares his 2017 Marathon Experience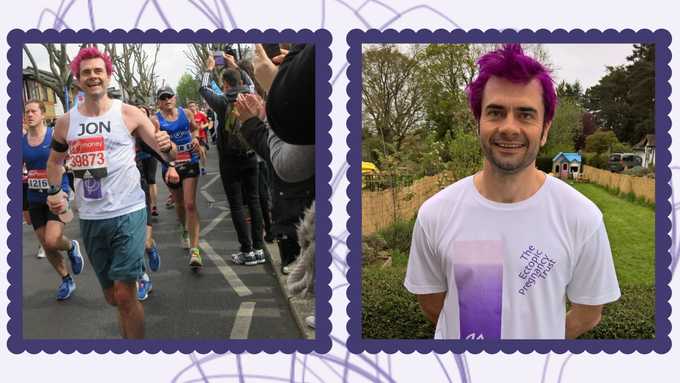 Jon pledged that if he reached his target by the day of the marathon he would dye his hair purple! He did and fulfilled this pledge. Jon also smashed his PB finishing in an amazing 03:33:43. Here is his heart-warming account of his marathon experience and we love that Jon was able to tell an sonographer all about the work we do. We thank Jon and his family, Keri, Isobella and Luca for all their support.
We arrived in London after a week in France (booked prior to securing a place in the marathon) so I trained while there, but this was offset by amazing French cheese and bread! The Expo was an amazing experience, I attended it in my EPT t-shirt and since I'd made my fundraising target I'd agreed to dye my hair purple (EPT colours) for the marathon – it resulted in some funny looks on the train and as my hair is normally black, it took some doing to get it bright purple! The expo was such fun, everyone was so friendly and I was proud to show off my EPT shirt while there – I got registered and the kids had fun raising a few extra pounds with the Virgin Money Giving challenges, dancing, bowling and table football which were good for £5 to your charity each time – the atmosphere was buoyant. Saturday was a rest day before an early start on Sunday to head to Greenwich, with the family heading to Canada Water to watch on at 9 miles and 11 miles. The first thing that struck me about the morning was the sheer number of runners, all supporting the various charities. It felt good to be supporting a smaller charity and not be among the masses from some of the larger charities, plus it was a very personal decision to run in support of EPT. That said, on the way up to the red start I was stopped by a lady who had spotted my vest and asked if I was running for EPT, wishing me luck for the race, as her husband was also an EPT runner. I even got chatting to a sonographer who wasn't aware of the work of the EPT, so it was a privilege to be able to explain this to her. The start was extremely crowded, it took almost 7 minutes to cross the start line – but even as I left the park in Greenwich the relentless support began. It was definitely an advantage being tall, having bright purple hair and having my name on my vest – the cheers and encouragement were completely overwhelming throughout! I'd aimed to try and complete the race in 3 hrs 45 mins but set off quite quickly, thanks to the huge support of the crowd. There were so many highlights on the way around, and the crowds were 10-15 people deep in some places – Canary Wharf, Embankment and near the finish in particular, however my personal highlight was giving my wife and children a kiss and a hug at 9 miles – it was a lift to see them cheering me on. The going got pretty tough around 22 miles so I had to draw on my reserves, focusing on my generous sponsors who had helped me raise way in excess of my target, and riding on the pride for the charity who helped us so much. It was a relief to be crossing the finish line in 3:33:43, a great achievement for such a fantastic cause.
Andrew Jarocki Shares his 2017 Marathon Experience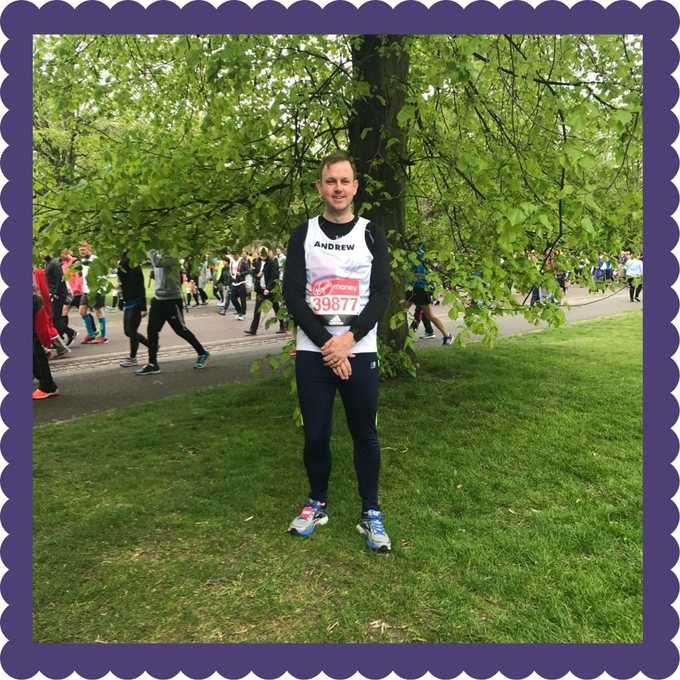 Andrew was a fantastic runner in our VLM17 team and despite getting injured at 16 miles still pushed on to finish in an impressive 04:22:46. Here are Andrew's lovely memories of the day and we thank Andrew and his family for keeping him motivated and all their support. We are also grateful that we were able to help his wife Laura who Andrew kindly says with the support of the Ectopic Pregnancy Trust she is now in a much more positive place.
I Arrived at the expo on the Saturday and started to feel the buzz for the event. All the runners were picking up their numbers ready for Sunday. Meeting up with family and friends who have come down to support you for the day and going for a lovely dinner gave me even more motivation for the day. That night I got a great nights sleep even though people told me I'd struggle to sleep. I got up nice and early on Sunday and got ready and feeling excited. There were so many runners making their way to Greenwich park for the start. All chatting to one another. Arriving at Greenwich park seeing the mass of runners gathering for the start it started to feel very real. Waiting for that 10am start seems a life time. When it finally started I was trying to work my way though the masses to get in my running stride. Then as soon as I crossed that start line the crowds were already cheering, calling my name, young kids wanting hi fives. I took in every mile as it came including seeing all the sites and the amazing entertainment making it an experience I'll never forget. Running over tower bridge was my biggest highlight. At the half way point I saw my family which gave me more motivation to keep pushing. Then at mile 16 I got injured but that was not going to stop me from finishing. I pushed on and finished in 4 hours 22 minutes. A great time for my first time. Then to get awarded with an amazing medal at the end made it all worth it and for this amazing charity the Ectopic Pregnancy Trust.
Claire Spinks Shares her 2017 Marathon Experience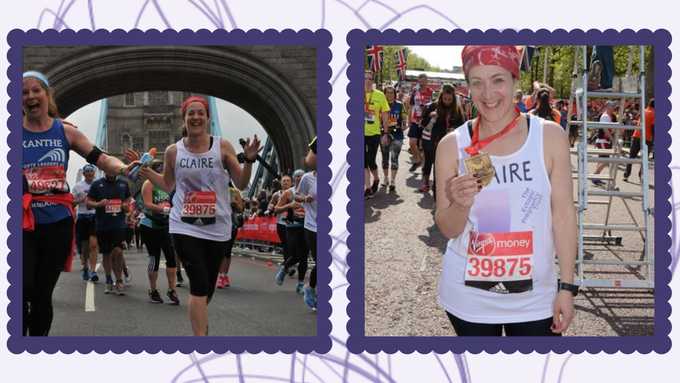 Huge thanks to Claire who was another of our brilliant runners in our 2017 marathon team. Here Claire shares her impressive marathon story fitting runs in and around a busy schedule and raising amazing awareness and funds for us along the way.
As a busy working mum of 2, I was determined to complete the promise that I made to myself in my teens that I would run a marathon when I was 40. I didn't think that I would get a place, having applied to run with a few charities but not made the cut. Then I found Crunch and saw that the EPT were looking for runners. This was perfect! My first pregnancy was an ectopic pregnancy and I had turned to the EPT website for help and support during my time of need. It was great to be able to support a charity close to my heart. I began training in January, following the program on the London marathon website. It was tough going. Fitting in runs after putting the kids to bed, running in the rain, snow, dark and hail. But I could see improvements and I began to feel proud and could, eventually, see it was possible. Fundraising started slowly, but closer to the event the money began to steadily come in. Sharing information about the EPT with sponsors allowed me to raise awareness of a smaller charity and inform people about ectopic pregnancies. As I am a teacher, I was able to tell most of my classes about it which was great. On the day, I started strongly, keeping up with the 4:45 pacers. After halfway, however, I slowed down but was able to keep going, beating my 5 hour target by a whole 41 seconds! My family and friends were amazing – seeing them in the crowds, kissing my kids on the final mile and then the emotions crossing that finish line will all ensure that it was a day that I will never forget! Thank you EPT for making it possible.
Kerry Slevin Shares her 2018 Marathon Experience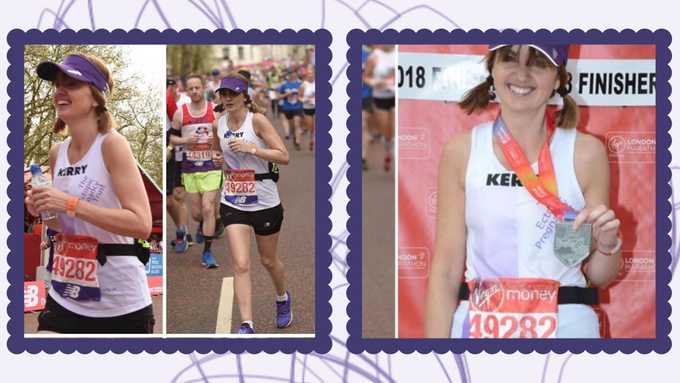 Kerry was one of our brilliant runners in our London Marathon 2018 team and despite many of the runners training in snow to then running the marathon in one of the hottest on record, Kerry did brilliantly finishing in 05:09:49 here she shares her emotional marathon experience.
What a day! I don't think I have ever experienced quite so many emotions in such a short space of time! From excitement and trepidation at the start, to a combination of happiness/relief (and disappointment at my finishing time!) at the end. It was emotional right from the walk to Greenwich Park at the start, just seeing hundreds of different charity t shirts and the messages printed on them. It was good to spot two of the familiar Ectopic Pregnancy Trust tops and meet Lynsey and Caren. The race itself? Hot! Nothing like training in the snow for a 24 degree Marathon! Hard as it was, I am so glad I did it and very grateful to the EPT for letting me run for them.
Sally Laflin Shares her 2018 Marathon Experience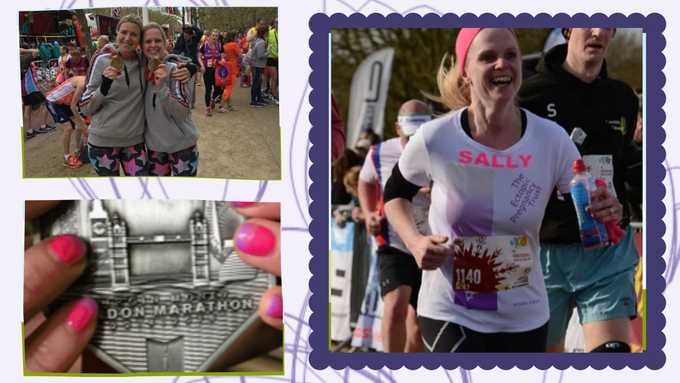 Sally was another brilliant runner in our London Marathon 2018 team.   Sally, who had also supported us and run in our team in 2015 has smashed her time from 2015 this year despite running the marathon in one of the hottest on record, Sally finished in 04:01:43 here she shares her 3rd marathon experience.
After competing Manchester I knew that I was able to get round in a time I was happy with. Then the weather happened! I have to say the heat was brutal and made for an extremely difficult run. I loved the crowds and the atmosphere but the actual running was way more challenging in that heat. I was pleased to get round in 4:01, 3 mins off my time at Manchester but I'm being gentle with myself because of the heat. Once again I've loved running for such an amazing charity, I've hit my target and pleased I could support the great work that's done. As for next year……. never say never, this was my third London and def not my last!
Lynsey Miles Shares her 2018 Marathon Experience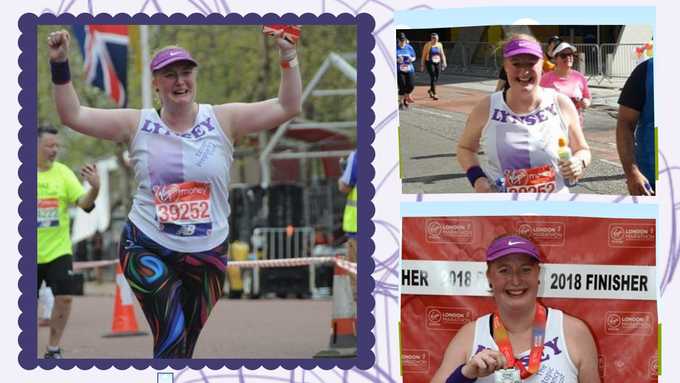 Another of  our fantastic runners in our London Marathon 2018 team was Lynsey. Training through the gruelling winter months of wind, rain, snow to running the marathon in one of the hottest on record, Lynsey battled on with passion and finished in 07:04:28 here she shares her marathon experience.
Running the Virgin London marathon on behalf of The Ectopic Pregnancy Trust has without a doubt been one of the most memorable experiences of my life. From the fundraising, to the training and to the actual race and to the finish – I have honestly loved every minute (I think). The weather affected my time big style, but I'm happy with that now, I completed the London marathon! That to me is awesome. It feels very surreal now like it was months ago though – people ask me would I do it again? If they had asked me when I was finishing then I think the answer was a resounding NO!, but now? Well I've got unfinished business…..
Tara Kelly Shares her 2018 Marathon Experience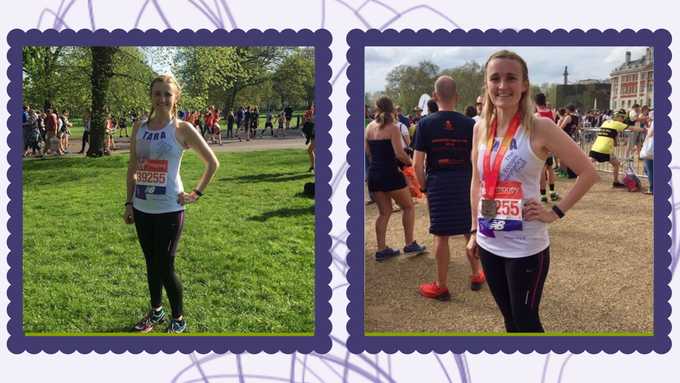 Tara ran her second marathon joining our London Marathon 2018 team. Tara and her fiancé tragically suffered an ectopic the year before and Tara felt she needed a focus. Here she shares her marathon journey and how it took her from a low place, not helped with the harsh weather conditions through the training months, to smashing her target completing the marathon in 04:16:34.
I had run the marathon once before, back in 2012, and although I was disappointed with my time (5 hours 25) I was adamant I'd never do it again. That changed after we suffered an ectopic pregnancy last year. I was feeling very low and I needed something to focus on to pull me out of it. I applied and honestly thought I wouldn't get in so when I got the call to offer the place to run I was stunned. But it was the kick I needed. I live in the South Wales valleys and have had to train in heavy snow, ice and torrential rain and it has been incredibly tough. There were times I considering pulling out. But I'm so glad I didn't! The day itself was surreal. On the way to the start, a total stranger saw my running vest and literally reached out to me to say she'd been through an ectopic herself which set the tears off! The heat during the race itself was unreal, I must have thrown gallons of water over my head to stay cool and adjusted my target to finish in 4 hours 30 to 4 hours 45 so I wouldn't over exert myself in the sunshine. The support on the day from friends, families and the crowd was spectacular and genuinely gets you through the moments when the pain gets a little too real. My knee gave way at about mile 24 so I honestly attribute my finish time to people cheering for me and giving me a much needed boost. Couldn't be happier to say I finished in 4 hours 16 so absolutely smashed my target. No more marathons for me but my fiancé is considering putting himself forward now with a view to further fund raise for the ectopic trust in the future.
Hannah Cassap Shares her 2018 Marathon Experience
Hannah joined our London Marathon 2018 team after gaining a ballot place. The offer came just a few days after Hannah had very sadly suffered the terrible ordeal of an ectopic pregnancy and lead to a soul searching few weeks after which she decided the best "medicine" would be to accept the place. We were incredibly grateful that she decided to run for us and ADHD another charity close to her heart. Here Hannah shares her marathon journey through those harsh winter months to the hottest marathon on record, brilliantly completing the marathon in 05:41:01
In October 2017 I suffered an ectopic pregnancy. One minute you're pregnant the next you're signing cremation forms. It was really hard to make any sense of it all. I had an operation to remove my right tube and the baby. Still not really understanding why this was happening to me. A few days after being discharged from hospital, I received a 'YOU'RE IN' London Marathon magazine. I was surprised because I'd completely forgotten about my ballot entry and it was my first ballot attempt! At first I wasn't sure what to do. I'd just had a life saving/ altering operation and I would need to start training in January 2018. I debated for a couple of weeks but knew in my heart I had to do this. I accepted my ballot place and started training. Remembering that running really is the best medicine. I completed my training in weather conditions of -8/ snow/ wind/ rain and sleet. Always wearing only a pair of shorts and t-shirt, as I hate being hot. The marathon day soon approached and if the weather reports were to be believed, the hottest ever marathon on record. Surely not. Yet, surely was. It was so hot, not only running, but the vast amounts of people on course and around it. The support was phenomenal. I was disappointed with my finish time but I am so happy and proud that I could raise some money and awareness for this great cause.
Sarah Atkin Shares her 2018 Marathon Experience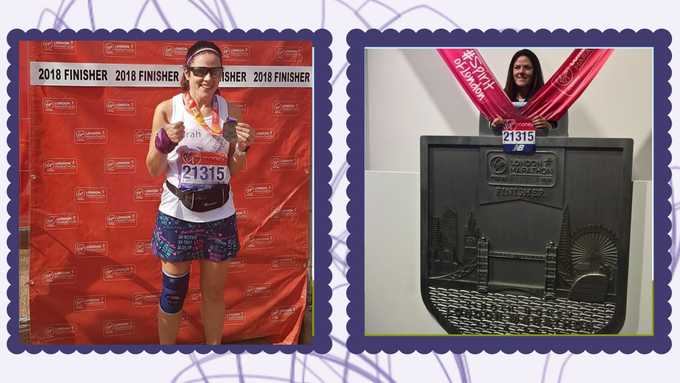 Sarah joined our lovely London Marathon 2018 team after gaining a ballot place. On the day Sarah showed true grit and sheer determination and also demonstrated how powerful the crowd and her family and friends were to encourage her right to the end. Here Sarah shares her marathon experience dealing with 2 bouts of the Beast from the East to the hottest marathon on record, fantastically completing the marathon in 04:52:02.
At the beginning of November 2017  I was lucky enough for Gemma Griffiths to pull my name "out of the hat" for the Club London Marathon ballot place. I had already secured a charity place with a small charity that means a lot to me, The Ectopic Pregnancy Trust, but getting the club place meant I could still raise money for my charity without the added pressure of raising a certain amount as well as training and general life! Fast forward to Sunday 23rd April and we were on the start line to this worldwide famous race. The 16 week training plan for this, my second marathon, couldn't have gone better despite illness and two bouts of the Beast from the East! Finally, crossing the start line almost 25 minutes after the "gun" went and we were off. Settling into a comfortable pace, it was warm – very warm! Just before 5k I pulled alongside my friend's boyfriend Chris! We had a mid-run hug and carried on. Picking up water from each water station and following the advise of the organisers – I drank, doused, drained and dropped the bottles, often holding onto one like a security blanket! Passing the Cutty Sark at Just before 12 miles I started to feel not so great and just after Tower Bridge was searching desperately for a portoloo! My husband had found my parents, brother, his partner and my miniatures just after the halfway point but they were on the other side of the road, which at this point was probably a good thing! Between here and approximately 18 miles the whole race was really messing with my head! Stubborn Sarah kicked in though I knew I had to finish this! Fast forward about 7/8 miles and after my 4th toilet stop Stephen and I met up with the lovely Jayne from Hedon Fitmums & Friends who we met on the coach trip down to the City. They both stayed with me for the rest of the race and I couldn't be more thankful for this. At 18.5 miles I heard a shout of "Teddie" (my nickname from school). Knowing my best friend Claire had travelled down to hopefully spot me and support me I couldn't see her but knew it was her! At this point we were run/walk the rest of the race (as were the majority of people). We turned back onto The Highway and my family were shouting at us – I went for a hug (good job I was wearing my sunglasses!) about a mile and a half after this Stephen's wife Andrea and kids were there for us. It is true the crowd push you on. Going under the bridge at about 23 miles we heard shouts of "the Barton runner" aimed at Stephen in his club vest it was a group led by Kerry Padley from Scunthorpe & District AC. Finally turning the corner at Westminster, passing Buckingham Palace and onto the Mall with the 385 yards to go sign in view I found it hard not to shed a few tears. Going over the finish line at this epic race I was initially very disappointed, feeling I'd wasted 4 months of dedicated training and the sense of letting my club down was quite overwhelming. But looking back now I'm proud. Proud I finished the hottest race in history, proud I listened to my body to pause when I needed, proud my children got to watch me (despite Mr Potato Head being the clear favourite runner on the day!) and proud I raised over £3000 for a very special charity that helped me cope in a time when I needed them so they can continue to help unfortunate ladies like me. So, my experience of the 38th Virgin London Marathon wasn't the race I wanted but would I do it again? In a heartbeat.
Joe Greenwood Shares his 2019 Marathon Experience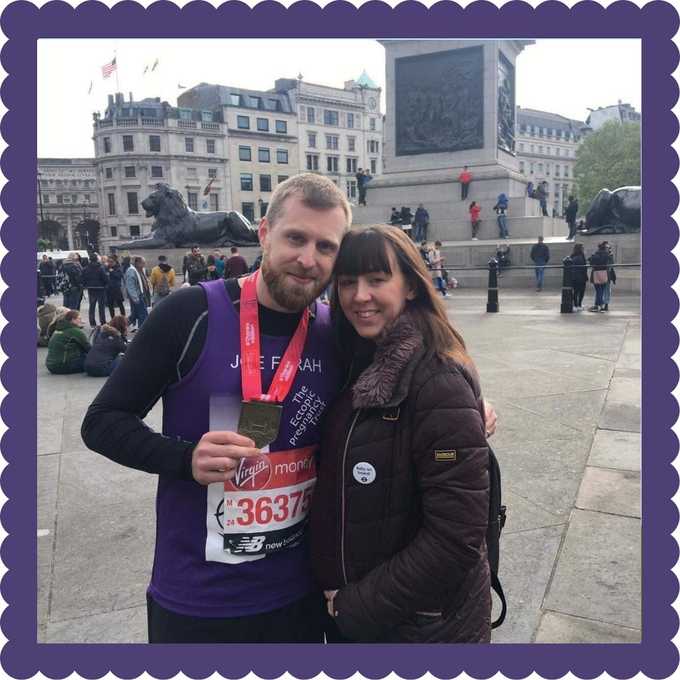 Joe ran his first marathon joining our London Marathon 2019 team. Joe ran the marathon for his wife, Nikki and the baby they lost.  Here he shares his marathon journey and how he was searching for closure and his struggle to cope with what his wife went through. So from couch to marathon Joe really did brilliantly completely smashing his target and completed the marathon with a sprint finish in 05:13:07. I ran the marathon primarily to support the Ectopic Pregnancy Trust as my wife had an ectopic pregnancy in December 2017, which was heart breaking. I found it particularly difficult to get through the mental anguish afterwards, so I wanted something to act as closure and to make my wife proud of me. Thankfully all that has been achieved and we are also expecting our first child in August which made it all the sweeter to cross that finishing line. My experience of the day was one of nerves in the morning, but then once I got to Greenwich I felt good. I had my name printed on my running vest, I chose a nickname to stand out, mine was Joe Farah. The crowd really did keep me going by shouting out my name. I found the first 14 miles a breeze, and I've never thought that on my long training runs. But I hit issues around mile 15 so then resorted to walking a short distance before running again, then rinsed and repeated that until the end! As it was my first marathon I set myself the target just to finish it, if I'd have set a time I'd have been most likely disappointed, so I was just delighted to complete it. As my target was just to finish, it meant when I was walking I could take time to speak to the crowd and really enjoy the day too. If I'd set a target time I wouldn't have enjoyed it as much. The only other goal I had was to have a sprint finish, so when I passed the 200m to go mark I absolutely legged it to the finishing line and it felt superb.
Conor Rawson Shares his 2019 Marathon Experience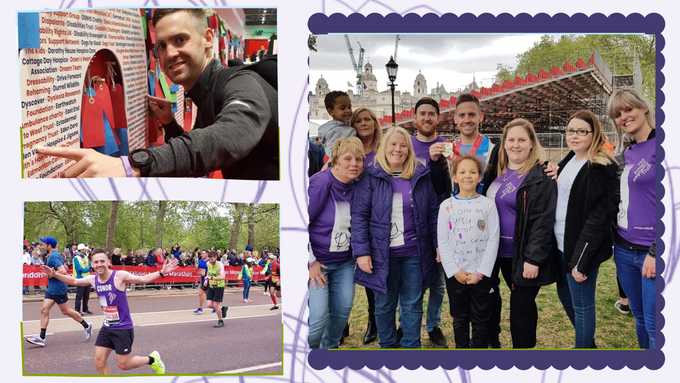 Conor ran his first marathon joining our London Marathon 2019 team.  Conor has passionately trained through long winter nights and smashed his target and completed the marathon in a phenomenal time 03:15:08. Here you can read why Conor ran for the charity and his experience on the day, one of sheer joy and excitement. My best friend and his wife experienced an ectopic pregnancy in 2017 and the EPT were brilliant in providing invaluable information and support to them at a very difficult time. Knowing that running the marathon would help the charity and two people very close to me made every single mile worthwhile. What an amazing weekend that was. Honestly one of the best weekends (if not the best) of my life. I felt like a child in a sweet shop at the expo on Saturday and then there was yesterday – just wow. I finished in 3:15:08 but I actually ran an extra 0.3 miles so would have been even quicker – oops! The race was incredible, the crowds were unreal. Hearing so many people cheer my name was fantastic. I ran so much more intelligently than Brighton two weeks ago and was able to run the last 4 miles strong and absolutely in control. The crowd must have noticed this and I was spurred on to the finish to the most amazing Union Jack emblazoned home straight. Unbelievable feeling. It really was one of the best days of my life and I was so happy that all of my family including Michaela and her husband Gary (my best friend) were there with me. A very special day for a very special charity. And as quickly as the race was upon me it was all over. There is a reason why the London Marathon is known as the best race in the world and it's so easy to see why. Thank you for the opportunity to run. I hope the money I helped fundraise makes a real difference and that I've done the charity proud. Feeling a bit emotional writing this as the EPT and the London Marathon has been a huge part of my life for the last year. But I'm so happy and proud too. Thank you again.
Nicola Akers Shares her 2019 Marathon Experience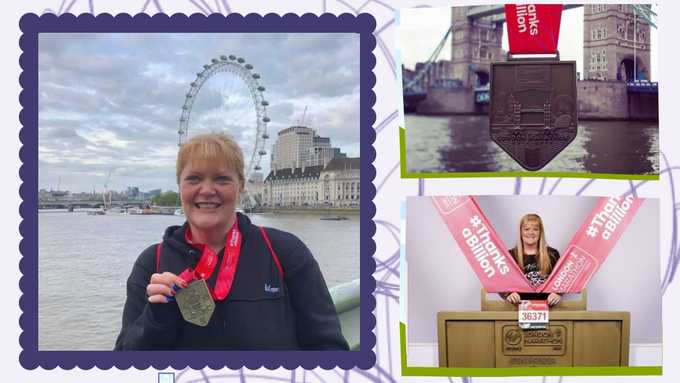 Nicola ran her third marathon, first London marathon joining our London Marathon Team, 2019. Nicola had set herself an incredible target of completing 5 marathons in just over a year. These challenges that Nicola had set are really important to her to keep her focus and looking towards the future after a truly terrifying few years or heartache. Nicola soaked up the amazing atmosphere to complete the marathon in a great time of 06:33:03. Here you can read Nicola's heart wrenching story, her passion to succeed and why she ran for the charity and her experience on the day. After suffering 2 ruptured ectopic pregnancies and discovering I could no longer have a child, I became depressed, my marriage failed and my weight soared to 20 stone. 2 years ago I decided this couldn't continue! I lost 4 and a half stone and decided to do couch to 5km. Last year I watched the amazing people take part in the London Marathon and found it totally inspiring, I decided that I wanted to do a challenge completely out of my comfort zone to raise money for the Ectopic Pregnancy Trust, I contacted them to see if there was any possibility of a place, which I was lucky enough to get! I turn 40 this year and decided I would complete 5 marathons by the end of this year. I have so far completed Brighton, Edinburgh and London and have Edinburgh in 4 weeks and Berlin in September. The training went well, however on the last week I contracted a head cold and chest infection, I dosed up on every vitamin known to man kind but woke up on Sunday morning wheezy and terrified. I made my way to the arranged meeting point to meet the gang I had been talking to for months but not met, it was one of the highlights of my day! Such amazing people and it got my head back in the game. We started and I felt like Beyoncé. The crowd were shouting my name and I got swept into the most amazing atmosphere ever, in fact I achieved a PB 5 km, 10 km and half (marathon day is not the day to do this ). At mile 19 the fuel ran out, and I hit the wall, I couldn't get my breath, my chest hurt and I went into a bit of panic. I was advised to stop but that was never going to happen! I was given an inhaler and mostly jogged / power walked to the end. My family met me at 21 and 25 miles and the emotion came. With lots of words of encouragement I crossed the line in floods of tears but I had done it!! If you are sat there doubting you can do it – don't! You can! I completed it in 6.33, I'm slow but I still achieved 26.2 miles and have the medal to prove it whilst raising 2.5 k. It truly is the most incredible experience.
Kerry Slevin Shares her 2019 Marathon Experience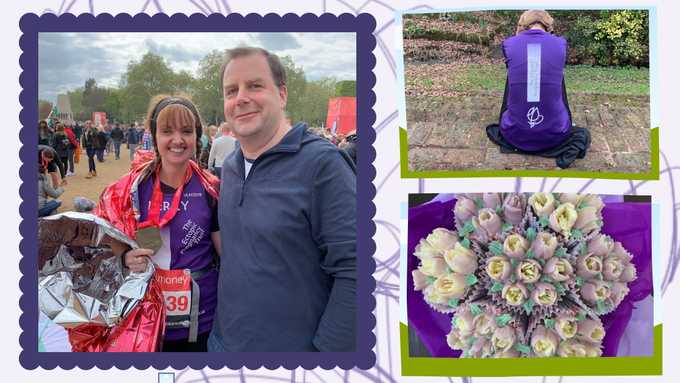 Kerry ran her second London Marathon joining our London Marathon Team, 2019. Kerry had unfinished business, she ran in last years London Marathon, the hottest on record and as a result Kerry took longer than she hoped. So she laced up her running trainers again and was determined to run a faster marathon and she did! Not only did she completely smash her fundraising (not surprising with those amazing cakes that she created) but she ran a fantastic marathon in 04:03:06. I chose to run for The Ectopic Pregnancy Trust in the London Marathon (both last year and this year) as I have had two ectopic pregnancies myself – and, although I didn't know about the charity at that time, I wish I had! I was a little worried that as it wasn't my first marathon, sponsorship might be harder to come by this year. However, everyone has been incredibly generous and with sponsorship from friends and family, plus donations for cakes I have made. The total has reached an amazing £3,900. The day itself was nerve wracking. Despite having done it before (or perhaps because I had!) I was ridiculously nervous beforehand. Once the race began, however, I actually enjoyed myself!  The weather was perfect, the crowd was fantastic and this time I made sure I looked around me as I ran! I had 3 time targets- to beat last year's time (5:09), to beat 5 hours, and the one I really wanted  – to beat my husband's best marathon time of 4:38:03.  He wasn't quite as happy as I was when he realised I'd beaten him by 57 seconds! So, thank you to everyone who has supported me over the last two years and especially to The Ectopic Pregnancy Trust for letting me run for you (twice!).
Sarah Doyle Shares her 2019 Marathon Experience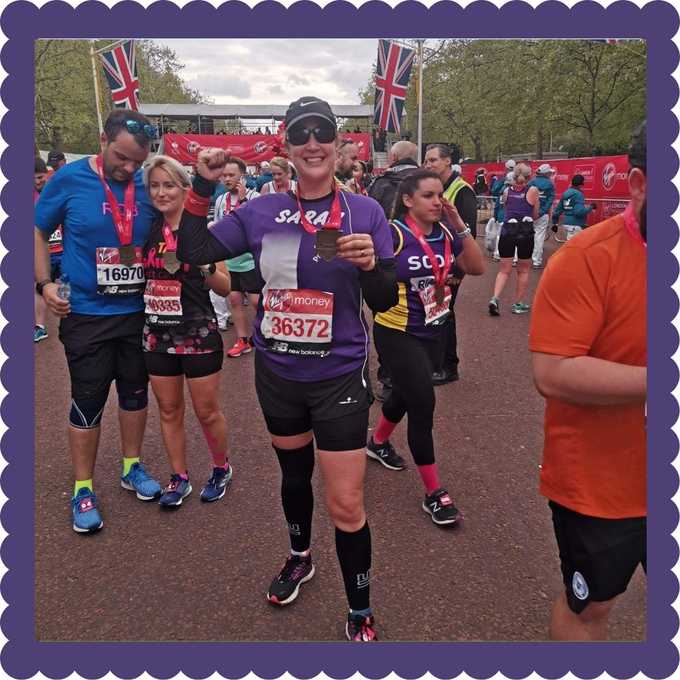 Sarah has just run her second London Marathon joining our London Marathon team, 2019. Sarah was completely determined and trained incredibly hard amidst her busy life. She did brilliantly fundraising and ran a great marathon, despite hip issues, in 05:40:05. Please read below about what drove Sarah and how she overcame her struggles on marathon day. I have run on and off since before having my children and in between pregnancies. I last ran the London Marathon in 2004 before I met my husband and was young free and single with no responsibilities. And swore I'd never do it again. I had started running again after having my 4th child, our little miracle. The 4th baby we desperately wanted but thought we would never be able to have after having a miscarriage and then followed by an ectopic pregnancy and losing my right Fallopian tube. Being nearly 40 we had given up hope so we felt truly blessed having our little Eddie. So I found out I had a Marathon place through the Crunch website and started increasing my distance, in January I started a plan which went really well, I was extremely dedicated and even though I work part time, have a cake business, was still studying and have 4 beautiful children I managed to fit in the 3 or 4 runs a week plus core sessions. 4 weeks before the big day I was stopped in my tracks with a stinking cold and asthma. The big day arrived and I was beyond excited. I'd raised over £3000 so I was thrilled with helping this amazing charity and I felt ready! The first 13 miles I ran with the biggest grin on my face, I high fived everyone, I sang, I danced, I took selfies of myself going over tower bridge and with buck pal at the end. At Mile 18/19 I hit my wall, I had a lot of pain from about mile 15 in my right hip- something I hadn't experienced at all in any of my training so I didn't know what to do really. This made me doubt myself and I got a bit teary – so I went Facebook live to get some moral support! It worked a treat, I dug deep, dug my hand into my hip/butt muscle and I ran /walked the rest. I was a bit slower than I expected but I was still buzzing from reaching the end and having that medal. I wore it all day the day after the marathon too – even on the school run!
Allistair Runs the Virgin London Marathon 2021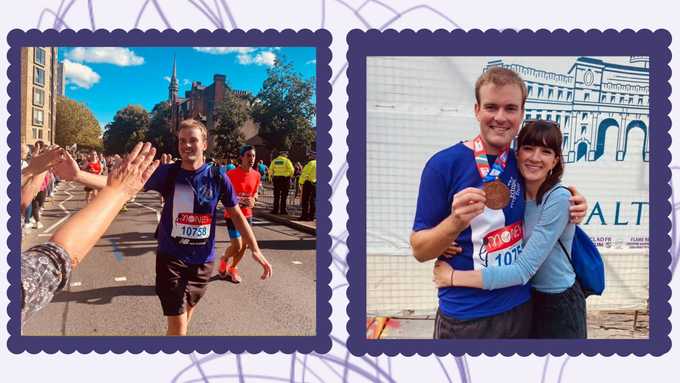 To run the London Marathon was such a special experience. Me and my family all had such an amazing day. The support from everyone was so inspirational; The crowds, my family, social media and everyone at The Ectopic Pregnancy Trust was overwhelming. Sure it is a massive challenge to run a Marathon and there are plenty of challenges along the way, especially during some of the long lonely training runs! However all of the support was a massive help to get me to the finish line on the day. It is such an iconic event and I feel so privileged to have been a part of it and am still wearing my medal with pride. I would urge anyone who gets a similar opportunity to grab it with both hands and never give up. The feeling of accomplishment and achievement at the end is great. We all have photos and memories that will last a lifetime.
Please see their honest article that they shared in their local newspaper
We are incredibly grateful and proud of our EPT London Marathon team 2021, who after set backs and delays have all worked so hard training and raising incredible funds and awareness.  They have showed true grit and passion to achieve a lifetime achievement on the streets of London.
Conor Shares his experience of London Marathon 2021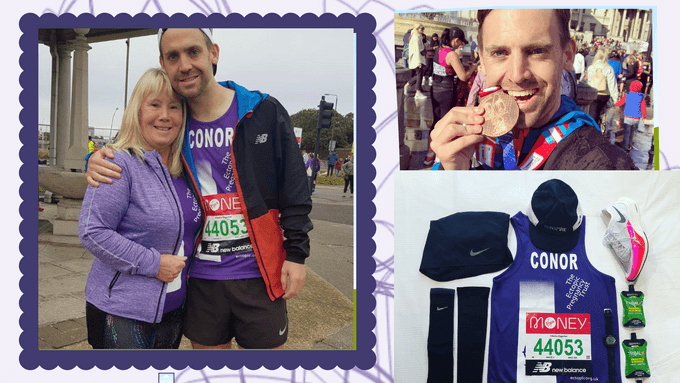 I was so proud to run the 2021 London Marathon for The Ectopic Pregnancy Trust following my first in 2019 and second (virtually) in 2020. No words can describe the atmosphere of the streets of London on marathon day. The energy is electric and you would be hard pushed not to be affected by the feel of community and camaraderie that goes hand in hand with this special event. From start to finish you are made to feel like a hero and that's exactly what you are. 26.2 miles is no easy task but when you cross that finish line it is a feeling like no other. With three very different London Marathon experiences I can be proud of what I have achieved and wish the next runner the same too.
We are incredibly grateful and proud of our EPT London Marathon team 2021, who after set backs and delays have all worked so hard training and raising incredible funds and awareness.  They have showed true grit and passion to achieve a lifetime achievement on the streets of London.
Vicki runs in the London Marathon, 2021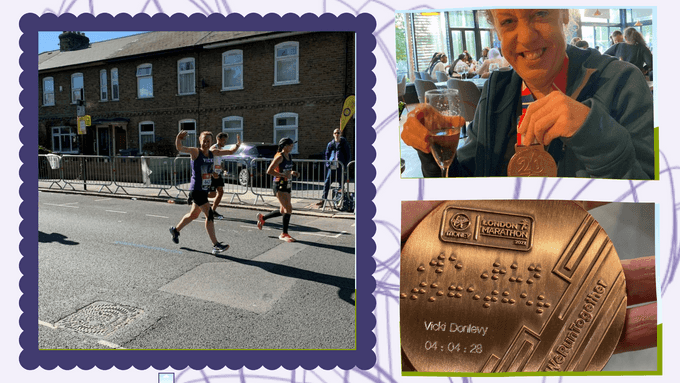 Exhilarating, terrifying, heart-warming, emotional, amazing… Words truly can't fully convey the experience of running the London marathon… just an incredible experience which I would recommend to anyone. Taking part in this iconic event, getting such amazing support through sponsorship and messages from such an array of incredible people (friends, family and colleagues), seeing my friends and family at different points along the course, the incredible support from all the strangers in the crowds, running through all the London landmarks, the camaraderie of the other runners, the brilliant volunteers, proudly wearing my EPT running vest – and actually managing to complete the course (without walking!) with a final time of 4 hours and 4 minutes – were just some of the highlights of one of the most incredible days of my life.
I have always enjoyed sport, and have been running for about 10 years, supported by getting involved in my local (Dulwich) Parkrun. I volunteered at the London marathon a couple of times via the Parkrun and had always been fascinated by the event, but never thought I'd be able to do it. But, as time went on, and my running improved, allowing me to do longer distances, I decided to enter the ballot, just to see what happened. I was unsuccessful in the ballot two years in a row but became increasingly keen to try to do the marathon (before getting too old!) and so decided to try via a charity place. If I was going to support a charity, I wanted however for it to be one that meant a lot to me.
It was when I was looking for charities that I came across the Ectopic Pregnancy Trust. Having had three ectopic pregnancies of my own and hence knowing the pain, trauma and devastating impacts involved, the cause immediately struck a chord with me, and I applied. Within a few days, my place was confirmed and I was set on the road which brought me to the start line of the London marathon on 3rd October 2021.
Genuinely equally terrified as I was excited (a lot of sleepless nights!), I began training. Despite the fact that it was sometimes (often!) really hard, especially the last build-up with the long runs of 25k+ every weekend, and that I got an array of injuries which I had to build back up from, I can really say that I did overall enjoy the training. In some ways, the lockdown and associated reduced travel (usually I travel a lot for my job) was a blessing, as it meant I was able to run before work and still be at my desk by 9.00 – of course, it was also very isolating (and frightening) at times, but running kept me positive and focused. There were many ups and downs, but it was incredible to see how my body was gradually able to run further, get stronger and get over (more or less!) all the injury niggles.
We are incredibly grateful and proud of our EPT London Marathon team 2021, who after set backs and delays have all worked so hard training and raising incredible funds and awareness.  They have showed true grit and passion to achieve a lifetime achievement on the streets of London.
Mandi runs in the London Marathon, 2021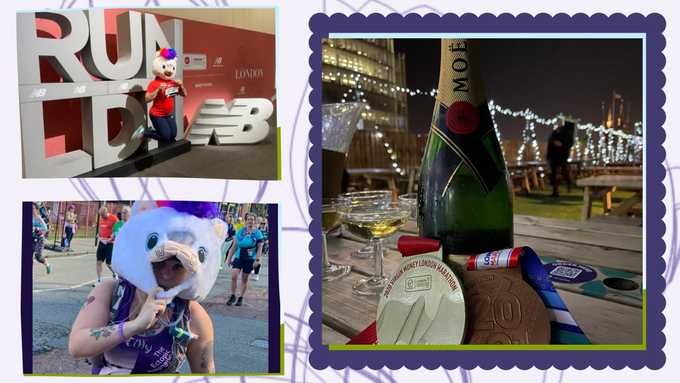 I discovered running as a way to help my mental health shortly after I experienced my first Pregnancy loss whilst I was living in Germany with the army. I was really inspired by the London marathon the year I returned to the uk and swore I'd run it one day for a charity close to my heart. I entered the ballot every year unsuccessfully for 10 years.  I finally got lucky for the 2021 marathon and knew I wanted to support the Ectopic Pregnancy Trust, so got in touch and joined their team.
One of my children asked if I was running in fancy dress like "everyone else" having seen the race on tv. my family made a running joke that I should do it as a unicorn!
Training went well up until July when I climbed Snowdon to be at the summit for dawn on my birthday as part of my fundraising.  Unfortunately following this expedition, I sadly developed a stress fracture in my left foot so training took a huge hit in the final weeks leading up to race day forcing me to walk/run intervals.
Sadly, I lost my eldest daughter Tilly when she was 3 days old due to trisomy 18 so in memory of her, I wore her name on my vest instead of my own. Hearing her name called was emotional but motivating and helped to keep me going when I wanted to cry and stop. This was also an idea suggested to me by a veteran runner also running for a baby loss charity as it meant I knew when my partner was shouting me as he obviously called my real name so made it easy to find them in the crowds.
Unfortunately, my foot injury became an issue at mile 14 so I had to make a visit to St. John's ambulance but I swore to carry on even with a limply walk but this allowed me to soak up the atmosphere and dance with the bands and interact more with spectators so enhanced my experience. I laughed and cried over the 26.2 miles. It took me 8hr 15min but the back of the pack experience was fantastic and fun. I've never been so proud of what I have achieved. It feels like closure to do this in memory of my angels and support the charity which so wonderfully supported me in 2008 especially as October is baby loss awareness month and the marathon is normally in April.
I have made some lifelong friends via the forum who have been like my own little cheer squad which is incredible.
I'd do it all again a heartbeat and already of thinking of a costume for next year's Great North run!
The charity has been wonderful I can't fault any of the support.  The gift bag was also wonderful and lovely to receive in the week before the big day.
We are incredibly grateful and proud of our EPT London Marathon team 2021, who after set backs and delays have all worked so hard training and raising incredible funds and awareness.  They have showed true grit and passion to achieve a lifetime achievement on the streets of London.
Kym runs in the London Marathon, 2021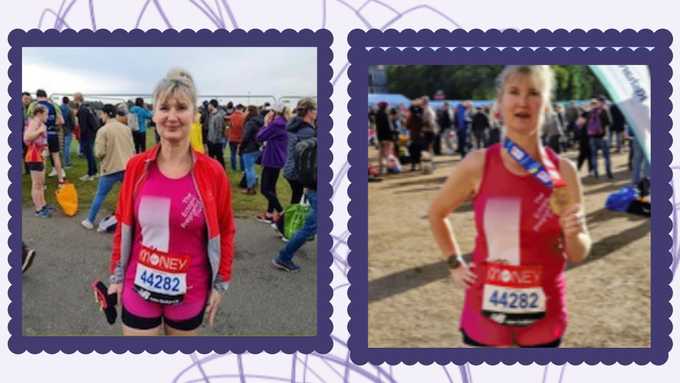 There is always such a big build up about the London Marathon and finally being able to run it I can sum it up with WOW.
The whole day from leaving the hotel and arriving at Blackheath and managing to see the likes of Charlotte Purdue, Eilish McColgan and Joyciline Jepkosgei go off from the start was amazing.
I entered the Blue start area on time and it was freezing, so cold, but the pure excitement within was electric.  I actually got so emotionally involved with it all I had tears as I started my race.
The whole event was so well organised and I really wanted to soak all the atmosphere in and met some amazing people along the way including a fellow fundraiser for The Ectopic Pregnancy Trust, Rachael.
I hurt my knee at mile 14 and the chat to Rachael at about mile 18 really inspired me – don't get me wrong I was never going to not finish, but to hear her story too and the fact we were both there for the same reason gave me the extra strength to keep running.
Those showers were definitely welcome during the race it was so hot, but the biggest memory for me will be the sheer volume of cheers, encouragement and support everyone gives along the way to runners. The Embankment was full of cheers and 'You're nearly there' chants.  It was deafening and I got extremely emotional too. That was my cue to get things done and from then the final push, and a fast run to the end, even managed to join in the YMCA as running through the stands. Then I crossed that line! Finished.
But this race was not just about me I was running for everyone who needs support after or during an ectopic pregnancy. Had I have known there was support back then I would not have felt so alone after all three of mine.  Emotionally there is a lot of things you do not want to burden other people close to you with because they are hurting too!!
We are incredible grateful and proud of our EPT London Marathon team 2021, who after set backs and delays have all worked so hard training and raising incredible funds and awareness.  They have showed true grit and passion to achieve a lifetime achievement on the streets of London.
George Runs an amazing V40 Marathon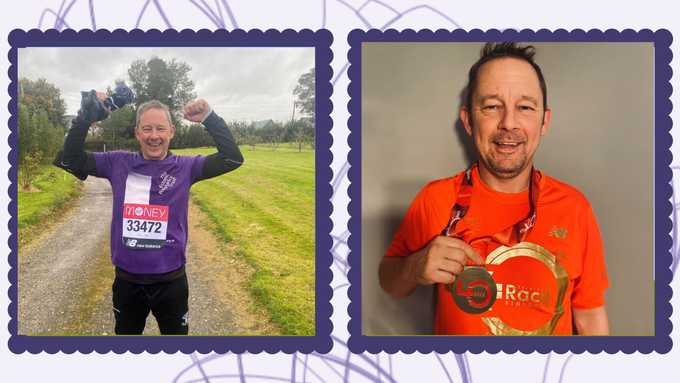 George has been incredible, he signed up to the Virtual 40 Virgin London Marathon with only a month of training and with passion and determination he got out there trained and absolutely smashed the V40 Marathon on 4th October 2020. He has inspired many along the way and raised so much awareness and essential funds. Part of his drive was to show his support to his wife, Kerri and as a tribute to the baby they never met. Men can often find it difficult to express their emotions and knowing of ways to support partners and George really felt this was one of the ways he could show his support. We are so grateful to George and his family for their ongoing support. George's Story: The 40th Race was never part of my plans for 2020 but like so many others, plans went out the window. Many small charities are struggling due to COVID-19 and when the opportunity to take part in VLM came up it was an opportunity that I couldn't refuse. The Ectopic Pregnancy Trust were there from the moment my wife was diagnosed with an ectopic pregnancy in 2015, while I didn't understand how to support her they stepped in and haven't left since. My wife has fundraised and volunteered for them over the years but the 4th October became my time to say thank you and to honour the baby that we never got to meet. I set off early on Sunday, around 7.30am with a sinking feeling when I realised that the weather wasn't going to be on my side. I ran 12 miles quite comfortably and stopped for a quick warm up and drink before heading back out into the rain. The second part was harder but my family followed me around and surprised me with banners cheers and hugs which kept me going. I paused again at around 21 miles, I knew running was out of the question at this point. I was tired and sore, but I would have crawled that last few miles if I had to. I once again braved the rain and set off to finish what I had started. Never in my life was I so happy to see someone when a friend came to walk with me as support, he made that last leg bearable and when I rounded the corner to my house and my last few meters of the marathon I was rewarded with my cheer squad and more of those hugs that had powered me through. I'm proud that I did it, I'm proud that I was able to help a charity so close to our hearts and I was even prouder to be able to say I had done a once in a lifetime challenge and smashed it….until around four hours later when I entered next years ballot, so with a little luck maybe it will be a twice in a lifetime challenge and I will get to do my next London Marathon on the iconic route surrounded by thousands of others with the one common goal!
If you feel inspired by our marvellous marathon runners please do take a look at ways to get involved and email our fundraising co-ordinator who will be very happy to help you Jill@ectopic.org.uk.