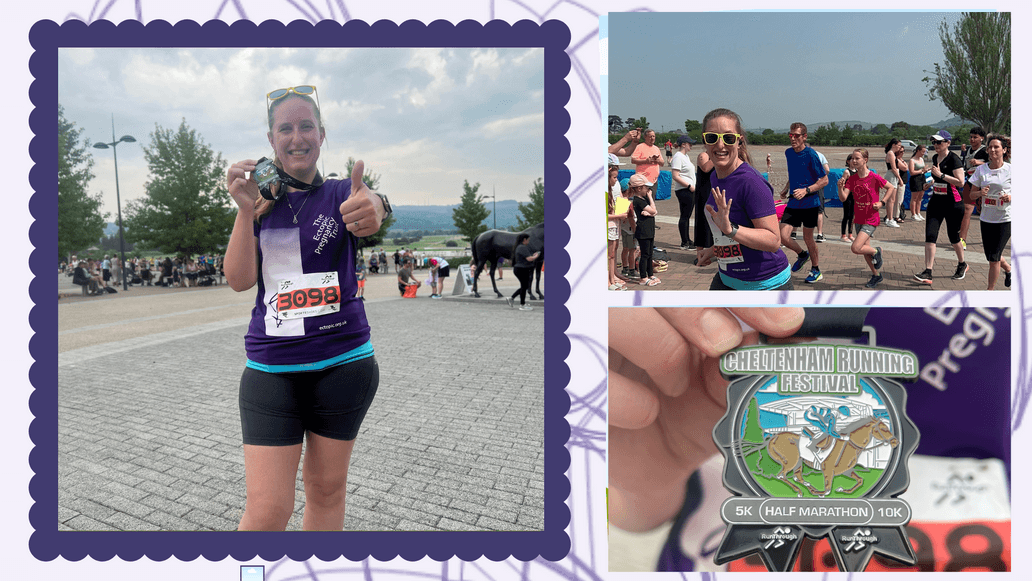 In October 2022, I was shocked to learn I had an ectopic pregnancy and I visited The Ectopic Pregnancy Trust website daily to find out as much information as I could on what had happened and what to expect next. This support helped me to face this trauma and also helped me to educate others so that they understood my needs.
I decided to raise money for the EPT to focus my body and mind, and I signed up for The Cheltenham Running Festival. I started training using Couch to 5K and soon realised the positive impact this had on my mental health and recovery.
Between then and participating the festival in June 2023, I also experienced a miscarriage and my fundraising efforts gave me the strength to get back to training as soon as I felt able. I knew I had a purpose and I wasn't going to give up.
The day itself was quite overwhelming but I had my partner and my older children cheering me on the whole way. It was an extremely hot day and the run was tough. I felt the impact of the previous 8 months with every step I took but I am so thankful that I spent this time working towards something so positive.
I am extremely grateful to everyone who helped me to raise money for the EPT and this support definitely helped me to cross the finish line with a smile on my face.
Thank you so much to Sally for her passion in embarking on this run and raising much needed funds and awareness. If you feel inspired and want to raise funds and awareness for The Ectopic Pregnancy Trust, please visit our fundraising page. You can also email our Fundraising Co-ordinator Jill who will be very happy to help and guide you: Jill@ectopic.org.uk.