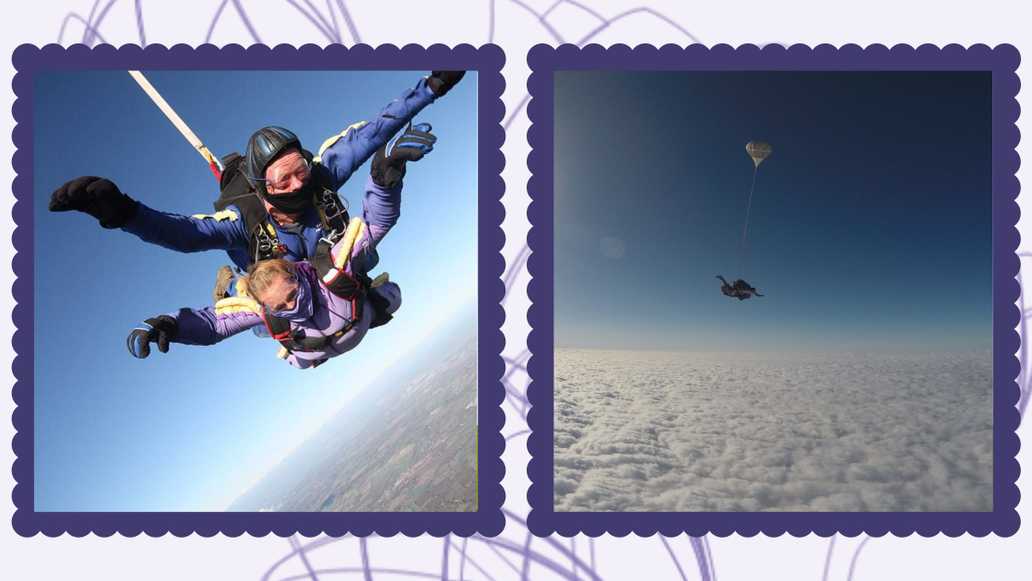 Lucie and Richard's Tandem Skydive
We were honoured that Richard and Lucie chose to raise funds and awareness for us by taking to the skies and leaping out of a plane each doing a Tandem Skydive.   Here is their emotional story.
The last two years have been an emotional roller-coaster for Richard and I. March 2013 brought us exciting news of a positive pregnancy test and the undeniable joy of upcoming parenthood. Sadly 10 weeks later I was rushed to hospital for emergency surgery with an ectopic pregnancy. We soldiered on through two years of hospital appointments, tests, referrals and waiting lists and early this year we embarked on our ivf journey. Although our first cycle was unsuccessful we kept a positive mind-set and hoped for good news second time round. In July we found out our second cycle worked and I was expecting a little bundle. Bad luck had it that 6 weeks later I ended up in surgery again with a second ectopic pregnancy. Without sounding too cliché I, indeed, am lucky to be alive. We are slowly bouncing back from our grief and pain. Our journey to parenthood is not over yet. We are keeping a positive attitude and hope that the future is bright for us!
Ashleigh, Danielle and Danny take a leap into the skies
Ashleigh, Danielle and Danny raised awareness and funds for us with such enthusiasm and energy we really are extremely grateful to them all for bravely taking to the skies and jumping out of a plane! Ashleigh said that from the moment they got there they were all very nervous and even more so when they got a call on the tannoy to get ready, that was when it really hit home that they were about to jump out of a plane.  Ashleigh was the first one out and even though she had done a skydive before she said that it was still as nerve wracking the second time round. However she said that it really was an amazing experience once the parachutes had opened she said they all felt amazing!
Lauren Evans Jumps Right out of her Comfort Zone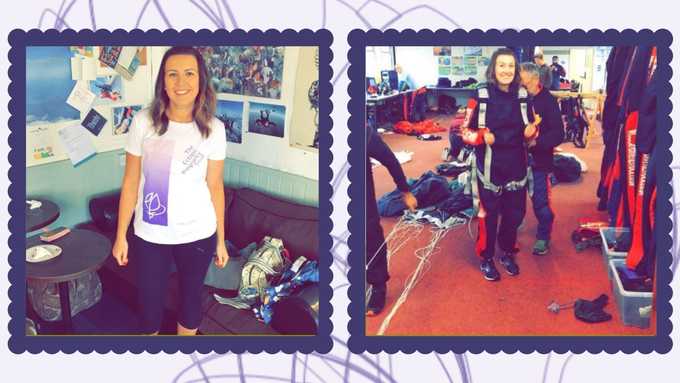 We were so thrilled and grateful that Lauren undertook her great leap of faith jumping out of a plane to support us. Not only is Lauren scared of flying she is also scared of heights, so she really did challenge herself. Please read Lauren's emotional journey.
I decided to do my skydive for The Ectopic Pregnancy Trust, as I suffered my own ectopic pregnancy 3 years previously. My left Fallopian tube had ruptured, and I had 2 litres of blood in my abdomen. I was rushed to theatre, but it was too late to save my tube and it was removed. I'm a theatre nurse myself, so I knew the full process of what was happening. I know many many women who have lost babies and been through some awful times. This is just my way of thanking the charity for their support, the staff (my amazing work colleagues) and everyone that helped in my recovery. I hate hate hate flying and heights, so I really wanted to test myself. Most importantly it was dedicated to my miracle baby boy Toby, who was at the time of my jump a year old. Don't ever give up. I raised over £700.  I felt weirdly elated, rather than nervous just before! It was a bit surreal being in a tiny plane and the only woman between 6 men! When my feet were hanging out of the plane I just said OH MY GOD! To the instructor…then we jumped.
Kayleigh Snow takes to the skies to raise awareness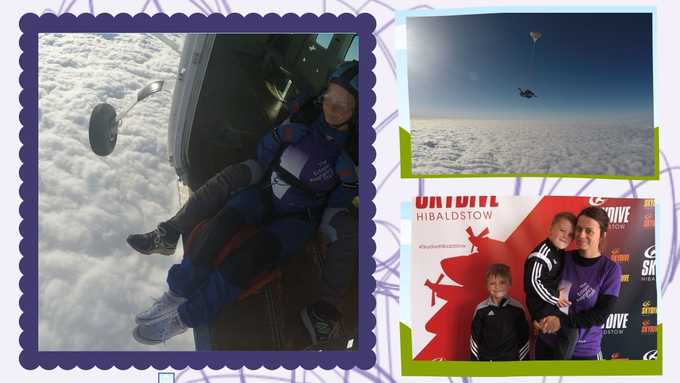 Kayleigh pushed herself out of her comfort zone to leap out of a plane at 15,000 feet. She was passionate about raising awareness of the symptoms of ectopic pregnancy and in doing so has also raised over £800. Please read Kayleigh's story and her exhilarating skydive despite a long wait! My story started in March 2014, we was thrilled to see the second positive line appear on the pregnancy test. A much wanted addition to our family.  At around 8 – 9 weeks pregnant (April 2014) I started experiencing pain on my lower right side. Ever the pessimist, I phoned the hospital I just hoped liked ever expectant mother, that everything would be ok. I hadn't then told anything other than I needed to attend a scan straight away. My story started in March 2014, we was thrilled to see the second positive line appear on the pregnancy test. A much wanted addition to our family. At around 8-9 weeks pregnant, I started experiencing pain on my lower right side. Ever the pessimist, I phoned the hospital I just hoped liked every expectant mother, that everything would be OK. I wasn't told anything other than I needed to attend a scan straight away. I felt numb at the ultrasound, instead of a babies little flickering heart, the screen was filled with emptiness. They couldn't find my baby so instead I had paperwork to fill in and rushed to surgery. I had my right Fallopian tube and pregnancy removed. The doctors and nurses were amazing. They have inspired me to become a nurse (which I am currently studying). It was very hard to accept and with the help of friends and family they helped me get through it. However if I had known about the charity this would have been a huge help. I did a 15,000 feet skydive on 05/05/2019 not only to raise money for the charity but also to raise awareness. I had never heard of an ectopic pregnancy before so how many other people are unaware. The older I get the more fearful of heights I have become. So I knew I would feel scared. The staff at hibaldstow skydive were amazing and really helped to reassure me. The skydive was one of the best experiences of my life and I'm so glad I got to do it for a good cause. I was meant to do the skydive on the 04/05/2019 we waited 9 hours at the skydiving centre for it then to be called off. My nerves were in overdrive at this point. However the staff called me the next day and managed to squeeze me in last minute, so it all happened really fast I didn't have much time to think about it. I was the only tandem on my plane the rest just did it for fun which was so great to watch them diving out the plane. When we got to 5,000 feet I remember thinking oh no this is height, my heart was racing but with the reassurance of Ash the gentleman I was diving with I felt in good hands. The initial jumping out the plane was the scariest part and at one point I thought I wasn't going to get my breath back, we were covered in ice from going through the clouds.  It was one of the most unreal and incredible experiences.
Paula takes to the skies to raise funds and awareness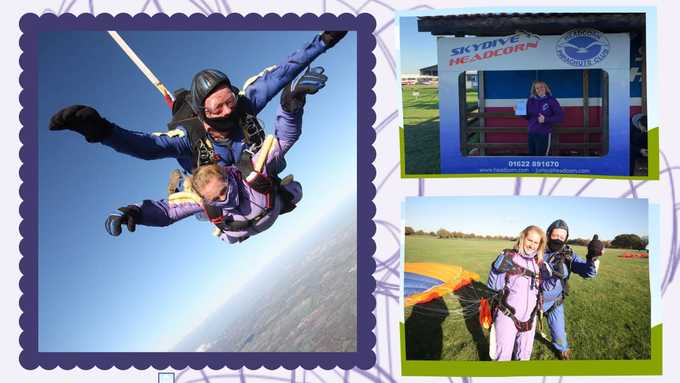 Paula fulfilled her ambition of doing 40 things before 40 combining a skydive with raising funds for charity. Paula pushed herself totally out of her comfort zone being terrified of heights. The skydive sounded totally amazing especially with the sun shining brightly. Paula said she actually felt calm and even managed to take in the incredible view, what an unforgettable experience. Paula's Story: So I chose to do a skydive because I am 40 next year and wanted to do 40 things before 40, two of the things on my list was to raise £1000 for charity and to do a skydive so why not put the two together. I have done a lot of runs for charity so knew I wouldn't raise a lot doing something like that so had to think big. So being scared of heights I thought… skydive! Then to pick a charity wasn't hard for me… 3 years ago I suffered my second ectopic pregnancy, we'd had a week of being so happy that we were finally pregnant, I had all the symptoms of pregnancy and we were both so so so happy. One day at work I started getting cramps, sharp pains in abdomen and my lower back. I left work straight away. We were both so scared it was happening again so we phoned the EPT and they told us to go to the hospital. I don't really remember getting to the hospital. They did a scan and told us there was nothing there but my blood test proved there was a pregnancy somewhere. They found a blood source in my left tube. We begged for them to save my tube but it had already ruptured, I was suffering internal bleeding but didn't want them to take my baby. I was taken down to surgery, they took out my remaining tube and our baby our hearts were broken… Again. The Ectopic Pregnancy Trust help couples recover emotionally, mentally and physically. They're amazing and always there for support, so I wanted to help them continue their amazing work and to continue helping people like me. So far I've raised £930, and hoping to raise more.
If you feel inspired by our brave skydivers and their fundraising experience please do take a look at ways to get involved or email our fundraising co-ordinator who will be very happy to help you Jill@ectopic.org.uk.