Victoria and Cai have both joined our GNR team (delayed from last year). We are inspired and delighted that this challenge is giving them a focus after their horrendous heartache and trauma. Victoria says Cai is a runner and she is also now using running and increasing her distance to help with her emotional and physical recovery. Cai comments that he "has his wife back and a healthy one at that!!" Please do read their experience as a couple through Victoria's words and we will update you on their training progress up to the Great North Run on 12th September. If you feel inspired and wish to support them, please to take a look at their fundraising page or our fundraisers section.
I found out we were expecting our second baby in November 2020. We were extremely excited. Two weeks later, I started to experience pains so I rang the early pregnancy helpline and they advised me to go and checked to be on the safe side. After a long wait in A+E I was sent home and told to wait for a phone call to book me in for a scan (unfortunately this all happened on a Saturday and the early pregnant unit was shut so no scans on offer.) Fast forward 6 hours and my husband found me collapsed upstairs, he rang for an ambulance and I was rushed into hospital. My memory is a bit of a blur after this. My husband was told that I was very poorly and had been internally bleeding due to a ruptured Fallopian Tube resulting in losing our baby and my right Fallopian tube. I had to be resuscitated, put on life support, and given six blood transfusions in theatre. Luckily I woke up and I was alive. I had 3 small scars on my tummy that would be a reminder for the rest of my life of an extremely scary time.

I was released from hospital a week later, I was struggling with movement and very simple tasks. Luckily for me I have a very supportive family. I was longing to feel normal again but I knew that It was going to be a long journey. My hospital mentioned The Ectopic Pregnancy Trust to me so when I felt strong enough to start dealing with the emotional side I sat on my laptop and read through their page. One week later I was sat on a Zoom group call with five other amazing women who shared their story, listened to mine, watch me cry and gave me advice. It was incredible. I walked away from the Zoom call feeling emotionally exhausted but so much stronger. Raising money for The EPT is the least I can do.
Training and why I am doing the GNR
Fast forward again 4 months… I began running once the hospital told me it was safe to do so. I was a runner before but never long distance. I found that the first couple of runs I went on after my ectopic pregnancy I was replaying everything in my head, it was so tough but before I knew it I had ran 5 miles…..the longest I had ever done. I began aiming for longer distances and last week I completed 11 miles. I was so proud of myself for achieving this. I reached out to The Ectopic Pregnancy Trust when I had seen them post about the GNR. I couldn't quite believe what I was getting myself into but I signed up anyway and they accepted me!! I hadn't shared my story with many people and I knew that if I wanted to raise lots of money then I would need to write about it. So a couple of days ago I sat with a glass of wine and wrote it down and posted it. I was then flooded with messages from friends and donations, it was such a weird emotion, I was so so happy but sad that I had been through something like this. I know this will help my healing process, it already has in a way. I will be forever grateful for the trust and I urge everyone to go and look at the symptoms, it could save lives and prevent a situation like mine.

I have started my training and I am loving it, taking it slow is the key and I am so fortunate to have a husband who is a runner. He is going to run The GNR with me for The Ectopic Pregnancy Trust as he owes them just as much as me. He has his wife back and a healthy one at that!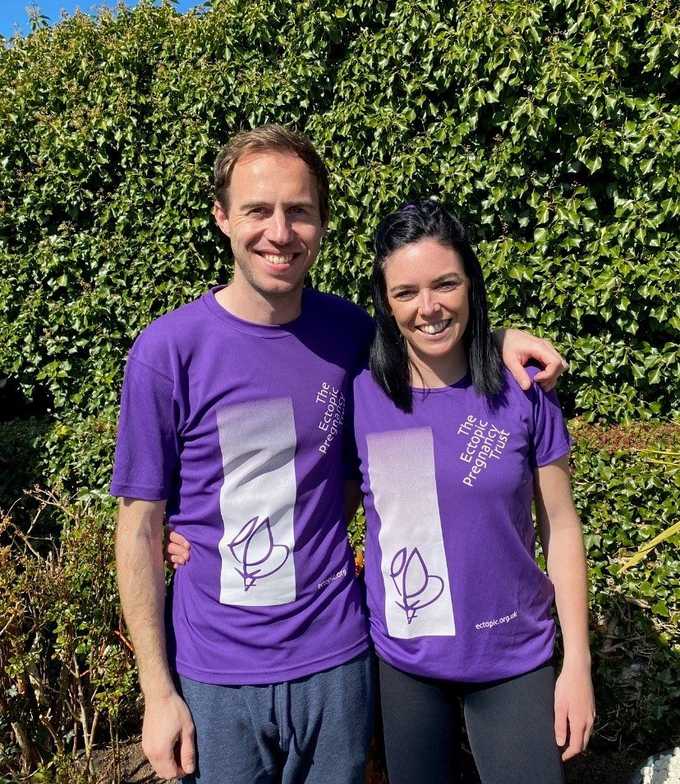 If you feel inspired by Victoria and Cai's fundraising experience, please do take a look at ways to get involved or email our Fundraising Co-ordinator who will be very happy to help jill@ectopic.org.uk