Purchase EPT gifts for yourself or a loved one
The festive season can be a difficult period to navigate after an ectopic pregnancy. Our range of shop products are designed not only to raise awareness but to bring comfort and help to remember.
Whether you would like to make a purchase for yourself or for a loved one, we share below some of the items handpicked by The EPT team. For the full range of products available please visit our shop.
Charity Christmas Cards
The Ectopic Pregnancy Trust's range of colourful Christmas cards help spread some festive cheer while raising awareness.

Handmade keepsake decorations
A handmade Christmas bauble decoration marking 25 years of providing information, support, and education on ectopic pregnancy.  Perspex bauble contains clear scatter crystals and small silver angel.
Handmade decorations with an EPT tulip within the design. Finished with delicate silver tulip, heart and footprint (with "Remember" on reverse) and purple ribbon.

EPT Candle
Our EPT candle has been created to be subtle, calming, and comforting for you to treasure. Each candle is hand-poured into glassware is beautifully etched with our EPT tulip logo. The candle has a calming scent created especially for The EPT of fresh lavender infused with notes of jasmine, fruity accents, and base notes of sandalwood and musk.
Once enjoyed, the elegantly etched candle jar can be easily cleaned and repurposed as a cherished trinket holder or tealight container.

EPT Teddy Bear
Our adorable plush EPT teddy bear makes a meaningful keepsake for anyone affected by pregnancy loss. The bear comes with a certificate of commemoration which can be personalised by us with your name(s) and date(s) of importance. Alternatively, we can send the certificate blank for you to complete as you wish.

Browse our range of  Christmas e-cards and donate the cost of cards to help us continue providing reliable information and support to anyone affected by ectopic pregnancy. Sending one of our Christmas e-cards instead of paper cards reduces your carbon footprint, saves you time, and raises awareness of the condition and the charity.
You can choose to download one of our beautiful e-cards by clicking the description below and email your Christmas wishes to colleagues, friends, or loved ones and donate the cost of your stamps and paper cards.
Purple Christmas bauble E-card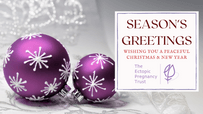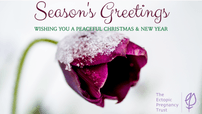 Making a donation to The EPT
This Christmas, consider making a meaningful difference by donating to The EPT. Your support fuels our ongoing efforts in aiding those impacted by ectopic pregnancy and amplifying awareness about the condition. Your contribution isn't just a gift—it's a lifeline, ensuring that no one faces this challenge alone.
You can make a regular monthly donation or a one-off single donation using our online donation form. You can also donate through JustGiving with a credit or debit card, a bank transfer, GooglePay or PayPal using the JustGiving website.
Last Order dates for Christmas
Below are the last order dates. Order by the date next to your area to guarantee dispatch by the last posting date.
UK: Friday 15 December
Cyprus, Greece, Eastern Europe, Iceland, Malta, Turkey: Tuesday 21 November
Western Europe: Friday 24 November
Nominate The EPT for a £1,000 award
The Benefact Group Movement for Good Awards is an annual programme of giving and you can nominate The EPT for a £1,000 award.
The more nominations The EPT gets, the greater our chances of winning, so spread the word! Click the card below to make your nomination.