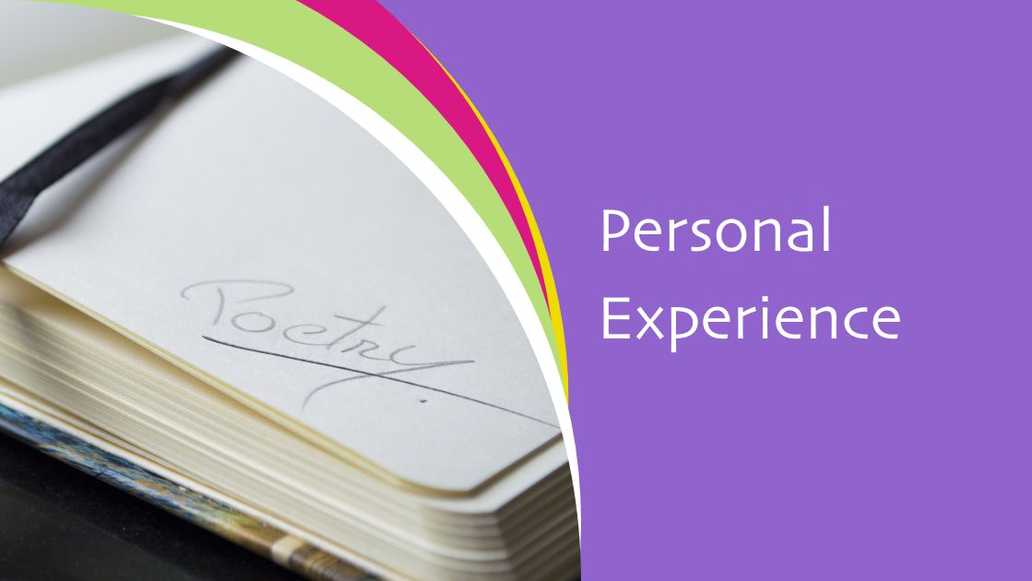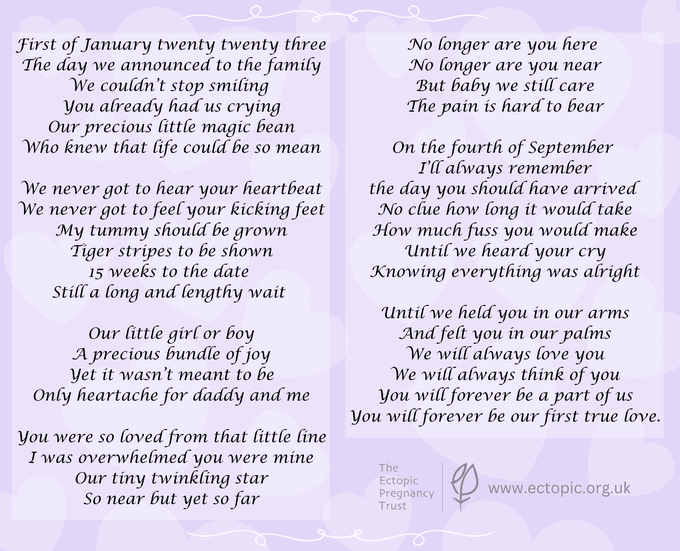 It was our first pregnancy, we had only been married for a couple of months after a couple of years filled with grief after losing loved ones.  
The day after I told work that I was pregnant, I started bleeding. It didn't feel normal so I confided in a friend who told me it can be common but to contact the emergency midwife line and speak to them. I did this and was booked into the EPU (Early Pregnancy Unit) for the following day. 
I had convinced myself it was all okay and totally normal to have some bleeding, and after waiting for around an hour and a half my husband and I were taken through for an internal ultrasound. We waited for what felt like hours only to hear an apology that the pregnancy was ectopic and asked if I understood what that meant. From the moment I heard 'sorry' I burst into tears and sobbed uncontrollably. 
It was very difficult as there was no apology or concern for my husband from the staff, but we had both just lost our baby. A baby that we had called our little miracle and that was going to bring us so much happiness after losing so many loved ones. We had even said it was them looking down on us when we found out that we were pregnant.  
They decided to observe and check my blood hCG (Human chorionic gonadotrophin, a hormone produced during pregnancy) levels regularly without intervention (expectant management) which to me felt like I was just being pushed to the side like I was not important. Over the following weeks I lost count of the amount of people that told me I was lucky because I didn't need to have the injections or surgery, but I didn't feel lucky, far from it. It made me feel that it was nothing, like it was not important that I had, had an ectopic pregnancy because I didn't needed invasive treatment.  
I ended up being admitted to A&E (Accident & Emergency) a couple of days after finding out because of the pain and my mental health. I actually just asked them to remove my tube, so I didn't need to feel as stressed and look out for each and every symptom. Staff and patients in the ward asked what I was in for or how far along I was. It killed me inside each time I had to explain that I was losing my baby and there was nothing I could do.   
After four or five weeks of regularly blood tests at the EPU, of having to sit and watch pregnant people and babies come and go, my hCG levels reached two and they discharged me. I felt completely lost not knowing where to go from there.  
I felt for my husband who didn't feel able to show his feelings because I was his main concern, and because it wasn't his body that went through it. Family, friends, and medical staff didn't ask after him or check on him because it didn't happen physically to him. It put a huge strain on our relationship, just a couple of months into our marriage.  
I have now been left feeling terrified of falling pregnant with nobody that understands why, telling me that it will happen, and that it will be fine next time. Not one of them listening to the fact I now have a higher risk of another ectopic pregnancy.  
To add, I have always had gynaecological issues, but they have never been diagnosed. In May I was really struggling again so decided to pay for a private internal ultrasound to find out my left ovary is now fused to my womb. They suspect endometriosis, something that I've been saying for 10 years now and had had a laparoscopy that discovered adhesions but produced no diagnosis. I am yet again on another waiting list for what will be the third referral to the gynaecology team.  
As much as I would like to say I'm healing since, I feel that I just keep taking steps backwards and I have nobody in my life that understands. 
I have had endless people ask are we trying again, even some ask when I am due and touch my stomach. I would love to be able to use these opportunities to educate people as to why you should consider asking those questions even if you aren't aware of someone's fertility journey, but I feel so inferior that I'm not moving forward like the world would like. I feel I'll be labelled in some way.  
Jennie's husband, Ryan, has also shared his experience which you can read here. 
Thank you to Jennie for sharing her story and helping to spread awareness of ectopic pregnancy. If you would like to share your experience of ectopic pregnancy, please visit our guide for more information.   
Please remember our support services are available at any time.