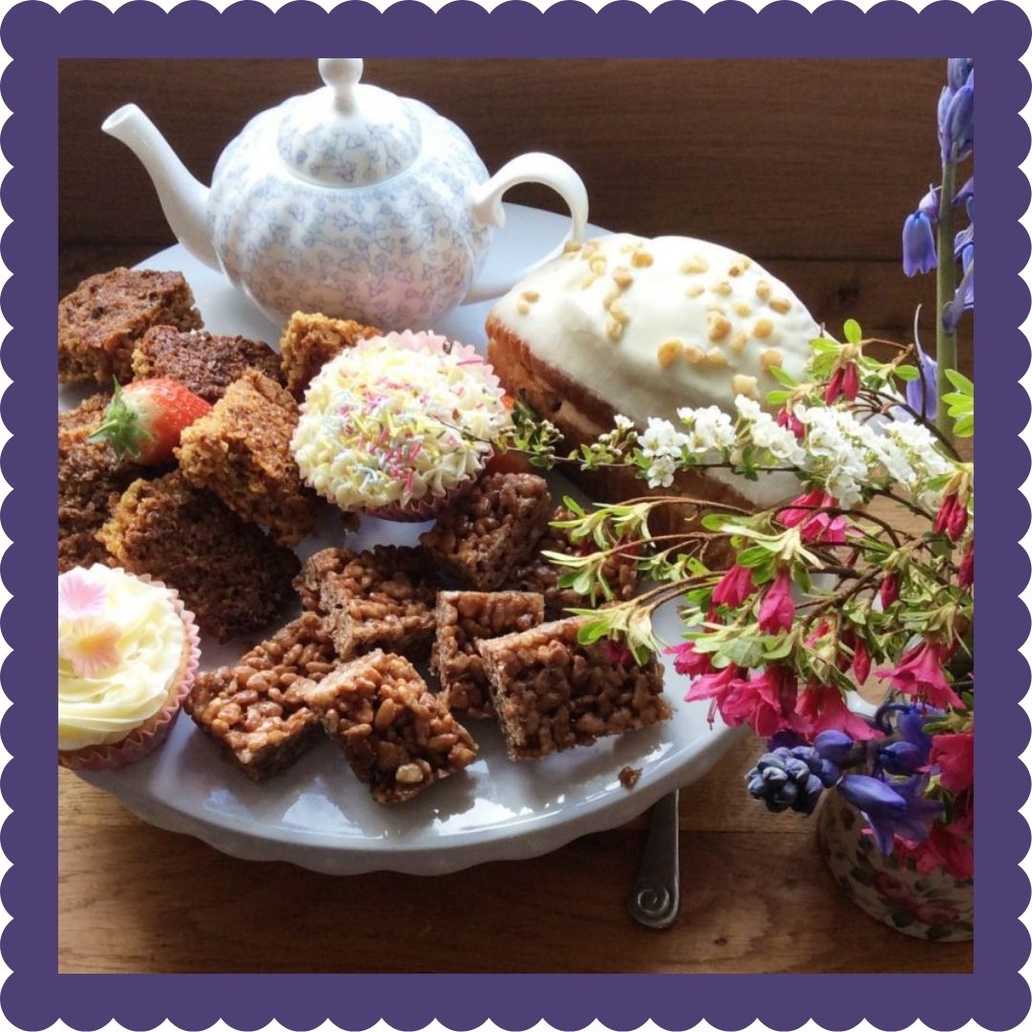 Danielle hosts an EPTea Party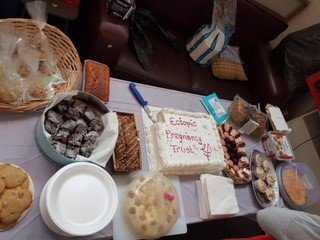 Danielle hosted a fabulous EPTea Party inviting family and friends to join her in a local hall, plenty of tea and cake were consumed, Danielle also set up a raffle and talked to her friends about her recent climb up Ben Nevis, fundraising for us with her friend Natasha. The EPTea Party raised a great total of £280.80 which is fantastic.
Sarah Jackson hosts an EPTea Party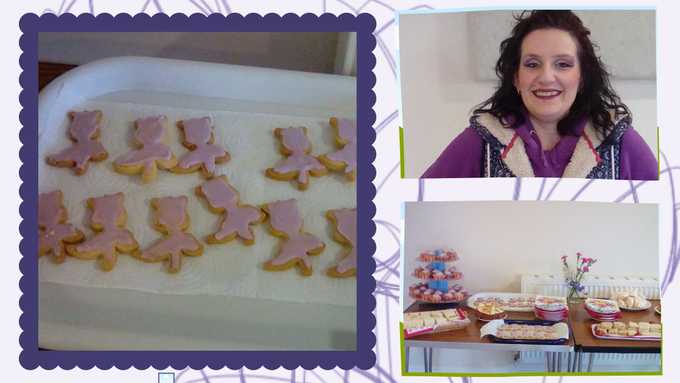 Sarah and her friend and fellow Ectopic Pregnancy suffer, Sarah-Louise have just hosted a fantastic EPTea party, baking up some delicious treats and some really stunning tulip cookies using our cookie cutters.  They had some cakes left over so to further spread awareness decided to offer cakes with coffee after church the following day asking for donations.  They raised a great total of £114.95.  Sarah had also invited a lady to their tea party who could not make it but had also suffered an ectopic so was able to discuss her experience and is now keen to donate the commission from an upcoming nail party. This is really what it is all about spreading awareness about ectopics and enabling women and families to connect and have the chance to share their experiences.
Roisin hosts an EPTea Party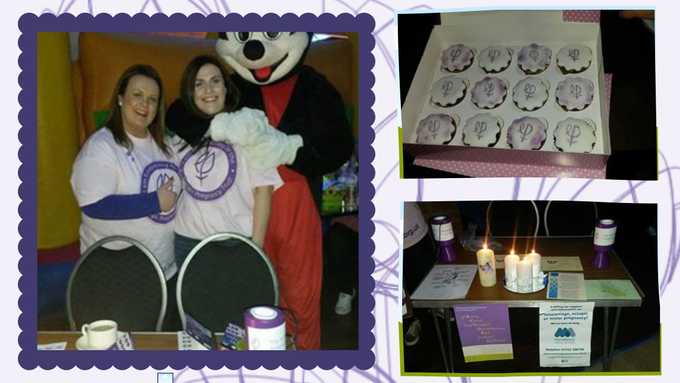 Roisin hosted a fantastic EPTea Party. Roisin was passionate about raising awareness in Northern Ireland and really threw herself into planning and preparing for a great event providing as much information about ectopic pregnancies for people attending. Her passion lead to a very successful day raising and incredible £1400.
I have achieved what I set out to do and I am totally delighted with the network of support, its very close to my heart this trust, and I hope the money raised can go towards raising more awareness, thanks to everyone who helped me at my coffee morning on Saturday 26th November at 10-1 Murphy's on the Green Strabane
Nina hosts an EPTea Party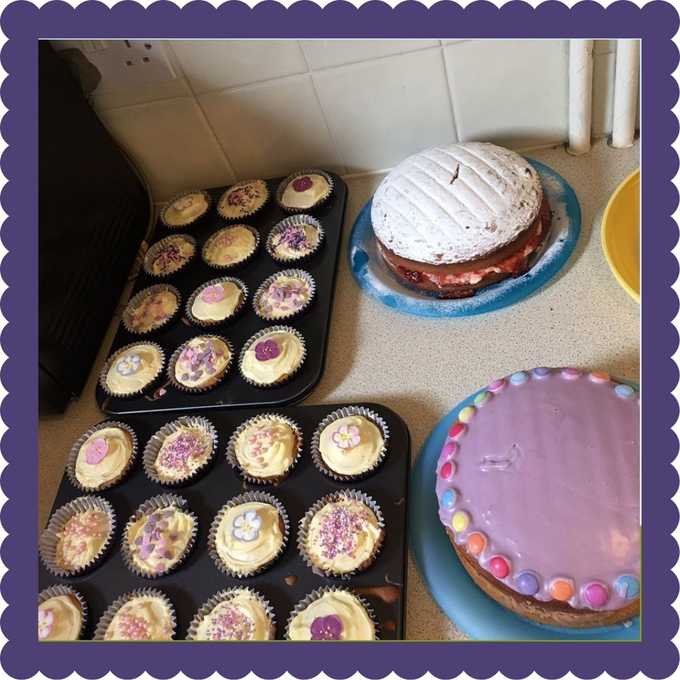 Nina held a great EPTea Party. We are so grateful to all the hard work and effort that Nina put into her party and it certainly paid off being such a success which everyone enjoyed and raised much needed awareness about ectopics.   Nina raised over £1000, which was incredible.  As part of the day they sold scarves, necklaces cakes, cookies and had a name the teddy game! The raffle was hugely successful with all prizes kindly donated by local businesses and generous friends, families and colleagues!
Jenny Fox hosts an EPTea Party
Jenny hosted a lovely EPTea Party on the anniversary of her ectopic pregnancy. Jenny wanted to do something positive on a day that she knew would be hard for her and so arranged an EPTea Party getting friends and family together raising funds, awareness and providing what looked like a delicious spread of food. Jenny shared her story and details of the Ectopic Pregnancy Trust on her Facebook page which really reached out to people, spreading awareness and knowledge.
The Royal Oldham Hospital hosts an EPTea Party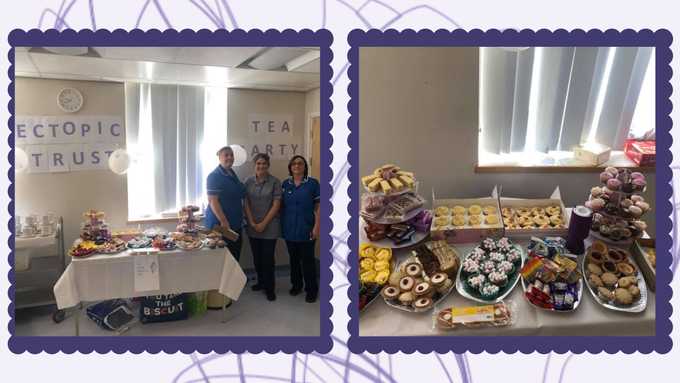 Hospitals across the country receive our patient packs free of charge to distribute to patients, so we were delighted when Claire got in touch saying that the unit wanted to raise funds and awareness by hosting an EPTea Party.
Claire Winters and her colleagues at the Early Pregnancy Unit at Oldham Hospital organised and hosted an EPTea Party. The whole team really got involved baking cakes and biscuits, together with donations from local supermarkets. They raised a fantastic £364.21. They really enjoyed the day and said it was a great team building and morale boosting day.
Maggie Keeley hosts an EPTea Party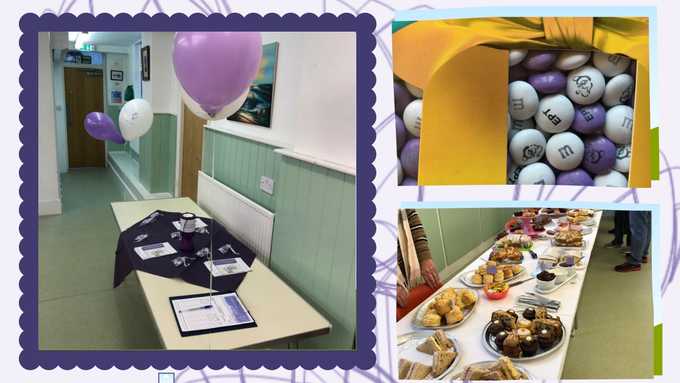 Maggie organised and hosted a fantastic EPTea Party. As well as a great spread of sandwiches and cakes they even created some EPT style m&m's. They raised amazing awareness and funds raising £260 which is just brilliant. My Daughter had an Ectopic Pregnancy last year and the EPT helped her and her husband at this difficult time . We wanted to help the trust by raising some money and making people more aware about Ectopic Pregnancies. We held the EPTea Party in the local church hall and it was very successful.
Roxanne Hosts a lovely EPTea Party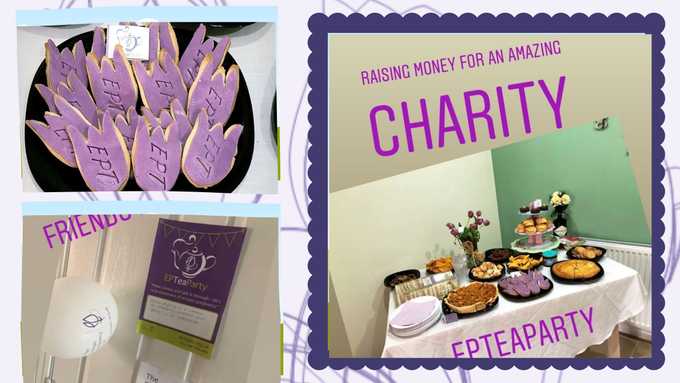 Roxanne hosted an EPTea party. She made it look so beautiful and even made some lovely purple tulip biscuits. Roxanne had only very recently experienced her ectopic pregnancy. She held the party to gather friends and family together to gain support and enable her to raise awareness. My EPTea party went really well, I had it at my home and we had sandwiches, cakes, tea and coffee. My friends and family were brilliant they came and donated and chatted, there were a few tears but was good to make them aware of the trust and explaining my experience and hopefully looking positively to the future. The reason I did an EPTea party was because in February I unfortunately had an ectopic pregnancy. I was 2 months pregnant and was rushed into hospital, I had emergency scans and was taking straight to theatre for emergency surgery. I had complete internal bleeding, my right Fallopian tube ruptured, we lost our baby and I almost lost my own life. They removed my right Fallopian tube and right ovary, but left my left side unharmed so we can hopefully get pregnant in the near future. I have had support from the ectopic pregnancy trust, from helping me and my partner cope, to getting advice what I can and can't do, forums and stories from other ladies that have gone through this. We wanted to raise some money for this trust which has now become close to our hearts.
Gita hosts an EPT Party in Sweden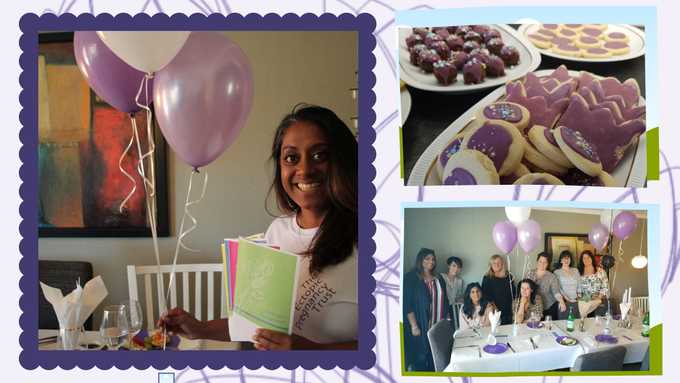 Gita passionately  raises awareness around ectopics especially highlighting and enabling people to talk about ectopics in Sweden. Gita hosted an EPTea Party making everything from scratch and really did produce a very beautiful and tasty looking EPTea party. The afternoon was a great success as you can read below and see what drove Gita to host her EPTea party.
Gita's Story:
I hosted an EPTtea Party to raise awareness and funds for the EPT because the organisation means a lot to me. Having had 2 ectopic pregnancies myself, I contacted the Trust to become involved with the work they do and I am now an official volunteer. Ever since I had my ectopic pregnancies, spreading information and supporting others who have gone through the same thing has been important to me. I started a blog which has had over 30000 hits and I've received many emails where people thank me for highlighting this subject as it is not talked about at all here in Sweden. Swedish clinics and hospitals do not provide ANY information regarding ectopic pregnancies when you get pregnant or otherwise. Which is a big reason to drive me to share my story and raise awareness. Here is a link to Gita's English
blog
(Swedish one is more active but you can read her story via her UK blog) The afternoon was a big success. We had great discussions and everyone thinks highly of the organisation! A woman from the local newspaper came with one of my friends and would like to do a story on me. Gita used the recipe on the EPT t towel for the sugar cookies and she kindly shared her recipe for her chocolate balls.
Chocolate balls:
100g butter (room temperature) 1dl sugar 1tbsp vanilla 3tbsp cocoa powder 3dl oats 2-3tbsp cold coffe Mix butter and sugar until creamy. Add the rest of the ingredients one by one. Make round balls of desired size. Chill. Melt chocolate to drizzle on top. Add sprinkles if desired
Nazra spreads awareness by hosting an EPTea Party in Qatar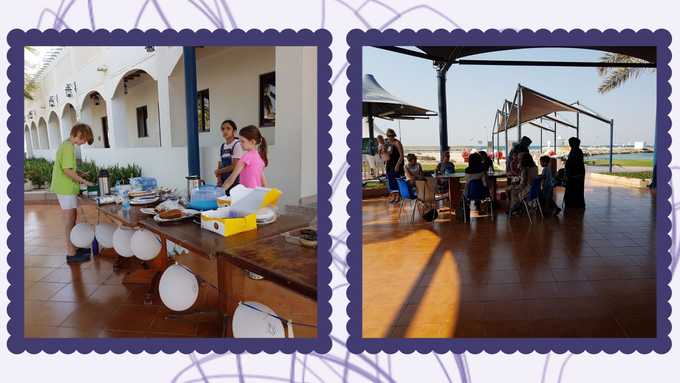 Nazra for hosting a brilliant EPTea party on the beach at the school she teaches at in Qatar. We love that this was the first beach EPTea party and our second international one. Raising awareness and funds is so key and important to enable us to carry on doing the work we do. I did the party because I suffered an ectopic pregnancy in September 2019. When I did some reading I saw that there were so many ladies who have had multiple ectopics and have never have a baby. I felt so blessed that I had begun to get through the trauma and used the EPTea party to raise awareness and funds for those who don't have the support that I have had from amazing friends and family. I also hope it will go someway in the research that is done into Ectopic Pregnancies.
If you are inspired by our lovely EPTea party fundraisers, and would like to raise funds and awareness for The Ectopic Pregnancy Trust, please do not hesitate to get in touch either by emailing Jill@ectopic.org.uk or visiting our fundraising page