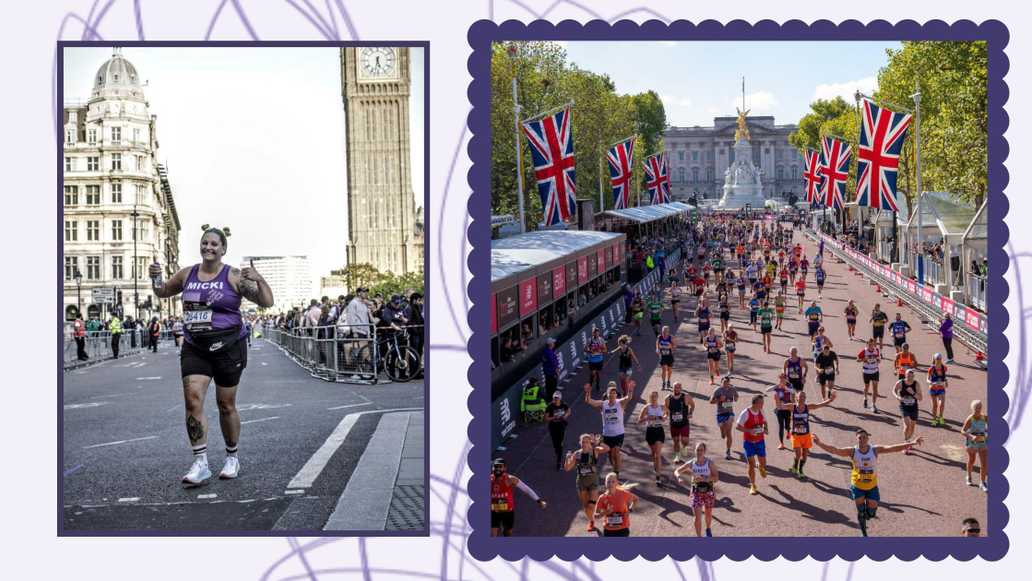 I want to raise awareness and vital funds to help ensure support, education, and information is available for those who go through an ectopic pregnancy as well as family members and healthcare professionals. The EPT helped me through my ectopic pregnancy in 2010.
You can read more about Ruth's London Marathon journey on her fundraising page

Ruth loved her day and even in her words had so much fun!  Achieving a time of 6.12.08
Ruths Marathon Day:
On Sunday 2nd October I ran TCS London Marathon along with 12 fellow teammates and 42,000 other runners. Whilst I had virtually run the distance before this was the first time, I had run it in an actual in race before. I made the decision to apply back in 2019 to run for the EPT but with Covid I deferred to this year's race thinking it would be in April. This changed last October when it was announced it would be another October race. I made use of the extra 6 months by devising a longer training plan allowing me to gradually increase my distance in preparation for the race. Although my training came with a few small hiccups, namely getting Covid and a fall requiring a couple weeks recovery. I rocked up at the start line with eager anticipation.
I had been in contact with fellow teammates and some of us were able to meet before we all started in our separate waves for a few photos and hugs. After my initial nerves I was remarkably calm as I headed into Blue wave 16 ready to walk to the start line. The sense of excitement as you walk towards the start is apparent with all the runners surrounding you, and then with music you are set off. I was not prepared for the rush of emotion as I crossed the start of my race. From the onset spectators cheered and shouted encouragement at everyone. I heard my name called a dozen times within the first mile.
The race itself was as expected, long and in places tough to run. They do not call it a marathon for nothing! I suffered cramping in my calves from halfway and hip pain towards the end. However, it is true that this is far outweighed by the atmosphere. The streets are lined with people cheering, shouting your name and words of encouragement. People have music blaring from their homes, pubs and handheld devices. Children are holding signs and giving high fives, many people have jelly sweets in pots on outstretched arms, a welcomed pot of cheddars was found at mile 19! Musical instruments are played, and people were singing, and the new rainbow row was incredible.
I had so much fun, if can call a marathon fun, interacting with the crowds and soaking up the atmosphere. I found that my face was aching by the end from the sheer amount of smiling I did. Which paid off as most of my official photos from the day I have a smile on my face. It is an experience that I will forever hold for the rest of my life, and I can be proud to have been able to raise much needed funds for the EPT charity over the last 2 years as well. Would I do it again, at present probably not but for many years I said I would never run a marathon, so who knows!

My partner Lucy suffered an Ectopic pregnancy back in 2020, and the experience has led us to looking for ways to both raise awareness and money for the EPT. The London Marathon felt like a great opportunity to do this!
You can read more about James's London Marathon journey on his fundraising page

Jamie had a great day with plenty of support and celebrated with a well-earned beer.  Achieving a time of 3.39.56

Our journey to parenthood was long and challenging, with seventeen rounds of IVF, seven pregnancies and five losses – two of which were complicated and life-threatening ectopics. One in eighty pregnancies end like this and the Ectopic Pregnancy Trust offers invaluable support, research and education to both sufferers and professionals. In a post-Roe v Wade-overturning world (I would probably be dead twice over and Biba wouldn't exist – a sobering thought), supporting charities such as this feels even more important.
You can read more about Sophie's London Marathon journey on her fundraising page

Sophie did so very well.  Achieving a time of 5.48.54

A friend of mine, George, and his wife Kerri were affected by an ectopic pregnancy a few years ago and have since been involved in fundraising for The Ectopic Pregnancy Trust. In 2020 George took on the virtual London Marathon and I joined him for the last few miles of his journey. I was impressed (I thought he was mad actually!!) that he did so with only a month's training under his belt and no previous running experience.
So, when he asked me if I would be interested in a place for the 2021 virtual London Marathon, I was only too happy to accept. This year when the opportunity to go to London to run for the charity arose, I didn't hesitate in signing up.
You can read more about Davy's London Marathon journey on his fundraising page

Davy came all the way from Ireland and had a brilliant day, celebrating at the end also with a pint!  Achieving a time of 3.48.57

The reason I have chosen The Ectopic Pregnancy Trust to run the London marathon for is because a few years ago one of my best friends suffered an awful ectopic pregnancy, they had not long found out they were going to be parents and then they found out the pregnancy was ectopic. My friend was rushed into surgery and unfortunately lost one of her ovaries and Fallopian tubes, which was devastating!
Thankfully she was ok and has since gone on to have two beautiful children. This is why I chose this wonderful charity.
You can read more about Michaela's London Marathon journey on her fundraising page

Michaela had a great day with loads of loud supporters and was on cloud 9 that she had achieved such a lifetime dream.  Achieving a time of 6.53.30

I am running the London Marathon to raise awareness of The Ectopic Pregnancy Trust and caesarean scar ectopic pregnancies after experiencing one in 2019. I had never heard of this type of ectopic pregnancy before, and the trust provided me and my family with invaluable support during and after my pregnancy.
You can read more about Sarah's London Marathon journey on her fundraising page

Sarah had a great day getting away with only a few bruised toes.  Achieving a time of 6.26.24
Sarah's Marathon Day:
It's hard to put the atmosphere of the London Marathon into words but it is a truly amazing experience. It felt like I experienced every single emotion possible over those 26.2 miles, but nothing beats the feeling of crossing that finish line.  Knowing I had raised money for such a wonderful charity that is close to our hearts definitely helped get me through the day.
My biggest top tips are to not let the nerves get the better of you and just enjoy the day and also if you can, have family and friends at various points around the route, my team of cheerleaders were amazing support on the day.
The Facebook group and WhatsApp group that the EPT set up for us were brilliant too, especially being able to meet up with some of the other runners…. that really helped eased the nerves before the run. All their support over email and the advice and tips were brilliant.

I am running the London Marathon for all the people whose babies are in their hearts and not their arms.
You can read more about Roxanne's London Marathon journey on her fundraising page

Roxy was brilliant, despite feeling very emotional and being in a lot of pain, she did it! Achieving a time of 5.18.54

I'm running for The Ectopic Pregnancy Trust as my sister had an ectopic pregnancy last year.
You can read more about Leon's London Marathon journey on his fundraising page

Leon had a brilliant day.  Achieving a time of 4.42.20

I am raising money for The Ectopic Pregnancy Trust as my wife, and I suffered an ectopic pregnancy in April 2019. I am hoping that by raising money I'll be able to help inform people about ectopic pregnancies and their symptoms while also helping provide funding for The EPT.
You can read more about Gary's London Marathon journey on his fundraising page
Gary dug deep when cramp struck but still had a great race.  Achieving a time of 4.29.11
Gary's Marathon Day:
The London Marathon was a once in a lifetime experience for me. The first half of the marathon went 'smoothly' but from about 27km onwards I started to enter the 'pain cave' and I was only able to keep going due to the sheer noise of supporters and knowing what a great cause I was raising money for. The next 70 mins or so were more of a slog than a run but by the time I reached the 39th km my right leg started to cramp. I could see Big Ben by this point so there was no way I could stop running, so I got a couple salt tablets down and kept on moving forward. My attempt at a sprint finish got me over the finish line in 4:29:11 which I am over the moon with.
Tips for future runners:
Have a bottle of coca cola in your bag for after the marathon
If able to, complete as many 30km + runs as you can while training. I was lucky enough to complete two 29km, two 32km and one 35km long runs. These helped me during the marathon as I could keep telling myself I had already run this far during training. Once I had run 35km, I kept telling myself it was 'only' a 7km run left which I had completed countless times.

I am running the London marathon for this amazing charity in support of my my sister in law and brother who sadly experienced complications in a pregnancy last year that led to an Ectopic pregnancy.
So, to show my support to them both I have decided to select The Ectopic Pregnancy Trust as my charity to help raise awareness and support her and other women/families that have experience this difficult situation.
You can read more about Chris's London Marathon journey on his fundraising page

Had a fantastic day and celebrating with pizza!  Achieving a time of 5.51.34

I am running the London Marathon for The Ectopic Pregnancy Trust to raise awareness of ectopic pregnancies. Since Grace (my wife) very sadly and scarily experienced an ectopic pregnancy in August 2019, Grace and I have been passionately fundraising for a charity close to our hearts that supported and advised us through one of the hardest experiences of our lives.
You can read more about Nathan's London Marathon journey on his fundraising page

Nathan had a great day and celebrated with a well-deserved beer!  Achieving a time of 3.48.52
Nathan was deservedly delighted with his time which was even more impressive given he could not run during September due to a knee injury.
You can also read more about our wonderful past London Marathon runners.  If you feel inspired by our marvellous marathon runners, please do take a look at ways to get involved and email our fundraising co-ordinator who will be very happy to help you Jill@ectopic.org.uk.
We are as ever extremely grateful to all our amazing fundraisers, the sheer passion and grit they put into their fundraising in raising funds and awareness is so inspiring and by doing so they are aiding The EPT to carry on providing information, education, and support to those affected by ectopic pregnancy and to the health professionals who care for them.