Why the EPT1000 Challenge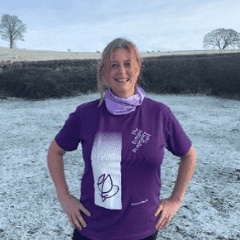 As a small charity we have limited resources to invest in national and large regional events, so instead we work hard at creating opportunities that our fundraisers can complete at a local level. Challenges that will both inspire our supporters and raise awareness of the condition. We wanted to provide our supporters with a fundraising challenge that took them on a journey. Something that would give them a focus and help them to begin the process of coming to terms with their losses. The EPT1000 was the result. A challenge that is set over 12months – a longer period than most – to give each participant the chance to begin their emotional and physical healing. And one that can be completed as they choose – 1,000 kilometres or miles, completed by running, walking or cycling – whichever is right for them.    
As the Fundraising Co Ordinator I personally tested the challenge to see if it would work.  So, January 2016 with new fell shoes purchased I embarked on running 1000 miles over 12 months, it was a massive challenge for me and gave me an incredible focus, empowered me to push myself and explore places I had never known existed.  It led me to entering trail races, helping at a running club and regularly running with friends.  I wore my EPT t shirt throughout the year which sparked lots of conversations, raising awareness and talking about the Trust and ectopics.  I felt physically and mentally stronger at the end of the year and have carried on road and fell running since (I learnt early on that you don't need to run up all the hills)  
We were so excited to launch the EPT1000 Challenge in January 2017, and have been so overwhelmed with the fantastic response and to date have had over 400 wonderful fundraisers take on this challenge it has hugely helped so many people, enabled new friendships and raised incredible awareness and funds. 
Jacqui's EPT1000 Challenge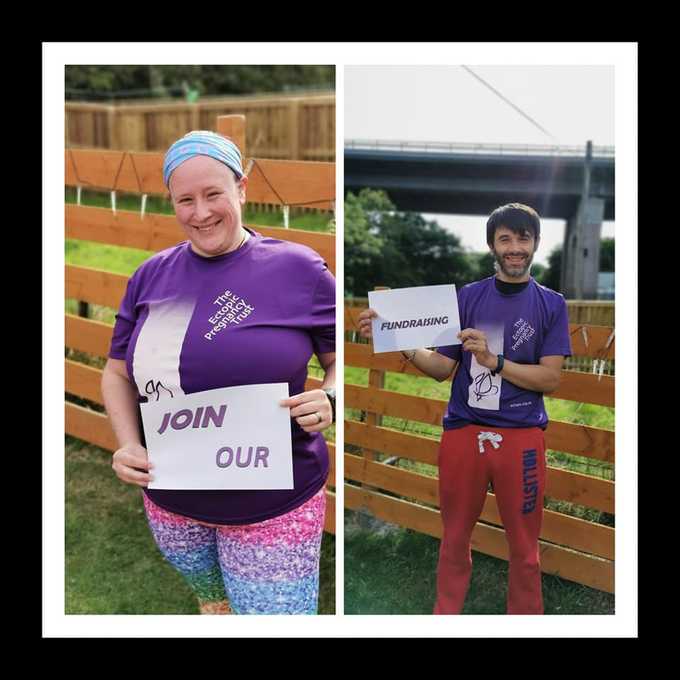 I took part in the EPT1000 because in July 2019, my husband and I suffered n Ectopic pregnancy after trying to grow our family for 3 years. They only support we received was from the trust, and we wanted to give back. 
I found the challenge empowering, overwhelming, emotional and positive. I had a number of ups and downs, injuries, but I went out there and did the 1000 Miles with my Husband John, and raised awareness. We were surprised at the number of family and friends who didn't know what an Ectopic Pregnancy was and the dangers that come with it. We even made our local papers. 
Once we completed the challenge we just wanted to carry on. I lost 4 stone, my mental health improved and I found a love for running, taking on many events all in the name of the charity. So, my advice is if you want to take on the challenge, go for it, you don't have to have gone through it to do it. You can take it on for a loved one who has, and all the other women out there who have experienced it.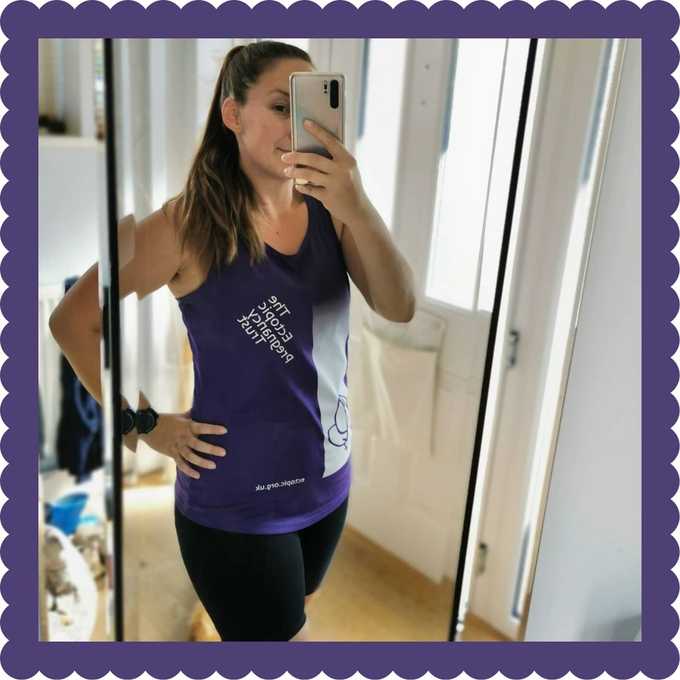 My journey started with the Ectopic Pregnancy trust in September 2016 when I found out I was pregnant. Happiness, joy and excitement are some of the emotions that filled me when I saw those blue lines. After a couple of weeks, I started getting sharp painful cramps, each one slightly worse than the one before and mostly on one side. At this point I became concerned something was wrong and visited my doctor. They made an urgent referral to the Early Pregnancy Unit. Within a couple of hours, the nurse from the ward contacted me and was asking me to go in for a scan asap. Condensing my story, this was my first ectopic pregnancy. I didn't really know much or what an ectopic was before this. It was at this appointment the lovely nurse Anne gave me a leaflet on The Ectopic Pregnancy Trust. The charity was so supportive and informative. I found their helpline and forums a true saviour in mine and my husband's hours of need. If it hadn't been for the charity supporting me, I'm not sure how I would have computed it all. A few years later after my journey I really felt like I wanted to give something back to the charity who had been such a staple to me. 
I initially contacted the Trust to sign up for the 80 miles in 1 month challenge but I had unfortunately missed the start date for this. So, Jill from the charity said I could sign up for the EPT 1000 challenge! Slightly more than I had anticipated! I thought to myself well I have enquired now so I better do it. I felt worried initially that it was such a big commitment and not running before was I actually taking on too much and jumping in the deep end; I had always liked fitness, classes and gyms but this was a whole new level. I had to keep reminding myself what I was doing it for and the point was that it wasn't meant to be easy, that I was actually turning my pain into purpose. My anxiety soon disappeared and was replaced with giving back to the charity, raising awareness and opening up conversations have been what I do it for. 
The first month started great and I was very pleased with my initial progress. It was hard at first but each time I ran further felt like a huge achievement. The second month I injured my back and I was devastated with the setback of not being able to run at all. Luckily, with a great osteopath I was back on my feet. She taught me about looking after myself and my body to cope with the increase of the impact of running. It also taught me the importance of warming up and warming down. After this I finally found my running stride. Gradually improving my fitness; running quicker and further felt so great and such an accomplishment. It became less difficult, less of a chore and it became a hobby and a space where I got me time. I can run out my emotions, good or bad, pound the roads or fields to whatever music I choose. I fell in love with running and it really made me feel good. The best part is that it is free! 
If you are considering doing one of these challenges, I would definitely say do it! You won't regret it. It opens up so many conversations, I've had so many people get in contact to talk about their experiences as they felt they couldn't or hadn't been able to open up as much. Raising awareness has been a key motivator for me. Because of why I signed up, many of my close friends have joined me on my running journey too which has made it so much more enjoyable. It really has given me a new joy in life, 10 years ago if you had told me I run 6 km for fun I wouldn't have believed you. Hand on my heart I still run and I don't plan on stopping anytime soon!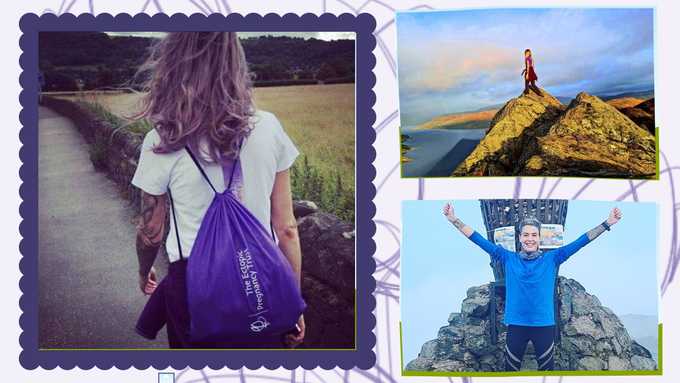 After having my ectopic pregnancy in 2013 I lost myself a little. My mental health suffered and I really needed to find something to focus on. 
I stumbled across Kerri's #ept1000 page and really loved the idea of doing this challenge for myself and also to help raise awareness for others like me who had little knowledge of ectopic pregnancy
I found the challenge so up lifting, I was back out in the fresh air walking for miles. It gave me time to think about how I could turn something so devastating into a positive. I started climbing our local hills, something I hadn't do since I was a kid. The sense of achievement was so up lifting and gave me back my love for walking. There were days that I did struggle! Living in Scotland we are not blessed with great weather unfortunately, but the good days definitely out weighted the bad.  
When finishing the challenge, I was quite emotional. Me and my son both did my last walk on Christmas day 2017. It was lovely to share that moment with him. The challenge gave me back the head space to come to terms with what had happened to me, made me fitter and mental feeling much better within myself.  
Since finishing my challenge I have a new found love for exercise especially walking. I have recently walked up some great hills and I'm planning on doing my first Munro soon. I have also signed up to do my first 10k run. This is something I would never have thought about doing before.  
To anyone who is thinking of signing up for the challenge, all I would say is do it! I can't stress how much it has helped me physically and mentally. It was also great knowing I was raising awareness and funds for the charity at the same time. 
I will never forget the baby I lost but every step of my #ept1000 I knew they were right beside me.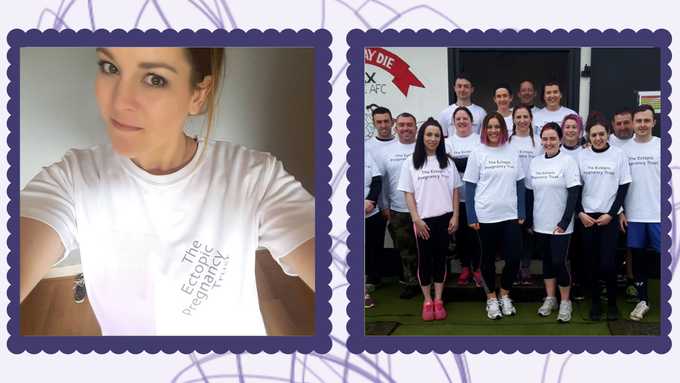 I began using The Ectopic Pregnancy Trust website from the moment I was able to google after emergency surgery for our cornual ectopic in 2015, and it became the most useful resource to me over the next year. I didn't speak openly about what I had been through so having that to hand to remind me I wasn't alone really helped me. Just after the year anniversary I was looking for a way to pay tribute to what we went through and while having a glass of wine I spotted the EPT1000 post on Facebook and signed up without a second thought!
I chose to complete most of my walks and runs on my own because they gave me space to process whatever I was struggling with at the time or allowed me to switch off completely and just take in the sights and sounds around me. The mornings where it felt like my heart was heavy with grief I would push myself to go out and came back a little lighter. I took out frustrations, anger, sadness and guilt on the pavements and it felt good, I felt empowered. Suddenly this hadn't beaten me, I had the tools I needed to take back control a little.
It quickly became a community within the Facebook group and having others cheer me on while I did the same for them really boosted my confidence and allowed me to start talking outside of the challenge to people about ectopic pregnancy, my husband might say that I haven't shut up since….and he's not wrong!
I made life-long friends within the challenge, had the pleasure of meeting some in person and look forward to meeting more in the future. It's from there that I began volunteering for the charity and am so very proud to be a part of the operations team, helping others share their experiences and getting access to information. I still enjoy taking part in virtual challenges and being in the EPT1000 group to motivate me on rainy days, it's hard not to get out and move when you see everyone absolutely smashing their goals every single day!
We are so very proud, grateful and in awe of all our past and present EPT1000 challengers who commit to an incredible challenge working so hard but getting great satisfaction from ticking off the miles/kms  and raising amazing and crucial funds and awareness.  If you feel inspired by our EPT1000 challengers and want to take part, please do take a look at the EPT1000 Challenge and email our fundraising co-ordinator who will be very happy to help and guide you Jill@ectopic.org.uk.