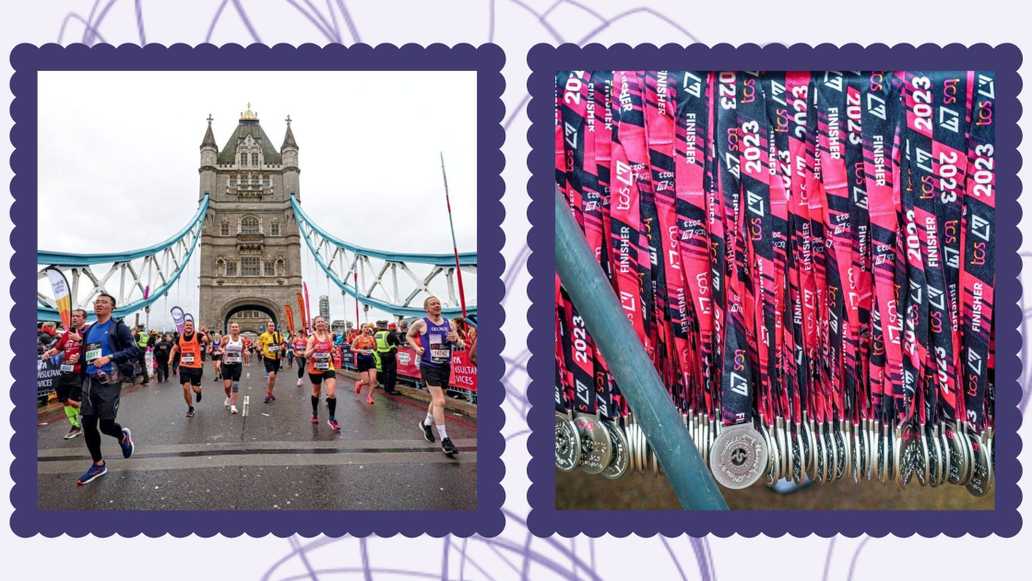 After completing the virtual London Marathon twice for The EPT over the pandemic, George is more than ready to finally hit the streets of London.
George says: "We have supported the charity since we lost our baby to an ectopic pregnancy in 2015. I hadn't heard of an ectopic pregnancy before so trying to process what had happened, the loss of a baby, and coming very close to losing my wife, was overwhelming. The EPT took some of that stress away with reliable information on their website. 
This year is my opportunity to say thank you and I know that crossing that finish line is going to be emotional on so many levels. Being a part of Team EPT is special. Knowing that while we have all been training for this day miles apart, but will all run the same route through London, is quite symbolic – we all have our own reasons for running, but on 23 April our paths will meet in a united show of support, understanding and community."
If you would like to read more about George's marathon journey, you can on his fundraising page. 

Finally getting to run the marathon through the streets of London, George achieved a time of 5:00:31
George's Marathon Day:
It's hard to sum up the experience, but one word I would use is incredible. From the atmosphere getting to the start line, crossing it, the encouragement from the people lining the street, then getting that medal at the finish – it was an experience of a lifetime and one I won't forget.
I started well but the weather and an encounter with a giant puddle meant I struggled with my feet. Early on I decided I was going to throw all times out of the window and just enjoy the day. I got to see my family at miles 7, 14 and 21 which was really motivating and just what I needed. From mile 18 it was a battle with my own mind but the encouragement of the crowds (I definitely recommend getting your name printed on your vest), other runners and knowing that the support of the charity was behind me got me to that finish line.
Would I do it again? Well, I entered the ballot so that say's a lot! I would like to thank the team at The EPT, the support from the moment I signed up has been phenomenal. Being able to interact with the rest of the marathon team, sharing our nerves and celebrating our success has been really special too.

Please be aware that the following experience of an ectopic pregnancy is extremely sensitive. If you do decide to read on, please be aware that our support services are available should you need them. 
In April 2021 Bekki, the partner of Michelle's brother, sadly lost her life to an ectopic pregnancy. Michelle will be crossing the start line of the London Marathon in memory of Bekki.
Michelle says: "Bekki was a loving mother to her 8 children, Tori, Tyler, Ruby, Riley, Louie, Lennox, Ashton and Aliza, she was in a happy relationship with my brother, Anthony, and family was everything to them. Bekki also loved her family, her sisters Rachel and Ebony and of course her mum and dad. All these people have a big hole in their hearts now and I want to run in her memory.".
If you would like to read more about Michelle's marathon journey, you can on her fundraising page. 

Michelle had a fantastic day at the marathon!  Achieving a time of 4:07:16
Michelle's Marathon Day:
I had an amazing time at the marathon, the crowd were so supportive cheering everyone on.  Thankyou for giving me the opportunity to run and to raise money for such an amazing charity.

Sadie bravely entered the ballot for the London Marathon and, after being lucky enough to be offered a spot, and chose to support The EPT along the way. Sadie has generously given her time and dedication to training in all weathers for the iconic race.
Sadie says: "The charity I've chosen to represent is The Ectopic Pregnancy Trust, who supported my husband and I through our own experience of suffering an ectopic pregnancy. As a small charity, every little helps, and I hope I show my appreciation through the donations I raise to show my sincerest gratitude for the support that this small, but mighty charity gave me at a very emotional time.
Wish me luck…I'm going to need it!"
You can wish Sadie luck and find out more about her marathon journey over on her fundraising page. 
Sadie had an incredible day at the marathon!  Achieving a time of 3:50:43
Sadie's Marathon Day:
The marathon was the most incredible day – surrounded by so many inspirational people raising money for amazing causes, and being cheered on by complete strangers who were braving the weather and who created a fantastic atmosphere at every mile!
Running on behalf of the EPT was really personal for me. And in those final few miles, knowing that so many friends and family had donated to support me really spurred me on.
When I crossed the finish line, I actually busted into tears. I couldn't believe I'd just completed a marathon, when four months previously I could barely run 3 miles! All the weeks of training had been worth it. Running the London Marathon is a moment in time I'll never forget, and thanks so much to the team at the EPT for all the encouragement!
The London Marathon is entered by people all over the world for many reasons, and Sarah has her own incredibly inspirational reasons to take part.
Sarah says: "I came to the decision to run the London Marathon in only February. I'd been toying for a while and realised it would be a great way to celebrate being 5 years cancer free, so found a charity that meant something to me. 
This isn't my first as I ran Barcelona Marathon in 2017 aged 42 and unfortunately with Breast cancer. I had no idea at the time and was only diagnosed a few months later but it felt fitting to celebrate by running another 26.2 miles!!
I chose The EPT as in my thirties I suffered 4 miscarriages, one of which being ectopic. I had no idea of the support available and dealt with every one by brushing it under the carpet. I'm passionate about people being more open about miscarriage. As a society we believe that it's right to wait until 12 weeks to announce a pregnancy, we then cloak any loss with shame and feelings of failure and hopelessness. Its a lonely place to be.
I'm very lucky to write that I now have four children – a birth daughter, adopted son, and two step sons who will all be cheering me on and willing me over that finish line."
You can find out more about Sarah's marathon journey over on her fundraising page. 

Sarah said the day was incredible!  Achieving a time of 5:44:06
Sarah's Marathon Day:
The marathon was incredible. Much busier on the course than I had envisaged and the train breaking down and having to walk/run to the start line soaking wet, made it much harder than I had anticipated. However, the atmosphere, music, support from the crowd and organisation made for an unreal experience. I probably interacted with the crowd too much as when I crossed the finish line, I couldn't catch my breath for a minute. Thank you so much for allowing me to have that amazing experience.
Sarah had an incredible day running the London Marathon.   Achieving a time of 05:44:06
Sarah's Marathon Day:
The marathon was incredible. Much busier on the course than I had envisaged and the train breaking down and having to walk/run to the start line soaking wet, made it much harder than I had anticipated. However, the atmosphere, music, support from the crowd and organisation made for an unreal experience. I probably interacted with the crowd too much as when I crossed the finish line, I couldn't catch my breath for a minute. Thank you so much for allowing me to have that amazing experience.
Alison signed up to the iconic London marathon as a way of saying thank you to the charity and to the women she connected with via the charity's support forums. Training in sometimes sub-zero temperatures, Alison's journey as been supported by family, friends, and colleagues.
Alison says: "During those early days, I came across The Ectopic Pregnancy Trust online support forums. I tentatively shared my story late at night, and received an amazing reply from one of the hosts. She helped me understand why I was struggling with my anxious thoughts and deep emotions, and having that understanding made a huge difference.
I also found it healing to share my fears with other women on The EPT site. One of them became a close confidante and unbelievably we went on to have our first children within a day of each other.
I genuinely believe that without The EPT I would not have the family I have today. Ultimately The EPT support gave me the courage to try again and I was incredibly lucky that, that resulted in Anna, Natalia, and then Santi. But they also offer invaluable support to women who have multiple losses and to those who move on with their lives without having children.
It has long been my ambition to say 'thank you' by taking on this challenge. Now is the time."
You can find out more about Alison's marathon journey over on her fundraising page. 
Alison was delighted to have been able to achieve a long time ambition of running the London Marathon.   Achieving a time of 5:13:54
Alisons Marathon Day:
Running the London Marathon has been an ambition of mine for a long time, and one I thought I had put to bed but it just didn't go away! Ever since my first two children were born I knew that there was only one charity that would drive me to do this, and this was the EPT who gave me such emotional and practical support post ectopic pregnancy in 2008. I had a picture in my head of my little girls celebrating with me at the finish line but as it turns out the oldest is now 13 and I added a little boy to the family who is now 8 – the time has to be right to take such a challenge as the training takes over your spare time for many months.
My training went pretty well until 4 weeks before, when I had to rest after some hip inflammation. But really, the marathon was the 'victory lap' that had been promised. It was one of the best days of my life and I haven't smiled so much since my wedding day – the atmosphere on the way around was phenomenal. Highlights, so hard to pick but I'll say all the high fives from children in the crowd, the first sight of the Cutty Sark, London Bridge, bagpipes, Run Dem Crew at 21 miles, and then the first sight of Westminster when we came out of the tunnel. I cried a few tears then as I knew that medal was in reach. The last 1.5 miles was a bit hard but to be honest after the training the race itself was very comfortable.
Thank you EPT for giving me one of the gold dust places on your team. I will forever be grateful.
After first signing up to the London Marathon in 2020 the pandemic put Mark's marathon hopes on hold. Three years, and an immense amount of dedication and training later, we can't thank Mark enough for his support.
Mark says: "It has been a long journey for me to get to run the 2023 London Marathon. I had planned to run in 2020, which was cancelled thanks to Covid, and then ran the Virtual Marathon in October 2020. Thankfully, the fabulous team at the Ectopic Pregnancy Trust allowed me to role my place over to 2023 to enable me to run the first April London Marathon since Covid. I wanted to run for the EPT because I didn't really know much about ectopic pregnancies until the weeks following our initial excitement about pending parenthood turned into a nightmare. Our experience wasn't necessarily typical, but I was surprised how common ectopic pregnancies are. This is my chance to give something back to a cause that is so very close to me and my wife, and wider family.
After the disappointment of 2020, it is exciting to look forward to running the streets of London with the inspiring EPT marathon team who have all trained so hard for the day. I'd also like to thank fabulous EPT that have supported the runners throughout their training."
You can find out more about Mark's marathon journey over on his fundraising page. 

Mark had an amazing day at the marathon!  Achieving a time of 4:02:34
Mark's Marathon Day:
At the start of the London Marathon crossing the start line. Proudly sporting my EPT running bottle (see photo above)!
One of the amazing things about the marathon was the camaraderie amongst runners and support from spectators. I felt this previously (2013) when I didn't go as well as I did this year, and many runners/spectators picked me up and tried to get me going again. I tried to repay the favour this year by when I could encouraging other runners along the way who were struggling. One particular guy I encouraged who was walking within the last eight hundred meters, we then had a bit of a laugh as when he started running again he was going so much faster than me!
I was just about still running going past the London Eye (as seen in photo above) The crowds here were amazing.
The feeling of finishing the London Marathon was exhaustion, relief and full of emotion for completing it!
After winning her running clubs draw of a London marathon place Caroline graciously chose to use this as an opportunity to support The Ectopic Pregnancy Trust.
Carolines says: "I am running London Marathon and raising funds for The EPT as I received help and support from them in 2017 during the most horrendous period of my life. I attended hospital a few times worried about my pregnancy but was sent away with pain relief. I already had a daughter who was 3 at the time and was conceived by IVF treatment and this baby was the much longed for miracle sibling. Due to IVF treatment with my daughter I didn't know what was normal pain and what had been pain and bleeding from the IVF drugs so I tried to deal with it. It was Easter and we were visiting family far from home when the pain got unbearable and my husband rushed me and my little girl all the way to our hospital in Belfast. It took 4 or 5 staff a long time to finally diagnose me with a ruptured ectopic pregnancy and internal bleeding. I was then driven by ambulance to another hospital for emergency surgery. The mental and physical pain that followed can never be explained and The EPT were crucial to my recovery. I asked many questions, I got support and just a listening ear. I still can't discuss the subject without tears.
I won my London marathon spot in my running club draw, Seapark AC Carrickfergus, in 2019 and was due to run the 2020 Covid marathon that never was. We had planned a final round of IVF in October 2019 and I got the marathon spot the same month, so we put the treatment on hold and I trained for a marathon that never happened. With the uncertainty of everything the one thing I knew I wanted was to start the treatment so as soon as the fertility centre was given permission to reopen we started another round of IVF. Also London marathon gave me the option to defer my spot to 1 of 3 different years and I picked 2023. By some miracle everything fell into place and I had my little rainbow baby Mollie in April 2022 and was able to take up running again and marathon training at the end of 2022. Making 2 dreams come true. I can't thank the girls at The EPT enough, no matter how silly my questions, they were always there to answer them. I've had two occasions were I thought I was going through another ectopic since, and again they were on hand to chat.
They sent me literature which I was able to hand in to the hospital and my Doctors surgery as there was very little known about this subject."
You can find out more about Caroline's marathon journey over on her fundraising page. 

Caroline said it was one of the best days of her life!   Achieving a time of 6:18:25
Carolines Marathon Day:
One of the best days of my life. There are no words to describe the feeling of running up the mall and over that finish line. Something I've watched on TV many times and dreamed of.
The day seemed to go by in a flash, and considering it took me over 6 hours to complete, that's quite a funny statement to make!! The morning went by really quickly, my husband had plotted my journey out from Tower Hill Station. The buzz on the train was really nice. The next train from London Bridge to Blackheath…. not so much of a buzz. We were squashed like sardines with many people upset about missing their start time. I tried to take it all in my stride as I'm a natural picnicker and panicking would not be helpful in this situation. Thankfully my husband delivered me to the field with enough time to stand in a giant toilet queue and drop my bag off.
The weather was quite miserable but nothing could dampen the spirits of everyone. It was our turn to go and I'd made a friend called Felicity and we pushed our way to the front. The run was unreal, support and emotion in abundance. As I approached Tower Bridge I knew this was going to be a great experience, I'd heard it so many times. It didn't disappoint. A man said to me as we were coming over the bridge "this is just amazing, there's nothing as wonderful" he was so full of emotion and I totally agreed. I had my EPT buff on my wrist and my badge on my vest and when I really struggled I looked down at them. My watch had been adding distance after the half way point, so every time I got to mile markers on my watch I was a long way off the actual mile markers. This threw me a bit as I couldn't celebrate the miles when my watch buzzed anymore. The signs being held up were fantastic, I "powered up" at least 20 times, high 5'd a lot of children and a very excited grandad, was given a much needed ice pop, offered beers, had sweet Caroline sung to me by people outside a pub. There were trumpets being played out people's apartment windows, a man reading a bible to us, you name it I probably past it. I overtook Jeremy Hunt at mile 4 which I was delighted about, but he must have got me back at a later stage as his time was much faster than mine.
Quite possibly one of the best experiences of my life and I'm so glad that everyone got behind me and also donated to my wonderful charity.
Lewis signed up to the London Marathon after him and his wife sadly experienced an ectopic pregnancy in 2018, which required emergency life-saving surgery to remove her ruptured fallopian tube.
She turned to the EPT forums looking for comfort and stories of other women who has experienced similar and gone on to have children.
They now have a 7 month old son, Jesse, who was there on the day to cheer Lewis on.
You can find out more about Lewis's marathon journey over on his fundraising page

Lewis had a great marathon day!   Achieving a time of 3:57:01
Lewis's Marathon Day:
The thing that sticks in my mind is how the marathon brings out the best in people, particularly the crowds cheering on and helping out strangers.

Andrea – I had a great day and was pleasantly surprised to finish in 3.11.  We were lucky enough to get a message on the BBC coverage.  Thanks again for being so welcoming – it felt great to be part of such a supportive EPT team.  Andrea is being very modest as her time was so amazing she will be awarded an elite place in next years marathon!

Donna – gained a ballot place and after listening to Chris Evans on Virgin radio just before the Marathon it inspired her to think "I can do some good" so kindly set up a fundraising page.  Donna did brilliantly and finished the marathon feeling very emotional in a great time of 5:03:00.
Donna's daughter Meg very sadly experienced and ectopic pregnancy and in response to her mum fundraising this is what she wrote.
Megs Story:
I was lost I'd lost a part of me I didn't even know I needed at the time and asked myself so many questions "why me" "what did I do wrong" these questions may never have been answered for me but for the support The Ectopic Pregnancy Trust offer is amazing and the information and education they provide gave me piece of mind.  I follow the Instagram account to this day.  They offer forums, virtual groups so many ways of support, I wish I had accessed sooner after my experience.  I am so so proud of my mum and it makes me teary to think she's running for the EPT."
You can also read more about our wonderful past London Marathon runners.  If you feel inspired by our marvellous marathon runners, please do take a look at ways to get involved and email our fundraising co-ordinator who will be very happy to help you Jill@ectopic.org.uk.
We are as ever extremely grateful and proud to all our amazing London Marathon runners, the sheer time and grit they dedicate to training through the Winter months, the passion and persistence they put into their fundraising pledge in raising funds and awareness is so inspiring and by doing so they are aiding The EPT to carry on providing information, education, and support to those affected by ectopic pregnancy and to the health professionals who care for them.